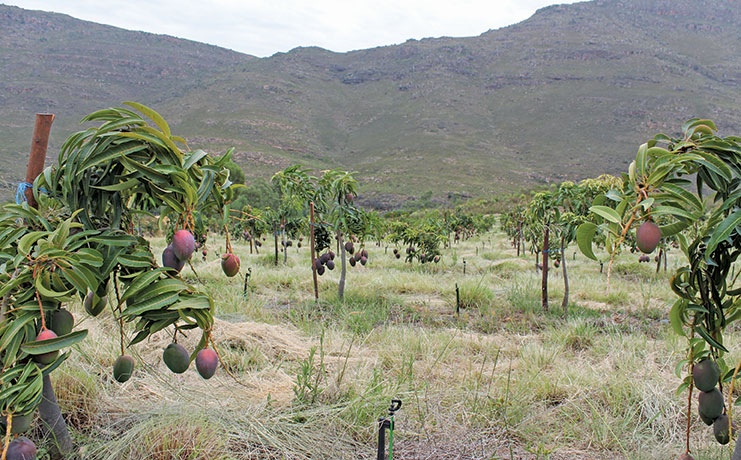 It is not so much the rat-tat-tat of the dirt road that slows the driver down, but rather the Cederberg's unique version of a traffic cop.
The tortoises that cross the road every hundred metres or so force travellers to slow down and enjoy the scenery along this meandering road through the Cederberg mountains, It is here that Jamaka Organic Farming's Jannie Nieuwoudt farms land that his forefathers first acquired in 1755.
"My father, Gert, a school teacher, started by planting a few citrus trees here in the valley. When I was a child we came here every weekend," he says.
Apart from the citrus, Jannie's father experimented with different types of fruit and various varieties, searching for something that would thrive in the unique growing conditions of the valley.
Between mountains, the farm enjoys a more temperate climate than that of neighbouring farms in Citrusdal and Clanwilliam. Water is supplied by mountain springs and by the Rondegat River that runs like an artery through the valley. The average annual rainfall is about 600mm per year.
As Jannie's father discovered in the early 1980s, the environment turned out to be perfect for growing citrus, the major crop in the Citrusdal area, and for late-season mangoes.
When Jannie took over the farm in 1995, there were about 3 000 citrus trees and 200 mango trees. Wild rooibos tea was harvested from the surrounding mountain slopes. Jannie's initial orchard expansion was destroyed by a veld fire in 2009.
Orchards are still being replanted and the farm now has about 5 000 mango trees and close to 5 000 citrus trees, with 1 000 new mango trees being planted.
"When we replanted citrus, we focused on varieties for a niche market. We have mainly soft citrus like naartjies and tangerines (Kaapse Rooiskil) and late Valencia varieties which we harvest in November and December," he explains.
Jamaka's mango harvest starts in mid-March when harvesting is over for growers in other parts of the country.  "We carry on harvesting through winter until September," he says.
Organic roots
During the 1990s, Jannie, an avid reader, became interested in what he learned about the potential damage conventional farming could do to the environment.
"I got the idea that our conventional farming methods were harming the environment in which we farmed and decided there had to be a better way," he says.
The more he read about organic farming methods, the more convinced he became that this type of farming represented a better option for sustainable agriculture. In 1999, he decided to convert to organic farming.
Jannie says that initially it was not easy. In the first few years yields dropped noticeably as a new balance was established.
Slowly, however, the natural insect predators returned and, according to Jannie, the results have been inspiring.
"While farmers in Citrusdal and even some of my closest neighbours struggle to keep insect pests like fruit fly, coddling moth and scale under control with frequent chemical interventions, I can sit back and let nature take care of itself," he says.
Jannie admits that in an organic farming system, it is difficult to guarantee big yields year after year. "Tree manipulations to control yield are minimal.This means that yield varies greatly from one year to the next."
The importance of compost
Soil health is prioritised to maintain fruit quality.The cornerstone of Jannie's organic fertiliser programme is the compost produced on farm.
"We have about 150 sheep here, and their manure mixed with plant rests from the fruit orchards, are the primary ingredients for our compost," he explains.
Jannie and his team make about 50t to 80t of compost a year using an inoculant to help speed up the decomposition process. When the compost is ready, it is mixed with lime, gypsum and natural phosphates before application in the orchards.
Jannie does not have exact measurements for the quantities used to make the compost/fertiliser mix; he follows the recommendations given based on regular soil sample analysis.
He applies a 5l measure of the dry compost to every tree, twice a year – once during winter and again after harvesting.
Every orchard has a fully automated micro-irrigation system. "Having a proper, automatically controlled system that allows effective irrigation scheduling has been one of the best investments I've ever made as a farmer.
We only really irrigate for six months of the year during summer and spring. Irrigation scheduling is applied according to readings made by moisture probes. The farm uses about 288 000m3 of water a year," explains Jannie.
He says that the greatest struggle on an organic farm is keeping the weeds under control. "There aren't many organic weed control sprays available, so much of the weeding is done manually. We have to slash weeds five to eight times a year."
In the new orchards, his team puts mulch/weed netting or plastic sheets on the ground to suppress weed growth, especially around young trees. This is proving to be highly effective, but it is costly.
Diversifiying to spread risk
"It can take up to four years to convert from a conventional to an organic farming system and, as I mentioned, you can suffer crop losses in those years. This means conversion on a big scale is very risky and you have to manage the process carefully and prepare for losses," says Jannie.
His advice to any farmer considering 'going organic' is to visit a farmer who farms the same product on a similar scale."Make sure you know exactly what you're letting yourself in for before your start converting your farm," he says.
Jannie's second piece of advice is to diversify.
"Diversification is very important in organic farming because it provides insurance in the higher risk system. If the mangoes are having an off-year, there's the citrus, and if the citrus and the mangoes give us low yields, we can still rely on some income from the wild rooibos."
The business has more recently diversified beyond farming: Jamaka has become a well-known tourist destination with popular riverside campsites. This provides another income stream for the enterprise.
"I can understand that the lengthy, risky and expensive conversion period discourages many farmers from attempting organic farming," says Jannie.
"It would be much easier to take the leap if there was some kind of support offered by the government, but farmers aren't even getting proper support for disaster relief, so don't hold your breath."
Email Jannie Nieuwoudt at [email protected].