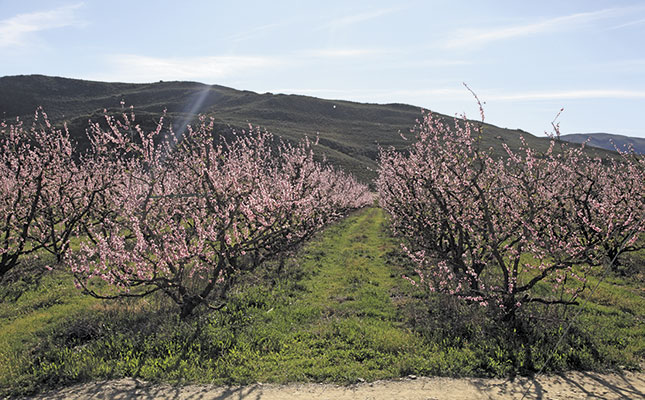 The South African canning industry, which is strongly export-driven, has experienced three good seasons in a row, thanks to a favourable rand:US dollar exchange rate and well-balanced supply levels.
READ Growing apricots: a brief overview
However, the impact of the recent widespread drought, a marginal strengthening of the rand against major currencies, and increasingly stricter market requirements, have resulted in the industry now entering a downward cycle.
While the outlook is unfavourable, Johan Esterhuyse, who farms on Scheepersrust near Montagu, sees it as an opportunity to turn his farm back into a 'lean machine'.
"Production needs to evolve continually for a farm to remain financially viable.
We tend to forget this during the good times when it is smooth sailing. But then when the
wave crashes and we hit the trough, we need to take calculated and often desperate measures to get back [to profitability]," he says.
Johan has 80ha planted to various apricot, peach, plum and pear varieties for both the fresh and processed markets.
New Grading System
Johan recently delivered a presentation at a technical information day hosted by the Canning Fruit Producers' Association and Dried Fruit Technical Services near Robertson.
Here he outlined steps that producers could take to alleviate the impact of the proposed new grading system for fruit destined for the canning industry.
Currently, canning companies in South Africa accept consignments where a percentage of the fruit is allowed to be smaller than a specified size.
The percentages and sizes vary from one fruit type to another. In the case of peaches, for example, up to 7,5% of the fruit are currently allowed to have a diameter smaller than 60mm.
According to the proposed new grading system, which may come into effect in 2018, only 5% of fruit per consignment will be allowed to be below the minimum size. On Johan's farm, the change will translate into a decline in income of about R550/t for peaches.
However, he believes that improved on-farm sorting could mitigate this loss. "The new grading makes it clear the factory is not looking for any undersized fruit. So farmers should remove this fruit [beforehand] and sell it somewhere else," he says.
It would be relatively easy to make this adjustment on his farm, Johan explains, as he began using a mobile Hawke sizer to sort peaches and apricots for the canning market as far back as 1996. A sorting table towed behind a tractor, this enables fruit to be sorted in the orchards directly after being picked.
Four pickers place the fruit onto a wire mesh sorting tray, and undersized fruit drops through the sorting holes, while those of the right size, but with blemishes, can be removed by hand.
Johan employs between 16 and 24 pickers and the sizer enables them to sort between 70 and 90 crates of fruit per day, depending on fruit type and orchard layout.
"The sorter cost me R15 000 in 1996, but it has since paid for itself a hundred times over through cost savings and increased production efficiencies," he says.
Mechanisation
Now, however, Johan is planning to take sorting one step further by introducing on-farm mechanical sorting in the packhouse.
This would earn him R145/t more than manual grading when using the existing grading system, and R330/t more when the proposed new grading system comes into effect. For a 500t peach harvest, this translates into an additional income of R165 000.
"The difference is due to the fact that mechanical sorting is far more accurate than manual sorting. The machines are also a lot faster, which means you can use your workers more efficiently for other things such as picking," he explains.
READ Producing livestock feed without mechanisation
The cost of a fruit sizer varies between R25 000 and R500 000. He advises farmers not to be put off by the cost, however. "There's no such thing as easy money, so make peace with the fact that you have to invest if you want to remain sustainable in the long term.
Don't be blinded by the once-off cost of equipment; look at the cost and return on investment over 10 to 15 years."
Further Mechanisation
Johan has mechanised a number of labour-intensive production processes over the past five years. The first was pruning and thinning trees, where he introduced platforms for the workers. He now also uses the platforms for picking fruit in most of his orchards.
He has two self-driven, diesel- operated hydraulic platforms and one that is towed behind a tractor. "Self-propelled platforms are better as they can move at a much slower speed of around 120m/ h," he says.
The platforms towed behind a tractor are suitable for jobs such as pruning and thinning, but not for more laborious work such as picking, he explains. Using the platforms has enabled Johan to employ the wives of farmworkers and other women who already live on the farm, as they are not required to carry the typical heavy ladders used for picking.
"I used to be more reliant on seasonal workers. [Employing farmworkers' wives and other women] has greatly boosted household incomes on the farm," he says.
Improved Efficiency
The platforms have also made the workers more efficient. A labourer who could previously do between 3 000 and 3 500 clippings per day when pruning trees using a ladder, can now do 7 000 clippings per day from a platform. The work is also less strenuous.
"In the past, workers used to tire because they carried ladders around, not because of the actual pruning or thinning of the trees. Now they get tired because of the actual work," Johan says.
After investigating various pruning platforms, Johan built his own in the end. "I bought the chassis and then built the platforms on top of these to suit my production requirements. Something to look out for is the width of the platform.
It needs to be narrow enough to move through the orchards on your farm. Mine can expand to 2,8m and collapse to 2m," he says. Johan recently experimented with mechanical thinning in some of his plum orchards.
"Mechanical thinning worked well. Labourers still have to move through the orchards and remove some flowers after the machine passed through, but it is a lot quicker than [doing it] by hand," he says.
He mechanically thinned every second row of plums to see if these would produce larger fruit than those thinned by hand. So far, it seems to be the case, and Johan hopes this practice will therefore help him extend his production season.
Due to water restrictions as a result of the drought, Johan has re-evaluated the profitability of his orchards. He is planning to take 13ha out of production, as these orchards are no longer economically viable. Water saved in the process will then be reverted to the other orchards.
"During hard times such as these, a producer has to re-evaluate production systems and make changes that ultimately help the farm become more sustainable in the long run," he says.
Email Johan Esterhuyse at [email protected]