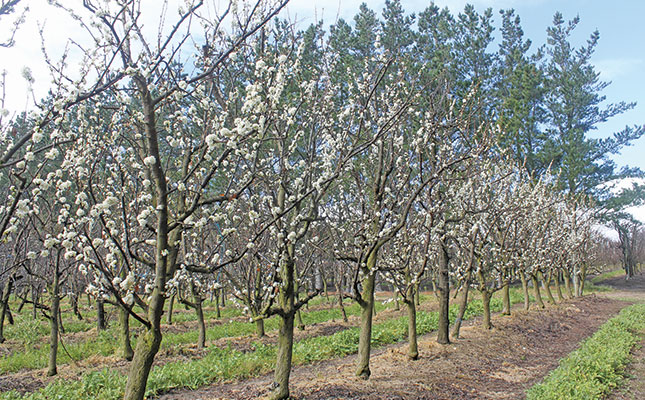 Marilyn Siegels ventured into farming in 2017 after leaving the corporate sector, where she worked as a medical representative for Nestlé. Despite little exposure to farming, she committed herself to the family business, for which her father had sacrificed a great deal.
According to Siegels, acquiring Protea Farm, which trades under the auspices of the Nitaflo company and is situated in the Elgin Valley, was no easy task.
"It took my father [Edward van Niekerk] almost seven years to finally receive the farm from the Department of Rural Development and Land Reform through the Proactive Land Acquisition Strategy (PLAS) system," she explains.
He was granted a 30-year lease from government, with the option of buying the land after five years.
"The farm was in poor condition, and the infrastructure, such as irrigation and pumps, was non-existent. Most of the orchards were also severely neglected by the time my father took over. Many of the trees were old, and had been pruned and planted incorrectly."
Orchard renewal
The 74ha farm has just over 17ha under orchards, of which 7,24ha are dedicated to apples and the balance to plums. The family's primary focus over the past years has been to get the orchards sustainable again.
This has entailed removing trees that are no longer economically viable, establishing new orchards, and grafting older trees to improve productivity.
Replanting has not been without its challenges.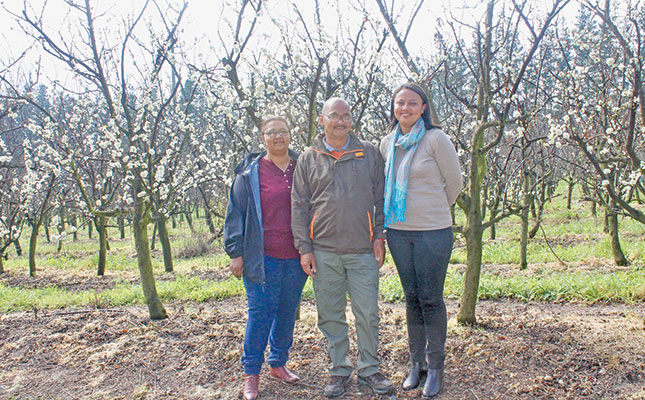 "When we first started replanting, our production suddenly decreased from 372t of apples in 2018 to 253t in 2019. Our plum yield also showed a downward trend. Nonetheless, it was necessary as the older trees were bleeding the business dry," says Siegels.
Accreditation
Between 60% and 70% of the fruit on Protea Farm is exported, while the remaining harvest is sold locally for juicing. Their apples are marketed through Fruitways, while their plums are marketed through Freshness First and Fruits Unlimited.
Siegels highlights the fact that Nitaflo holds a gold GlobalGAP accreditation as well as a platinum SIZA certificate for excellent agricultural business practices.
When she started at Protea Farm, she was tasked with ensuring that the procedures and paperwork of the business were in order.
She has found apples to be easier to farm than plums, as the window for harvesting is longer. The family is systematically converting all production at Protea Farm to apples.
"We have about 64ha of arable land available. Our goal is to renew and replant the entire farm within the next three to five years with apple varieties that are currently in demand," says Siegels.
Water management
Although the farm is fortunate to have a large water allocation, Van Niekerk believes in managing his water sparingly. They are therefore replacing their drip irrigation systems with a modern micro-sprinkler system as they replant the orchards.
"We have shale soil, so drip irrigation is less effective than micro-irrigation. In summer, only 20% of the root structures receive water properly from the drip irrigation system. But with the water being applied at ground level with a micro-irrigation system, it can penetrate directly to the roots," he explains.
Siegels says they do not have probes on the farm to measure soil moisture. However, they would like to install a weather station to assist with their irrigation recommendations.
Soil preparation
The family employs specialist consultants to analyse soil samples every three years, while leaf samplings are done every year. These readings are used to determine fertiliser and foliar applications through Intelligro.
Van Niekerk believes that everything should happen at the right time and that one should not be frugal when it comes to tree nutrition, as there is a danger of saving oneself into bankruptcy.
Pest management
Major pest threats on the farm are fruit fly and false coddling moth (FCM), as contaminated fruit cannot be exported.
To control these pests, the family hangs pheromone traps in the orchards and mass-rears fruit flies, sterilising the males with gamma radiation and then releasing them into orchards. The sterile males mate with wild females and the resultant eggs are infertile.
Sticky weevil traps are placed around the trunks of trees to prevent these pests from climbing up to the fruit. Snail pellets are also regularly strewn in the orchards.
Theft is a major problem, due to a number of illegal occupants on the farm who cannot be evicted due to the Extension of Security of Tenure Act (ESTA). The family tries to address this issue through enhancing their security measures.
"Since we appointed security guards and installed cameras, we were able to collect 102 more bins than usual from our African Delight plum orchard closest to the illegal occupants," says Siegels.
Due to the lack of on-farm cold storage, they sometimes need to make up to four trips per day to ensure that their produce reaches its destination fresh. They therefore applied to government to assist with the building of additional storage where they can store their fruit.
Wind damage is another challenge they have to overcome.
"In one weekend, strong winds claimed nearly 50% of our apple and plum crops. The orchards located on the hills were severely affected," recalls Van Niekerk.
Siegels adds that covering their orchards with nets is too expensive and they are therefore forced to rely on windbreaks. Her father is keen to experiment with windbreaks made of old crates. Planting a windbreak and waiting for the trees to grow will take too long.
"The windbreak with crates will immediately protect the trees against the wind, and also prevent trees from being deprived of their nutrients due to root competition," she says.
Future plans
A critical factor for any fruit farmer is proper pollination during fruit set.
"We rent bees at R150 000 a season, which is a lot of money. My sister and I have already bought beehives and hope to have our own bees for pollination within the next few years," says Siegels.
With the re-establishment of the orchards, Siegels has planted aloes to provide the bees with sustenance in winter.
The sisters also want to venture into agro-processing by adding a processing plant on the farm.
"Instead of sending our apples to the local juice factory, we want to make our own juice or concentrate to add value to our current products," says Siegels.
Protea Farm employs 24 permanent workers, while the seasonal operation typically needs 30 to 60 additional employees.
"We mainly hire local workers, because empowerment starts at home," Van Niekerk says.
Siegels adds that as a family they would like to assist in job creation in the area, while making a difference to South Africa's unemployment rate.
Email Marilyn Siegels at [email protected]