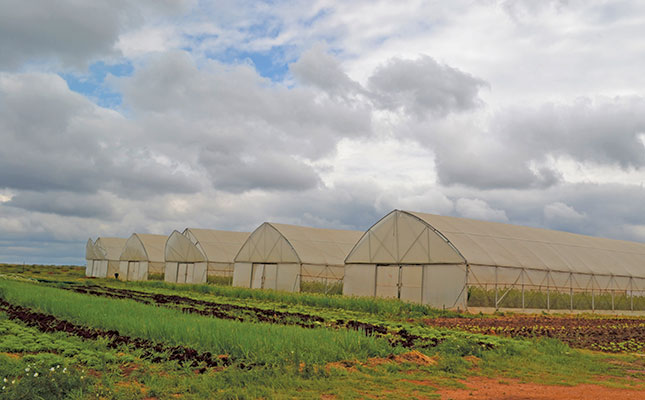 Vutlhari Chauke, a 34-year-old first-generation farmer, is passionate about the value of education. And it's a passion borne out by her own academic record.
She obtained five distinctions in matric before studying at the Central University of Technology in the Free State. She then went on to obtain an MBA from the University of South Africa's Graduate School of Business Leadership in 2014.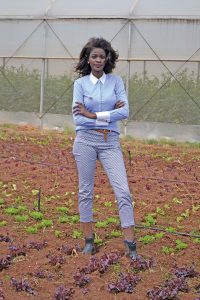 Today, Chauke runs VT Harvest, a peri-urban farm that specialises in the production of vegetables, herbs, and high-value crops.
Limpopo-born Chauke had no agricultural experience when she left the comfort of Sandton's boardrooms in 2017 to start farming. What she did have was a thirst for knowledge and a pair of hands that she didn't mind getting dirty.
"I've moved around in the corporate world and have learnt a lot," she says. She worked mainly for JSE-listed companies in the logistics and travel and tourism sectors and, as it turns out, the knowledge she garnered along the way has proved invaluable to her farming business today.
"Previously, I had to phone around and find out what clients wanted. This is exactly what I'm still doing today.
"I discovered that agriculture wasn't as daunting [as I thought] once I just started doing it."
Chauke adds that business principles are universal, with the key being to ensure that your expenses aren't more than your income.
A direct and indirect supply
Chauke's GlobalGAP-certified produce can be found in some of the most high-end restaurants in Johannesburg, including an upmarket Sandton hotel.
"I don't supply them directly; I focused on becoming a supplier to their suppliers," she says, although she does supply directly to a few other restaurants.
READ The game-changing passion fruit cultivar developed in SA
To this end, she decided to simply cold-call potential clients and take baskets of her produce to them, and that's how she landed a deal with Dew Crisp, through which much of her product is distributed. In the same way, she has become a tomato supplier to restaurant chains such as Nando's and McDonald's.
In addition, her produce can be found in grocery stores in Dunkeld, Fourways and Honeydew. She is also proud of the fact that her products can be bought from street vendors, as she sells directly to hawkers who visit her farm.
"A lesson I've definitely learnt from COVID-19 is that I have to spread my risk. When the restaurants were closed [due to lockdown-related restrictions], I suddenly lost a lot of clients and had to find a new market for my produce."
She believes that this has served to strengthen her business model.
"The beauty of having direct customers is the fact that I'm able to receive the best prices, and it's also a winning cash flow strategy," explains Chauke.
She adds that it can be very limiting for a small business to deal with 30-day accounts, and her strategy frees up her capital immediately. After every harvest, Chauke invests more in her farm. She is also open to listening to her clients' needs.
"Without access to the market, farming would be a waste of time and resources. The best way of knowing what a client wants is to ask them to open up their fridges to me. This is how I conduct a lot of my research.
"If [a certain product] is found in a client's fridge, then I know I can produce it and have a market. If five clients want to buy that product, we're in business," she says.
On the farm
VT Harvest is located in the Tarlton Agri-Park on Gauteng's West Rand. The entire park consists of 200ha of land, which is leased rent-free by the Mogale City Local Municipality to farmers.
Chauke was given the right to farm on 1,5ha of this land. "In exchange for the land, I'm obligated to employ [people from the local community]," she explains, adding that she is also responsible for paying for the farm's electricity usage.
READ Floating solar panels: generating power and saving water
"Government has really gone out of its way to support us. This is not a lifelong agreement, though; it's available to farmers for only three to five years to help us find our feet. After that, we have to be able to stand on our own."
Production
On Chauke's 1,5ha are 10 greenhouse tunnels equipped with drip and overhead sprinkler irrigation systems. Between 10 000 and 15 000 seedlings are planted per tunnel. Even the spaces between the tunnels are planted to herbs and lettuce. She also has a small net house where she grows okra and bell peppers.
The tunnels are used mainly for growing tomatoes, as they have a longer growing time, and any environmental damage could lead to buyers rejecting the produce.
"The tomato crop cycle is about six to eight months. By protecting them, we're also able to increase our yield," explains Chauke.
"The herbs and lettuce take only about six weeks to grow, and even after hail they can bounce back. So it's less of a risk to grow them outside."
She grows the round Lindsay variety of tomato for McDonald's, and also produces Tinker, an oval cocktail tomato. "[The latter] is the same variety they sell in Woolworths," she says proudly.
She decided to grow the small variety for three reasons. First, it's not a crop that thieves are as interested in stealing as they target larger tomatoes. Second, there are fewer farmers competing in this space. And, lastly, the price per kilogram that she can obtain for cocktail tomatoes is far higher than what she receives for bigger tomatoes.
READ 'Go after what you want' – lessons from a young spinach farmer
"I can earn between R10/kg and R14/ kg for big tomatoes, while the price jumps to between R40/kg and R90/kg for cocktail tomatoes," she says.
The length of Chauke's herb production cycle is four to six weeks in summer, and six to eight weeks in winter.
"The production team is responsible for soil preparation, planting, weeding, irrigation and harvesting. Our production plan is prepared six months in advance to factor in crop rotation and seedling preparation."
The herbs produced on the VT Harvest farm are rocket, mint, parsley, coriander, rosemary, thyme, chives and basil.
The plants are checked for pests twice a week, and sprayed with crop-protection chemicals on Fridays, when required. The fresh herbs are hand-picked every day, and only the highest-quality produce is selected for delivery to customers from Mondays to Fridays.
Employees
"An important quality in a leader is not being afraid to employ people who know more than you do," advises Chauke, who says that the better staff are at their jobs, the better the business will perform.
She employs two men, both of whom are under 30, as managers.
"Don't let their ages fool you; they look after their families by sending money home to their parents, who still live in rural areas.
"They're the right kind of people, and my right-hand men."
She adds that she simply comes up with a vision, and they bring it to fruition.
"These young people take pride in their work and are passionate about learning. And I'm not just teaching them; I'm also learning a lot about farming from them, too."
The other four permanent employees are all women who are under the age of 30.
"I truly believe that if you help a woman, you're helping a family," says Chauke, who admits that she goes out of her way to hire women to work on the farm.
"During planting season, I hire five more women. I want to employ many more women, because I know that the money they earn will be used to buy food and school shoes for their families. They'd rather suffer themselves if it means that their children can receive a proper education. This will bring about generational change for that specific family."
She says it's also important to have an open mind when managing today's youth as employees.
"Young people like to work while listening to music on their cell phones. They always have headphones on. It bothered me in the beginning, but I thought I should just see where it was going. As it turned out, with headphones on, they perform better." Her only concern is that it should remain a safe working environment.
"In any corporate setting, it's important to give people a good working environment."
An infinite return on investment
"I've seen first-hand what a difference one person's education can make," says Chauke.
Her father is a computer programmer from the town of Giyani in Limpopo. "In the 1990s, he was a black computer programmer specialising in the COBOL programming language," she explains. "It was unheard of!"
Her father was one of five children, and the only one who received an education. However, through him, every one of his own and his siblings' children and their grandchildren received an education.
Chauke's mother qualified as a teacher in the 1990s, and both her parents instilled a love of learning in her and her four brothers. They also nurtured in them a compassion for others.
"They taught me the value of hard work," she says. "From a very young age, I knew that I wanted to be an entrepreneur. I had big dreams."
She initially became a farmer to make money, but later realised that agriculture created employment and contributed to food security.
"My goal is to become a black woman farmer success story, where my brand is respected in the industry. I would like to leave a legacy for my children."
Email Vutlhari Chauke at [email protected].