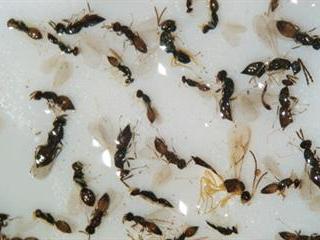 The leaf miner, which was once so feared, should now only be a mild irritation or no problem at all. If this is not the case, you need to look at your spraying programme. The first major accidental introduction was the serpentine leaf miner (Liriomyza trifolii). This was a serious tomato pest some years ago, especially in warm areas – and the damage caused made the plants susceptible to disease.
South American leaf miner
The next accidental introduction was the South American leaf miner (L. huidobrensis) which has a much wider host range and climatic adaptability. It is a small black and yellow fly as an adult. It inserts its eggs into a leaf and the larvae start "eating" a tunnel between the lower and upper skin of the leaf. As it grows, the tunnel becomes wider and follows an erratic pattern on the leaf.
The life cycle is very short in warm conditions and there are many cycles in a year. As a result, this pest is able to quickly build up resistance to pesticides. Furthermore, because the South American leaf miner was exposed to many crop chemicals in other parts of the world, it arrived here already resistent to many pesticides.
There was an immediate problem – and not a little panic among most vegetable farmers. I still recall my young pumpkin plants being destroyed at the 4-leaf stage. I wondered why they were dying and only then noticed that the dicotyledonous leaves were full of tunnels, some of which even went down to the stems.
My beans were not faring much better – and would have died if I hadn't sprayed abamectin.
Many farmers at the time were spraying crops such as lettuce and Swiss chard twice a week – and this only to reduce damage and not even to fully control the pest. It seemed like all doom and gloom, and the more sophisticated and meticulous the farmer, the greater the damage.
Parasitic wasp
On the other hand, at this time, some small-scale farmers weren't too particular about spraying, and hadn't even noticed the tunnels developing on their crops. Incredibly, these farmers came out with the least damage. Further investigation revealed that their crops had an abundance of tiny parasitic wasps.
Entomologists at the ARC confirmed that these wasps could play a vital role in controlling the South American leaf miner.
I started collecting specimens, which Diedrich Visser of ARC kindly placed under a microscope and photographed for me. He confirmed that there are at least nine species known to parasitise – or prey on – the leaf miner in this country. Armed with this information, I tackled a bean crop which had a severe infestation. I'd noticed that there were a few wasps of various species around, but not enough to make too big a difference, considering the number of leaf miners.
An application of abamectin reduced leaf miner damage, while only slightly affecting the wasps. One more spray a little later saved the crop, while the wasp population increased substantially. This was the last time I had to spray for leaf miner and that was many years ago.
During the outbreak, an information day on the subject was held, at which various pesticide companies painted a sombre picture and discussed ways of changing spraying programmes so as to minimise the build-up of resistance to available pesticides. At the tea break, I mentioned to one of the large-scale farmers the wasps that were solving my problem. He said he had a land of Swiss chard which he had abandoned and stopped spraying.
He hadn't yet worked the crop in and said that he noticed a much lower population of leaf miner on that land. He invited me to
take a look. I found two species of wasp in fairly large numbers. There was light at the end of the tunnel! More about leaf miners next week.
Contact Bill Kerr at [email protected] Please state "Vegetable production" in the subject line of your email. •FW