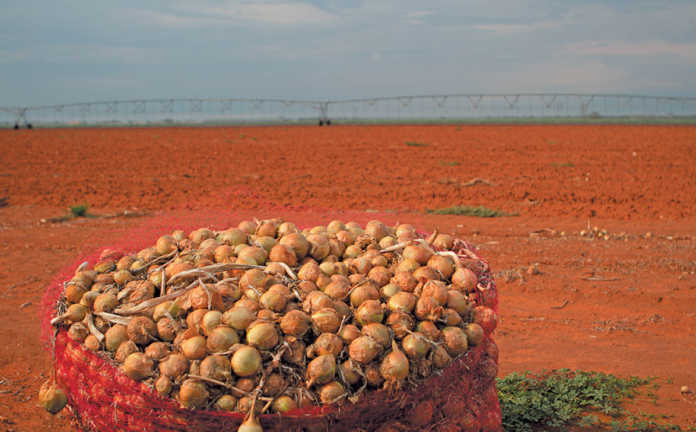 Willem Mulke and his sons Jaco and Kolver are doing things their way: working as a unit while still pursuing their individual interests. They produce a number of irrigation crops, but focus mainly on onions and seed potatoes.
A family-based approach
The Mulkes farm along the R357 between Kimberley and Douglas, where Willem and his father first started out with rented land on the farm Bossiespan in 1978.
Willem then started renting land on his own and was later able to purchase the farm Nuwejaarskraal in 1984, where he and his wife, Annemarie, still live today.
"I first bought here, and then started buying land around the farm. The original farm, Bossiespan, we bought about one-and-a-half years ago," says Willem.
Nuwejaarskraal had been a stock farm and lacked irrigation infrastructure. It was only in the early 1990s that Willem installed the first pivots.
In the early days, he farmed watermelons. "It was hard work: hand-picking at the right time, getting R10 for the early ones down to R1 for the last. Day in, day out. But that's how you start building something," he says.
Today, the family owns five farms. Nuwejaarskraal (448 ha) is owned by Willem, while Kolver owns the 448ha farm, Tambile, and Jaco the 448ha farm, Erfdeel. Bossiespan and another farm, Mierkraal, are owned by all within a business structure.
The business is set up in such a way that Willem, Jaco and Kolver each has his own company, but they are all partners in other, separate business entities, which they use to collectively purchase equipment, for example.
The packhouse
The multi-million rand packhouse is not far from the main house on Nuwejaarskraal, and what looks like round grass bales in the adjoining land are actually netted bales of onions headed for the packhouse.
According to Willem, they pack and send five or six truckloads of onions a day, at about 35t per truck. These are mostly destined for fresh produce markets in Johannesburg, Pretoria, Durban, Port Elizabeth and Cape Town.
"We send out about 200t a day," he says.
Willem initially began farming onions on 5ha in 1983, but this year the family will plant about 230ha to onions until the end of May, which will be ready for harvest between October and December.
Willem says the packhouse operates for at least 11 months of the year. It is equipped to handle both of the family's core interests, namely seed potatoes and onions. There is a good crossover between the individual businesses in terms of the packhouse and the equipment out in the field.
"The packhouse, for example, Productionis used as a communal space where all our products get processed, and we each pay a tariff per ton," says Willem.
Long rotation cycle
Willem says that although onions are their central crop, lands are only planted to onions once every four to five years. This is to mitigate pests and diseases, which is especially important for seed potato certification.
Onion and seed potato lands are rotated with other crops such as wheat, oats, lucerne and maize.
Willem says once the onions are harvested, he will plant oats, as it helps control nematodes. Lands are then rested for a period before being planted to seed potatoes. Only after the potatoes are harvested, are they planted to onions again.
Kolver is the family onion production guru, and explains that cultivar selection is an intricate science. The family plants between 15 and 25 cultivars every year, while Kolver also performs trials on 40 to 60 additional cultivars every year.
"There is a wealth of cultivars in the world," he says.
It is important to get the timing right, both in terms of when the product hits the market and for packhouse optimisation. Different cultivars have different growth periods and different planting windows, some as short as 10 days.
Kolver says that unlike a potato, an onion cannot be left in the ground; it must be harvested and transferred to a store, or piled appropriately on the land.
He thus needs to know exactly how each cultivar performs in the area, as well as when to plant and when the produce will need to be processed.
Moreover, Kolver must factor the packhouse capacity into the equation when making planting decisions.
"I cannot plant more than 40ha to one cultivar," he adds.
Planting
Kolver says onion planting and harvesting, unlike other crops such as maize, extend over large parts of the year. Onions planted at the end of March, for example, would be harvested in September, while another cultivar planted in July would be harvested in January.
Seedbed preparation is also important for onions, which have a shallow root system of only between 30cm and 40cm.
Lands are left fallow for four to six months before planting. During this time, they are kept free of weeds. If the lands were previously planted to wheat, the residue is worked into the soil.
Just before planting, the soil is deep-ripped and ploughed to loosen it, and then fertilised with a granulated product containing nitrogen, potassium and microelements.
A herbicide is also sprayed proactively directly after planting.
The Mulkes use precision technology such as leaf analyses, and data from soil moisture probes and sensors, to accurately determine the crops' nutritional and irrigation needs.
Additional fertilisation is thus administered as needed depending on the results of the analyses. This also applies to irrigation, with moisture probes at surface level and at a depth of up to 80cm. Kolver says he also regularly digs soil profile holes for visual analysis.
Water use must be strictly managed, as they draw water from the Orange-Riet River Canal, previously known as the Sarel Hayward Canal, and only have a certain quota available. "We pay for every drop we use," he says.
They have to submit monthly readings to water authorities and Willem, for example, may not exceed 11 000m2/ ha per year. This quota was allocated based on an irrigation plan Willem submitted to the Orange-Riet Water Users' Association.
Storing and packing
Part of a successful onion operation lies in being able to store the product for months at a time. Willem says that they have five purpose-built storage sheds across the farms.
One of these is cooled and two are well insulated, and utilise a computerised system from the Netherlands to maintain optimum conditions.
It costs about R6 million to install an appropriately sized insulated shed with strong structural integrity that can also be cooled, according to Willem.
The onions are heaped in masses inside the pitch-dark sheds with ventilation channels below that allow air to be circulated upwards through the mass.
Vents, or shutter flaps, are automatically swivelled by the sheds' systems to allow fresh air in, and to assist in maintaining a constant temperature of 24°C.
The management systems include information about inside and outside temperature, humidity levels and other relevant data, all of which can also be accessed off-site via a tablet or smartphone.
Willem says he also makes use of a service that includes monitoring from a site in the Netherlands.
The data is available for three years, he says, which is good for traceability when delivering to clients like McCain, for example.
He says the secret to long-term onion storage is a constant temperature.
"You can store at 22°C or at 25°C, but you must just keep it there," he says. By storing in a controlled, cooled environment, he can keep his onions for as long as six months.
Remain positive
The Mulkes draw on outside expertise by using tools such as the HTB programme, a service offered by the agribusiness, GWK.
This includes provision of satellite imagery, analyses of various precision data, and visits by agricultural experts every two weeks. Jaco says something like this is important.
"I watch my crop daily and don't really see its growth, whereas the guy who only sees it every second week can see the progress over that period," he says.
Willem says such expertise is critical as a farmer has to be everything from an engineer to a labour consultant to a weather expert. He describes farming as one of the world's most difficult professions.
"There is so much that can go wrong," he adds.
The Mulkes try turn challenges into opportunities, however. Kolver, a former Northern Cape Young Farmer of the Year, has already invested in two additional farms and remains positive.
"I am not really losing sleep over politics and land," he says.
Jaco says South Africa might not be an easy country in which to live and farm from a political and safety perspective, but he still sees hope for farming.
"We are not people who just stand back and give up," he says.
Email Willem, Jaco or Kolver Mulke at [email protected].