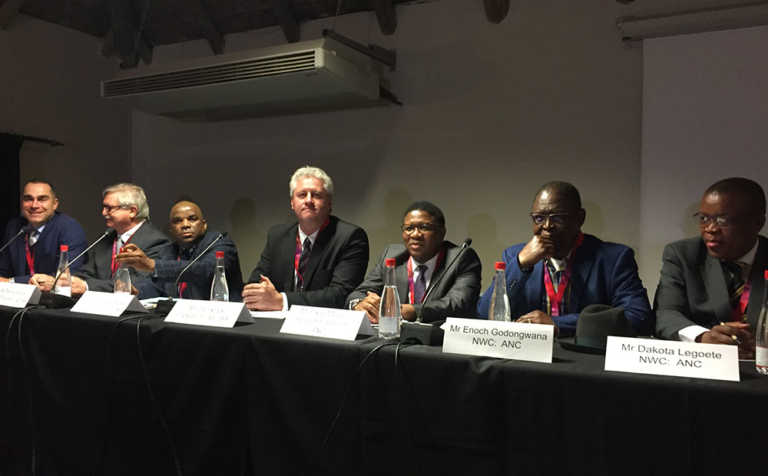 A large group of farmers and members of Agri SA, met ANC delegates in Pretoria on Friday to voice their concerns about the expropriation of land without compensation.
The farmers hailed from nine provincial unions and 26 commodity organisations, with commercial, communal and emerging farmers also attending.
The ANC delegation was led by ANC head of elections Fikile Mbalula.
READ 'Don't stop farming', Mabuza tells white farmers
The media were not allowed at the closed meeting, but Mbalula said at a media conference after the event that the ANC wanted a constructive resolution to expropriation "which would now include no compensation".
He said land redistribution would mean a bigger economy and an economy with a larger pool of shoppers, and more produce to export.
"Agriculture slowed down [in the last financial year] and contributed to the [current] recession. This calls for redistribution so the economy can grow," Mbalula said.
He said land would not be nationalised. "We are not in support of government controlling lives and commerce that way. We also want to keep the world-class banking system undisturbed. But we want to assure black and white that land access is coming."
Farmers at the meeting made suggestions on how agricultural reform could be implemented sustainably.
READ Agri sector welcomes ANC reassurance on property rights
According to Omri van Zyl, CEO of Agri SA, they would compile these suggestions into a document and hand it over to the ANC later this year.
Van Zyl did not expand on what suggestions the farmers had made but said Agri SA had suggestions for managing government departments that were dysfunctional, and wanted to propose public-private partnerships that could help with extension services.
"We need to give title to land that is in government possession so one can unlock capital in the private sector. Once we do that, we can create a new injection into the economy. We must get a development fund up and running that can fuel transformation initiatives," Van Zyl said.
He said Agri SA was working with 110 000 development farmers who needed capital. This would infuse energy into the agricultural section and drive growth.
ANC representatives earlier this month met with the Agri Sector Unity Forum (ASUF). ASUF comprises Agri SA, AFASA, TAU SA and NAFU SA.
These associations said they wanted to submit their own proposals to the ANC in November on how they see agricultural reform being implemented sustainably. However, the ANC did not invite them to Friday's meeting.