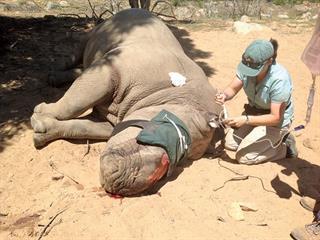 Treating sick animals is only one of the career paths you can follow if you obtain a degree in veterinary science. Qualified vets can work in the public sector as state veterinarians, in veterinary public health and food safety, in the import/export industry, in the SA National Defence Force or SAPS, or in diagnostic laboratories.
Private vets can specialise in pets (companion animal practice), equines, livestock, poultry or game. There are also careers for vets in academia (as lecturers), in research, in the pharmaceutical industry and in animal welfare. The broad-based training even allows a vet to change direction over time, perhaps starting off as a small animal clinician and ending up working at an abattoir.
Job security is virtually assured; there is a shortage of vets in South Africa.
The degree
In this country, as around the world, a degree in veterinary science is based on a number of modules, starting with basic knowledge and skills that build up over time to become 'competencies'. For example, surgical competency starts with a basic knowledge of the anatomy and physiology of animals. This is followed by study of pharmacology and anaesthetics and includes theatre hygiene and surgical practice before the student attempts to operate on a living animal.
Only one university in South Africa offers a degree in veterinary science – the Faculty of Veterinary Science at the University of Pretoria. Vets who qualify outside the country can be registered to practise in South Africa only if they pass a special examination. All vets must be registered with the South African Veterinary Council (www.savc.org) in terms of the Veterinary and Para-veterinary Professions Act 19 of 1982.
What you need
Selection criteria are available on the University of Pretoria website (up.ac.za). Applications close on 31 May every year. To be selected, you will need to have taken English, a second language, mathematics and physical science in Grade 12. Biology is optional but advised.
In addition, all school leavers who want to study veterinary science have to write the National Benchmark Test. This has two categories: Academic and Quantitative Literacy (AQL) and Cognitive Academic Mathematical Proficiency (CAMP).
There is also the value-added form recently introduced by the veterinary faculty. As part of this, you must submit a portfolio of your broader achievements such as leadership positions held, sports played, and any community work that you have been involved in. You should also list your previous exposure to veterinary practice, farming or animal care facilities.
Registering
To attain a degree in veterinary sciences, you must register for BSc 1 with Chemistry 117, Mathematics 134, Molecular and Cell Biology 111 and Physics 131. Be ready for initial disappointment: very few school-leavers are accepted. It is therefore strongly advised that you put BSc(Agric) Animal Science as your second choice, as many applicants are accepted only once they have completed a degree, or even a post-graduate degree such as an MSc in Agriculture.
If you want to work with animals, there are other options such as veterinary nursing, veterinary technology and animal health technology that are easier to get into. We'll be discussing these in due course.