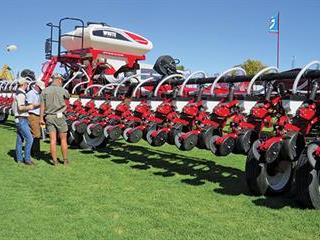 Bigger, wider, faster seems to be the trend when it comes to planters. Bigger so that the planters can go further between refills, wider so that more rows are planted per pass, and faster to plant a larger area each hour.
Massey Ferguson 9824 FFF
The 9824 is one of three models in the 9800 Forward Folding Flex range. It plants 24 rows at 760mm row spacing with the Positive Air Metering system. Other models plant 12 or 16 rows. Options include liquid fertiliser attachments, a flexible shaft seed meter drive with auto row shut-off and pneumatic row unit down-pressure, and tillage attachments to suit a variety of terrains.
Apache 27000+
Each row of this no-till planter has an articulated parallel linkage, two semi-pneumatic gauge wheels and double rubber closing wheels. A variety of turbo, dura flute and rippled coulters are available to cut the crop residue. It has two boxes for seed and fertiliser with an optional extra front box for double fertilisation. There are three row-spacing options: 400mm, 525mm and 700mm.

Tobin Bullet 36/12
The Tobin no-till was the subject of a recent article in Farmer's Weekly (22 May 2015) in which Neels Uys and his brother Pietie told of the success they had had with this Australian disc planter. The 36/12 on show had 36 rows at 305mm spacing and a planting width of 10,9m.
Orthman 1tRIPr
Strip tilling and applying fertiliser simultaneously before planting is gaining in popularity. The 1tRIPr is named after its unique ability to combine multiple operations in a single pass over the land, conserving moisture and saving time and money. It provides a clean, level seedbed in a variety of conditions and is available in four-row to 24-row configurations with row spacing from 560mm to 1 000mm. The 1tRIPr can apply dry or liquid fertiliser while independent row-depth control enables precise nutrient placement at variable depths.
LEMKEN Gigant system
The 6m Rubin compact disc harrow uniformly mixes organic matter and soil to a depth of approximately 120mm. A variety of following rollers provides optimal crumbling, reconsolidation and levelling, as well as precise depth control for different soil and working conditions.
Agrisem Agromulch
The Agromulch Gold cultivator has three rows of tines with shear bolt or non-stop auto reset spring tine protection. It is suitable for shallow work in stubble to incorporate crop residue, and for land-prep in heavy soil, working up to 150mm deep with the wings or up to 300mm deep with the tines. It can also be equipped with retracted point blades that work as a soil loosener. The 6m Agromulch Gold seen here has 19 tines and 16mmx460mm discs. It requires a tractor from 210kW to 270kW, depending on soil conditions.
Piket two-row planter
This no-till planter, designed for smaller farms, is suitable for various crops. It is available as a single-row unit and toolbars are supplied to accommodate up to six rows. It can also be used as a conventional planter.