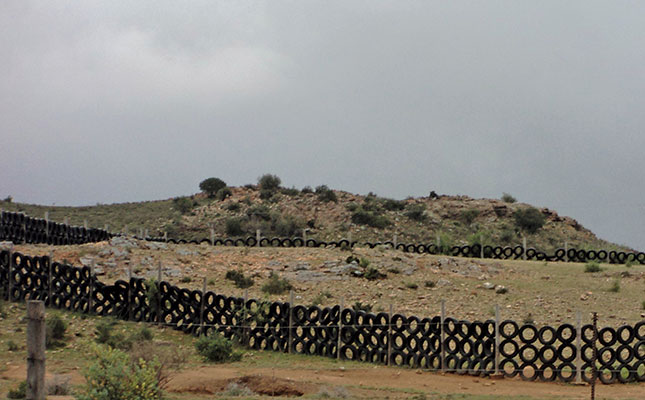 Environmentalists have long struggled to figure out what to do with the millions of old tyres discarded every year.
In the meantime, farmers are using them for a variety of purposes – as feed troughs, for building walls, to smooth out farm roads, as fences and to combat soil erosion.
The photograph above shows how a sturdy fence can be erected with old tyres. This type of fence prevents the damage to ostrich hides that typically occurs when the birds run up against a standard wire fence.
Tyres can be arranged along the bottom of a fence to keep burrowing animals from digging holes that can in turn be used by predators such as jackal.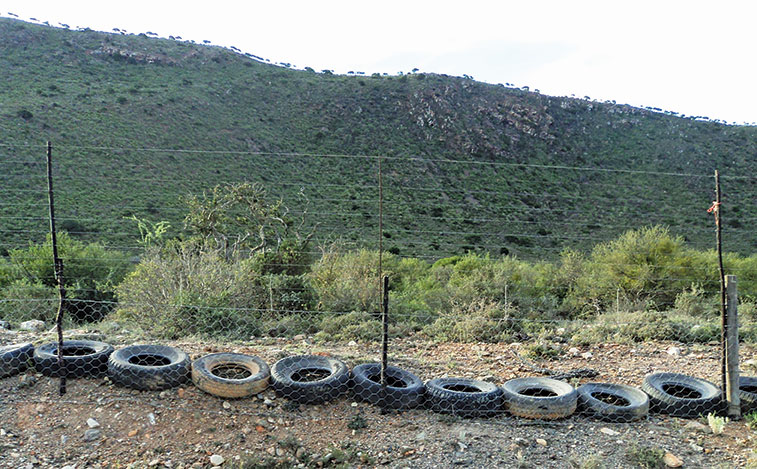 Old tyres can also be placed in erosion gullies and filled with rocks and sand to slow down water flow and stabilise vegetation.
Old tractor tyres, cut in half in the way one would do when converting them into troughs, make a handy road maintenance implement.
Turn six halves over so that the sidewalls face upwards, drill holes in them where needed and tie them together with wire or chains to form a rectangular or triangular shape on the ground.
Then hook them to a tractor or 4×4 and drag them along the road to iron out the corrugations. Garages and retreaders are only too glad to get rid of their old tyres.