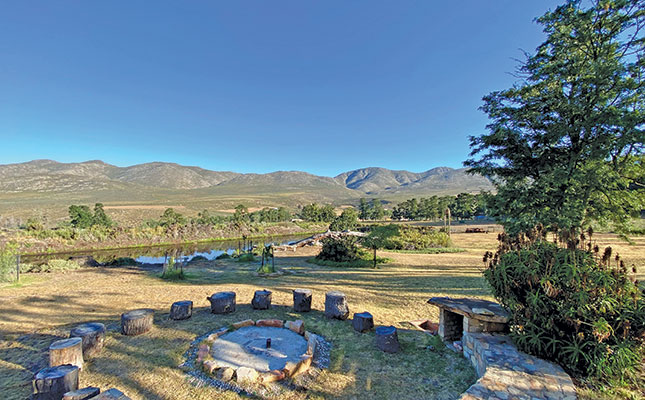 Farmer's Weekly's recent return visit to Mountain Pastures Game Lodge, in the De Hoop Valley on the R62, was too special not to share.
Set within the Klein Karoo, approximately 18km from Uniondale and 90 minutes from George Airport via the Outeniqua Pass, Mountain Pastures is a working game farm with seven chalets for hire, as well as a conference centre for up to 70 delegates.
Over the years, its owners, Eugene and Riana Edwards, have raised sheep, buffalo and plains game for sale to other game lodges, but recently, following a long period of drought, they have put their focus on plains game and sheep.
Accommodation
Six chalets are situated side by side, and one stands alone and nearest to the main house, which has a communal kitchen and dining room for guest use.
While each chalet has three beds (a king and two singles), it is worth noting that the bathroom, with toilet, tub and hand shower, is accessed from the main bedroom, so whoever is in the single bedroom needs to move through the main bedroom before reaching the bathroom. But with rates from as little as R350pp, this is a small inconvenience.
While Mountain Pastures provides catering for groups of eight people or more, the well-appointed kitchen and outside braai facilities are available for self-catering. Each room proudly has a trophy head on the wall; an eland above the bed in chalet three looms large.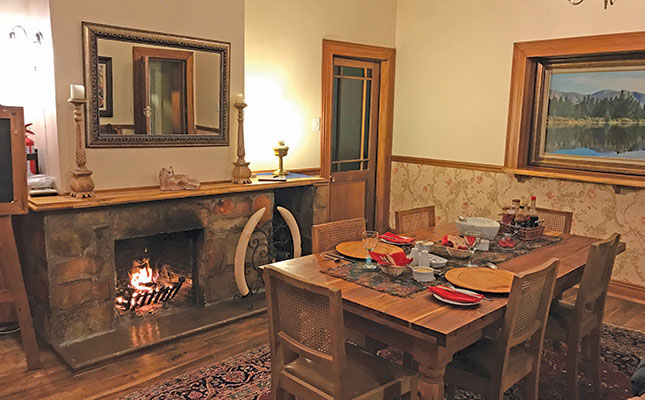 The cosy rooms have everything you need to be comfortable in the icy winters as well as the hot summers.
Perfectly ironed white linens dress the beds, and loads of extra fluffy blankets are stored in the antique timber wardrobe.
There is enhanced attention to detail, and the care with which the rooms are furnished, decorated and cleaned ahead of a visit is comparable with top luxury hotels. There is a three-star game lodge grading sign displayed next to the reception office, but the experience is much more than you'd expect.
Activities
The owners obviously care deeply about guests having a relaxing and enriching experience. On a previous visit, Farmer's Weekly joined an early-morning game drive at an additional fee, and springbok were amongst the animals seen. Later, walking up the mountain, we again encountered game.
Five Green Flag-status hiking trails begin at Mountain Pastures, and there is something for every level of fitness, including a challenging hike only available to overnight guests on account of its length.
Bass fishing is offered too, and fishing tackle is provided at a nominal fee.
Looking out from a wooden chair outside your chalet at dawn or dusk reveals the vastness of the space within the amphitheatre created by the Kouga and Honniball mountains. Bats at dusk and many birds from dawn onwards punctuate the wonderful openness of the vista.
The Baviaanskloof, one of the world's 34 biodiversity centres and a UNESCO World Heritage Site, is nearby.
Connectivity at the lodge is sketchy at best, but there is free Wi-Fi in the conference centre and main house that sometimes filters to the chalets, too.
The extra mile
There is something old-fashioned about the experience here. It's difficult to define open-heartedness as a service characteristic but, as Farmer's Weekly did, you will feel it here. Eugene and Riana are always on site, and matriarch Elize, while based in Pretoria, is often present to ensure a shipshape offering.
Mountain Pastures will introduce you to professional guides nearby who can take you on an expertly led walk. In a blog entry dated 2 February 2022 on Mountain Pastures' website, Dr Joy Coleman reports finding the rare Euphorbia willowmorensis, a succulent found in only four locations between Willowmore and Misgund, according to authors Jan Vlok and Anne Lise Schutte-Vlok in the book Plants of the Klein Karoo.
Farming
The Langkloof is a renowned apple- and pear-growing region, and on the farm Misgund, about 40 minutes in the direction of Joubertina, stands one of the oldest apple trees in South Africa, The Kroon (Crown).
Early roads, many now on privately owned farms, form part of the 263km Pilgrimage of Hope, a 14-day walk from Uniondale to Mossel Bay modelled on the Camino de Santiago in Europe.
The Apple Crate farm stall at the intersection of the N9 and R62 offers all the deliciousness expected from a farm stop, but with the added benefit of providing a history of the regional farming families via the apple crates on display that carry their names.
According to Jimmy Zondagh, an apple and pear grower and the Langkloof's unofficial archivist, 10 generations of Zondaghs have farmed at Avontuur since their forebears' arrival in 1765.
Alexander Baldie, of the farm Misgund, was the first to plant apples in the area in 1902. The Karoo2Coast, a 100km cycle race between Uniondale and Knysna to benefit the Uniondale and Knysna Lions clubs, has been running for more than 20 years and continues to be supported by the Zondagh family and many other growers in the area.
It is a sold-out annual event and accommodation is difficult to come by. If you want to book at Mountain Pastures during this period, beginning on 24 September this year, you will need to pay fully and in advance.
Visit mountainpastures.co.za.