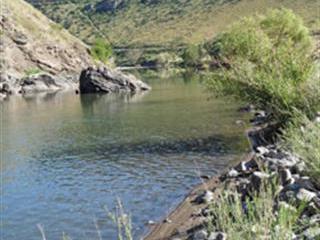 I shall never forget landing my first Kraai River Basin yellowfish (Labeobarbus aeneus) on a fly rod. Pound for pound, this has to be one of the most athletic freshwater species in South Africa, and my strike turned into a frantic riverside scramble as I tried to stay connected to the fish.
Since then, I have spent many Christmas holidays along the streams of the Kraai River Basin fly-fishing for these strong golden fighters, and during this time it has become clear that the river system on which these fish depend may not be as undisturbed as I had once thought.
Sight-fishing and wildlife sighting
Every December, the valleys of the Kraai River Basin come alive, not only with torpedo-like yellowfish in the rivers and streams, but also with wildlife such as baboons scrambling along riverside cliffs, Nile monitors scurrying through the underbrush and the occasional herd of mountain reedbuck flashing their white tails as they disappear into an outcrop of evergreen ouhout.
Provided that run-off from the often powerful north-eastern Cape thunderstorms has not muddied rivers during December, it is possible, with polarised sunglasses, to spot yellowfish cruising near submerged trees or boulders long before casting a fly to them. They seem to be particularly active when the late afternoon shadows begin to lengthen. Yet there is perhaps no better time than early morning to fish for this beautiful species.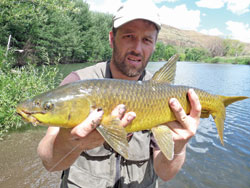 The author with a handsome yellowfish from the Kraai River.
The air is crisp, the water icy, and the river and its environs often alive with other creatures – Cape clawless otters, kingfishers or those beautiful but pesky African black ducks that always seem to take over the most promising pools. Although there are a wide variety of flies and fishing techniques for yellowfish in South Africa, sight-fishing in deep pools with flies such as Zak Nymph, Mrs Simpson and Woolly Bugger is surprisingly successful in the Kraai River Basin. Yellowfish will frequently feed on prey floating on the surface.
This means that dry fly patterns, including large Muddler Minnow patterns, are effective when targeting them. The sudden swirl or splash as a yellowfish rises to take the dry fly adds to the excitement of targeting them in this way.

Ardent yellowfish anglers
With its feistiness and character, the Kraai River Basin yellowfish has won many a fly fishermen's heart. My brother-in-law, Sidney King, who has always been an ardent rock and surf enthusiast, can today often be found fishing for yellowfish with as much excitement as he would the surf off the Western Cape.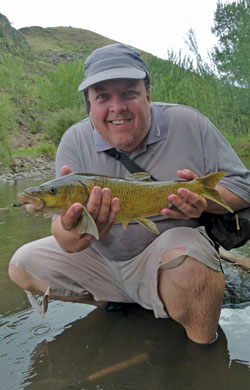 Angus McRae with a healthy yellowfish from the Saalboom River.
A few years ago, my cousin Craig Mueller, a keen Kiwi fly fisherman. arrived in Africa, and needless to say, we soon found ourselves in the Kraai River Basin. Unfortunately, it was being swept by large thunderstorms that quickly transformed sparkling rivers into muddy torrents. Forced to retire to smaller, cleaner rivers in mountain valleys, we managed to land only a handful of small rainbow trout – specimens that hardly impressed Craig, with his experience of monster New Zealand brown trout.
Then Craig landed his first yellowfish on the Saalboom River, followed by several more over the next few days.
The experience contributed to his decision to return to South Africa a few years later on a second visit, even overcoming his fear of snakes! Another convert to yellowfish is my fishing buddy Angus McRae. For years he consistently landed trophy trout – beauties that I can only dream about – from the Kraai River Basin. Then I persuaded him to join me on streams known mostly for their yellowfish. Today, it's obvious that holding a yellowfish delights him as much as landing that prize trout.
Threats to yellows and their rivers
Sadly, the future of this magnificent species is far from assured. Increasing pollution of the Langkloofspruit – a tributary of the Kraai River flowing past Barkly East and its expanding townships – is a worrying development. I have long abandoned the stretch that flows past Barkly East to the Kraai River – once a favourite fishing haunt of mine – after smelling sewage in one of my favourite pools.
And only recently, I was obliged to cancel a fishing trip on the lower Kraai due to sewage leaks from settlement ponds near Barkly East. Increased subsistence fishing along all rivers in the Kraai River Basin is another problem. These fishermen fish for personal consumption or for sale in the townships, unashamedly killing everything they catch. A few years ago, I accompanied a group of them on the Kraai River, where they sat huddled around glowing coals on a sandbank long after I had crawled into my sleeping bag.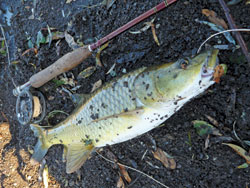 A juvenile largemouth yellowfish caught in the Kraai River near Barkly East.
Every fish caught that night was killed and thrown onto a heap near the fire, including many ruler-length rock catfish. After a few hours' sleep, they awoke and disappeared down the river. I spent most the day fishing with no success, then saw them reappear with a haversack full of yellowfish. Since then I have often met this particular group walking back from the Kraai River along the R58 – between Barkly East and Lady Grey – with bags full of yellowfish destined for deep freezes back home.
This relentless fishing, often during the spawning period, simply has to have an impact on yellowfish numbers. In fact, many believe it is to blame for the rarity of the largemouth yellowfish (Labeobarbus kimberleyensis) in the upper Kraai River. We sport anglers who pride ourselves on catching and releasing fish are not blameless, however. A 2008 study, conducted by the Centre of Aquatic Research at the University of Johannesburg and funded by the Water Research Commission, showed that the physiological stress undergone by fish fought on rod and reel can affect them significantly once released.
These fish may have trouble breeding and their immune systems may even suffer. It therefore goes without saying that yellowfish should never be fished while spawning, and should always be released as quickly and smoothly as possible to minimise the impact of stress. In short, treat them like gold.
Other sources include www.wrc.org.za