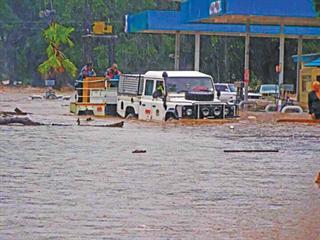 With squinting eyes, a group of neighbours had gathered at our house to watch something in the sky. This strange shiny object was emitting bright flashes as it moved slowly over Pretoria. A reporter from the Transvaler, living down the street, joined us to witness the event.
It was 17 January 1956 and in those days we were all fascinated by the science fiction possibility of space travel. Our interest was fuelled by announcements by the Russians and Americans that the race was on to put a satellite in orbit around the earth. In fact, Sputnik 1's launch, which paved the way for the walk on the moon, was only 20 months away.
People saw flying saucers everywhere and many people expected visitors from Mars to come knocking on the door at any time. We could not therefore be blamed for believing that the flashing object in the sky was an alien spaceship. But it turned out to be nothing more than a balloon released to help with Weather Bureau forecasts.
This body later invited us on a guided visit of its facilities. Only 13 at the time, I was fascinated by all the fancy gadgets and I've never ceased to be intensely interested in the weather signs you can observe in nature.
In the Hoedspruit area, where I live today, many farmers rely on observations of the behaviour of animals, such as birds and frogs, or the sudden appearance of scorpions or tiny black stinkbugs to predict rain.
Although many animals are extremely sensitive to changes in atmospheric pressure and humidity, I reckon the most reliable signs of impending rain are to be found in cloud formations – the same formations revealed by satellite images and used by modern weather forecasters today. Cold fronts moving up the coast very seldom bring rain to our area as we lie in the rain shadow of the Mariepskop Drakensberg.
And it's astonishing how often the forecasts of the South African Weather Service (SAWS) concerning our area are completely off the mark. We receive only about 80% of the rainfall predicted on TV. Despite all the satellites, forecasts are little more accurate than in 1956. Most of the rain in the Hoedspruit area comes by way of warm fronts from the north-west.
This is almost without exception preceded by regularly arranged, high altitude, fleecy cirrocumulus clouds resembling waves of flaky ripples. When you see them, you know that in about 24 hours it will most likely rain – usually in the form of violent thunderstorms, accompanied by impressive lightning. So usually we have ample warning.
But this wasn't the case with the recent massive tropical depression, Cyclone Dando. Although its approach could clearly be seen on satellite images, we had no idea how serious it was. It hit us out of the blue.
By sunset on 17 January we still enjoyed mild weather with a light easterly breeze. The weather forecast predicted an 80% chance of heavy rain, without any flood warning. By dawn the next morning we had fled from our home, as described in last week's "Field Sports".
I lived through Demoina, but this was worse, with most of the reported 300mm to 700mm falling in a six- to eight-hour period in the dead of night. If we had lived in our neighbour's house 100m downstream, I would never have made it out alive. The floodwater that crashed through their house and swept away most of their furniture and belongings would have been half a metre over my head.
The flood also washed away most of the solid stone bridge that was our access to the outside world. It flattened most of the game fences and swept away the bridge to the Air Force base, where infrastructure damage totalled R36 million. In other areas it was even worse. Of one luxury house in Raptor's View Estate, only the foundation remained. In another, the doors and windows, together with their frames and even the built-in-cupboards, were ripped out of the walls.
In the Blyde River valley, several vehicles washed away or ended up in trees. The level of the Klaserie River was 6m higher than during the 2000 flood and many dead game animals, even hippo, floated downstream. It took two days before we could reach our house again.
As we struggled through the mud, we feared the worst. Imagine our joy when we arrived to find that the floodwater had miraculously stopped 1cm below our doorstep! Everything was just as we left it. Ours was the only house along the river that wasn't flooded. Why we were so blessed, I'll never know.
While human fatality figures were uncertain for several days, it's now clear that community co-operation and Air Force support prevented any local loss of life. However, the coverage by most of the media, especially the SABC, was disappointing, as it gave no idea what had really happened here.
Losses were so horrendous the area was declared a disaster area. While many bridges and several roads were so extensively damaged that they'll remain closed and take a long time to repair, the nightmare memories of many will linger for the rest of their lives.
Against this background, it's ironic that the Department of Environmental Affairs, which has a statutory duty to warn communities of impending floods, but failed to do so here, had earlier declared its intention and attitude with the new Weather Service Amendment Bill.
This will make it such a serious offence for anyone to issue a warning on any weather or air pollution matter without the prior permission of the SAWS that offenders can be locked up for five years, fined a whopping R5 million, or both. If you dare to break the law a second time, the imprisonment and fine may be doubled.
If, through intention or neglect, the warning causes any damage, the perpetrator can, in addition, be forced to pay the costs of this – quite a heavy price for being wrong. But this doesn't apply to the DEA, because Section 27A exempts SAWS from any liability for "any damage, loss or injury caused by any act performed or omitted" by anyone in its service. How's that for arrogance?
This is not yet law and, although I predict that the DEA will be forced to backtrack, as with so much of its crazy legislation lately, this bill may be a double-edged sword. It may backfire if the DEA persists with it by drawing attention to the fact that it was not yet exempt from the results of not doing its duty to warn us of the approach of Cyclone Dando.
By neglecting this duty, millions of rands in damage resulted, much of which could have been avoided had we known what was coming. Hundreds of Hoedspruit residents may now realise they may have legitimate claims. By contrast, I can look up and say: "I'm extremely grateful for not being one of them."
Contact Abré J Steyn at [email protected] Please state "Field sports" in the subject line of your email.
For more info on cloud formations, go to www.clouds-online.com. •FW