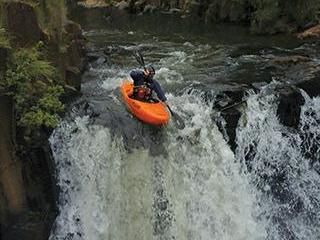 The photograph in the Maclear Country Club left me open-mouthed with astonishment. A tiny red kayak can be seen hurtling over a waterfall. But not just any waterfall: a huge thundering mass of foam that threatens to bury the small craft forever. Astonished that anybody would do something so bold, I scribbled down the telephone number of the kayaker; one day, I thought, I would interview this man to find out what made him tick.
Several years passed, however, before I found myself bumping along a dirt road to meet Adriaan Badenhorst at the old Falls trading station near Maclear. It was here, I discovered, that he and his wife Angela had settled to explore the region's many rivers and open a business – The Falls Backpackers and Adventures – that offers accomplished kayakers unparalleled white water thrills.
Leap of faith
During his first visit to Maclear almost a decade ago, Adriaan was amazed by the kayaking potential of the local rivers. In fact, he was so impressed that he immediately decided to look into buying the Falls trading station on the banks of the rugged Tsitsa River. For decades, this had doubled as the old Transkei border. "It was basically a derelict, unoccupied shell. It had an 80ha plot but this was mostly unfenced," he recalls. "Because it was an old border farm, people didn't want to farm it."
This allowed Adriaan and Angela to negotiate an extremely reasonable price. The downside to the deal, however, was that the station was practically uninhabitable, a reality that quickly became apparent when the couple moved there in 2004. "We slept on 80kg mealie-meal bags for the first month and showered under a waterfall for three years!" laughs Angela. "It became a way of life."
But she also recalls how some people in the district seemed concerned about their safety and tried to dissuade them from staying on such an isolated farm on the border. Undaunted, the Badenhorsts announced their intention to put down their roots by reviving the trading business and repairing the house. Once it was clear that the couple had committed themselves to the region, both commercial and communal farmers began showering them with hospitality.
"We had farmers dropping off slaughtered sheep and tannies giving us cakes and vegetables – it was amazing," Adriaan recalls. "And when any of our guests arrived in the small hours, the local communal farmers would ride across the Tsitsa River to make sure we were all right."
Exploring the rivers
There is no doubt that at the heart of all endeavours at The Falls Backpackers and Adventures is Adriaan's love of kayaking and a determination to be the first to kayak substantial sections of white water in the region. "As a paddler, if you can do a first descent of a really good river, it is the ultimate," he explains. "It's phenomenal to go onto a river and know you are the first person who has ever been on it."
In fact, since his arrival in the region he has managed no fewer than nine first descents. And these include white water sections with steep creeking runs of up to Grade 6, many of which include waterfall jumps. "Grade 6 is a technical long rapid that has definite 'make moves'," he says. "If you mess it up, you've got death as a given."
One of Adriaan's favourite rivers remains the Tsitsa, especially the section downstream from the falls below their home to just beyond a second, more substantial waterfall – a section Adriaan and a group of fellow paddlers descended for the first time in 2008. This wild, rugged gorge, in which the region's last leopards can still be found, has remained untouched only due to its inaccessibility, explains Adriaan.
"The scenery down there is unbelievable – yellowwood forests and cycads," he says. "You can't even get there by foot. The only way is to get there by kayak, or perhaps in a helicopter if you have a very good pilot." Another favourite river of Adriaan's is the Hawerspruit, a major tributary of the Tsitsa. Still undisturbed by alien trees such as black wattles, poplars and willows, this river is fed by pristine wetlands that ensure clear water during even the wettest weather.
"There are not many rivers in South Africa that high up that have enough water to paddle in," he says. "You can go there in the middle of a big thunderstorm and the river will be crystal clear. It's untouched."

Calculating the risk
Although planning extreme expeditions on unknown rivers has become easier thanks to Google Earth, unknown factors are often too overwhelming to ensure absolute safety, says Adriaan. "With Google, you can scout the river without leaving your house. You can check on the crux of the gorge, where the really technical rapids are, where the boulder chokes are and where you'll have to portage," he explains.
"But it doesn't work for everything. When you approach a waterfall, for instance, you can plan paddle strokes and the entrance and exit into the falls, but you can't guarantee your safety. And if you negotiate a 4m fall incorrectly and land flat, you could break your back." South Africa's rivers carry relatively little water and can usually be kayaked only after substantial rains. In this environment, entrapment in siphons, logs or boulders, and subsequent drowning, is an ever-present threat, and one that almost befell Adriaan on the Tsitsa a few years back when he still dared to paddle the river alone.
"I had to fight my way out of a submerged boat pinned against a rock," he says. "That was the last time I ever kayaked alone on these rivers." In addition, some rivers in the region have long, fast-flowing rapids of up to 3km that give paddlers no time to gather their nerve between shorter sections of white water. They simply have to co-operate with the flow of the river as best they can, explains Adriaan.
But he admits that it is precisely the water's strength and majesty, coupled with the spectacular unspoilt scenery, that has drawn him to this very special place. "There is this immense power underneath the kayak that you realise you must respect," he tells me as we take a leisurely stroll to view the Tsitsa River below his home. "It's this, plus the beauty and isolation of this place, that makes it so amazing."
Contact The Falls Backpackers and Adventures on 045 932 1138 or visit www.tsitsafalls.com