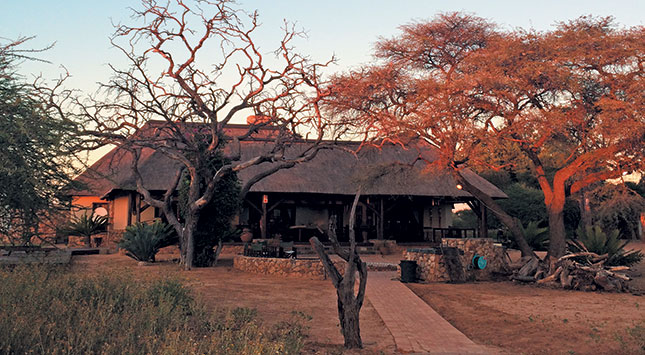 Jacques van der Westhuizen runs a 22 000ha hunting concession for Exxaro Resources on its Manketti Game Reserve in Limpopo. The concession, Jaquandi Safaris, attracts both international trophy hunters and local biltong hunters, and operates on the premise that hunting supports conservation.
The mandate of the game reserve, which is near Lephalale, is to manage the land unimpacted by mining operations around the company's Grootgeluk mine. This is achieved through the application of best land-use practices that are beneficial to the company.
"At Manketti, best land-use practices means conservation," says Marius Fuls, manager of the game reserve, who works hand-in-hand with Jacques to determine hunting quotas.
After an accommodation upgrade seven years ago, Manketti's administrative authority realised that it needed to consider hunting as a source of income and an important conservation tool. As Manketti did not have the internal capacity to manage a hunting operation, a hunting concession was advertised.
At wife Renadie's insistence, Jacques applied for the concession and was ultimately deemed the best candidate.
"Manketti doesn't receive any financial support from Exxaro and has to generate its own income. Lodges, trading in wildlife and commercial hunting all contribute," Marius says. As part of the concession, Jacques also hires one of the lodges.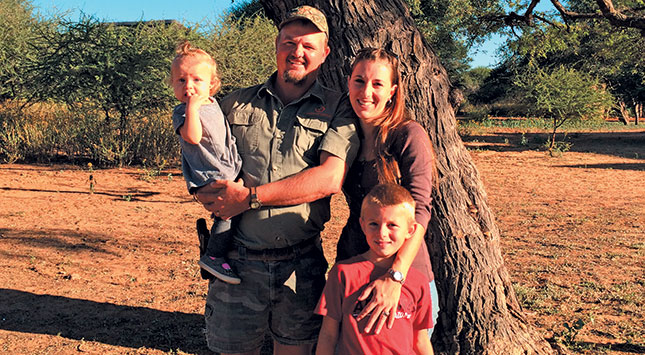 Running the operation
Every year, a game count and the pasture-carrying capacity must be calculated accurately. "We use hunting and game capture to keep an ecological balance. We conduct game counts and veld condition assessments annually to determine the carrying capacity of the 22 000ha.
We look at what stocking rates it can handle per species, and then determine what animals, from what age classes and sex, have to be caught and sold on auction, and what has to be taken off by hunting," Marius says.
Game counts are carried out by helicopter. Areas are sampled and entered into a computer program that provides an estimation of the game population. As this is done year after year, the estimation has become increasingly accurate, and active adaptive management decisions are refined.
"We can see, for example, that the average annual growth of impala is 10%," explains Marius. "With the pasture assessment, we can thus determine that the area can't sustain more than 1 000 impala. If a count shows there are
1 200 impala, we have to harvest the extra 200, as well as the expected 10% growth, through game capture and hunting.
"In game capture, whole family groups are often captured, and, if it isn't financially viable to capture a lone bull, he has to be hunted. In a natural ecosystem, it's usually a 50/50 split between male and female. Capturing can disturb that balance, which we then restore via hunts."
The game count's most important aspect is to ascertain the number of female animals, as this indicates the production potential. Knowing this statistic determines population growth rates and thus informs the farm's threshold for capacity and when, what and how much must be hunted.
Hunting prices are determined by species, sex and horn length, with trophy lengths costing more. Jacques is obligated to harvest a minimum amount through hunting, as determined by his contract with Manketti, and cannot exceed the maximum. A 2015 game count showed that Manketti had 32 blesbok, 466 blue wildebeest, 69 buffalo, 44 duiker, 287 eland, 294 gemsbok, 57 giraffe, 1 114 impala, 457 kudu, 12 nyala, 44 ostrich, 59 red hartebeest, 22 sable, 65 steenbok, 29 tsessebe, 482 warthog, 389 waterbuck and 270 zebra.
No predators are hunted at Manketti. Even though the hunting of certain predators is legally permitted, Marius does not believe that this will happen at the reserve. Where smaller game ranches will control animals such as black-backed jackal, at Manketti these simply form part of the eco-system.
A hunter's role in conservation
Marius says that hunting is an important aspect of conservation. "I see hunters as part of the ecosystem. They replace predators. In principle, utilisation through conservation is an approved International Union for Conservation of Nature (IUCN) concept."
He believes there are two primary reasons that hunting is now necessary for conservation. "First, we placed animals in camps by putting up fences. This means we have the responsibility to manage them. Most game areas, for example, don't have perennial water. This means that in winter, 80% of all game would have migrated to the Limpopo or Mogol rivers, thereby depleting those resources.
"Secondly, humans have removed most predators. Lions have disappeared, while leopard, wild dog and cheetah populations are dwindling. "Older, weaker animals that have already bred and that would be eaten by predators will now suffer long, lingering deaths due to illness, or because their teeth are worn down and they can't chew. This is where hunters come in. If you want to remove hunters, you need to remove all fences and put the predators back."
Pasture management
Managing erosion and conserving pasture are other crucial aspects. Some of the farm's water points have been done away with or moved to more suitable locations.
"Walking 6km to water isn't unnatural for an animal," Jacques says. The concession's watering points are positioned in areas where they would have occurred natually, such as low lands or clay-rich areas. This relieves grazing pressure, which is more prevalent around watering points, and means that game are more widely spread throughout the reserve.

Always a hunter
Jacques, who grew up in Vaalwater near Lephalale, studied conservation management, and says he chose hunting as a career because it runs in his blood.
"We didn't buy meat in town. We hunted for the pot on my father's farm," he recalls. Running a hunting concession demands considerable effort and time: it involves marketing the business locally and internationally, using cooking skills, keeping clients safe, obeying the rules of the concession to safeguard one's own income, managing the hunting lodge, and being an outstanding marksman in case an animal is wounded.
An exceptional understanding of the environment and animal behaviour is also essential. Knowing the plants an animal species favours at a particular time of the year, for example, helps Jacques to track animals more easily. "You develop a sixth sense. When I see spoor, I always try to solve the puzzle of why the buck chose to walk where it did," Jacques says.
International marketing
The running costs of the concession include labour, diesel, feed, road maintenance and fencing. This, and renting the concession, means that Jacques needs to attract high-paying customers to cover costs and turn a profit.
Effective international marketing is thus important. But this, too, has its costs and difficulties: exhibition booths at trade shows cost thousands of dollars, and due to the weakening rand, are extremely expensive to hire. Nonetheless, Jacques attends shows in the US every year and will be doing larger shows in Europe in 2017.
He explains that as there is no language barrier in the US, shows there are easier than those in Europe, where he often needs a client who has hunted with him to translate.
Foreign hunters generally prefer kudu, gemsbok, impala, blue wildebeest and warthog trophies, according to Jacques. Of the big five, buffalo are the most popular as they are often the most affordable. The trophy animal's meat is cooked in the camp as trophy hunters usually want to eat the game they have harvested.
However, as not all animals are consumed, the rest is distributed to staff or sold to butcheries to generate additional income.
Value chain
A host of employees benefit from the hunting operation at Jaquandi Safaris. Jacques employs two trackers and a skinner, as well as cleaners, camp staff and a chef when needed. He also uses professional hunters when large groups hunt.
A knowledgeable tracker, like Aaron Seodisa, is crucial on such a large concession.
"If you hunt buffalo and an animal is wounded, I know he'll find it," Jacques says. Abel Mfisa, who capes animals that go to the taxidermist, is also a key member of the team.
To import international hunters' own weapons, Jacques makes use of weapons agent Henry Durrheim at riflepermits.com.
"It's money well spent. The client can hunt with his own rifle on a pre-approved permit. The rifle agent meets the client at the airport and takes him to police clearance. The Professional Hunters' Association of South Africa can also assist with this," Jacques says.
Local guesthouses also benefit from the concession, as clients often sleep over in other areas before arriving at Jaquandi Safaris.
After the hunt
Jacques uses a Vaalwater-based taxidermist. Trophies are shipped overseas, picked up by an agent and then collected by the hunter. The hunting register is filled in after the hunt, and includes information on the species hunted. The register is then sent to Marius, who provides an invoice, which Jacques pays. Jacques charges clients separately and so generates an income from the hunted game.
"Jacques pays even before clients pay him. His paperwork is tidy, and tidy paperwork means a tidy concession," Marius says. The register, with accompanying documentation including details of the concession, the outfitter number, a copy of the hunter's passport and the professional hunter's licence, is used to apply for an export permit.
"There is total traceability and transparency to keep the process lawful," Jacques explains. In cases where threatened or protected species (TOPS), such as tsessebe, are hunted, Jacques applies for permits to hunt and export the trophy.
Ensuring the legality of the whole process is important to Jacques, as any error in legality could result in Jacques losing his concession and hunting licences. Jacques' attention to legal detail is also the reason he was handed the concession.
"There are other outfitters that may bring in more money, but Jacques does things according to the book," Marius explains.
Biltong hunters
Not all guests are well-heeled, experienced hunters from overseas. First-time hunters, for example, are among the visitors. Jacques takes these people to a shooting range, where he teaches them rifle skills and shot placement. He also assists them throughout the whole hunt.
Biltong hunters, too, are welcome. Jacques does not make a large profit from these hunters, but they are important for conservation as they help regulate game numbers. "In my opinion, biltong hunters will always have a place in the market," he says.
"I think that game prices are stabilising and biltong hunters will become more and more involved with helping to keep a balance. We often forget about them, but they contribute millions of rand to the economy. "Rand per kilogram, blue wildebeest and eland are the best for biltong hunters, and they also make for exciting hunts."
The concession has an exemption to hunt throughout the year and is not bound to a specific hunting season.
Jacques also has access to sable, lion, elephant and a range of other game at other locations.
Call Jacques van der Westhuizen on 082 569 7549, or 084 503 6936. Visit www.jaquandi.co.za, or email [email protected]. 
This article was originally published in the 27 May 2016 issue of Farmer's Weekly.