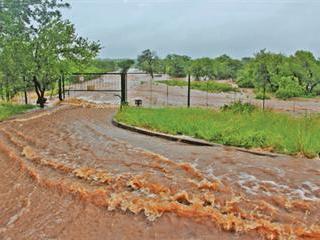 Suddenly a strange hooter sounded outside. As my wife Aneta and I were expecting our son and his family to come down to the Lowveld for my 68th birthday we rushed outside – to stop dead in our tracks. Among the tambotie, hardekool and weeping boer-bean trees along our driveway stood a strange-looking car with an enormous red ribbon tied over its bonnet. It was a sparkling white Land Rover Freelander Sports coupé.
When the doors flew open and my grandchildren started to pour out, running towards me, my eyes strayed to my old Land Cruiser, while a little voice inside my head whispered: "Is this now the ultimate ploy of my family, Landy-fanatics all, to convert this old die-hard Toyota-man to a Land Rover?" But I realised that my suspicion was unfounded when my son handed the keys to my flabbergasted wife, saying he hoped she would enjoy her new car.
It slowly dawned on me that, in fact, this was just a continuation of what had been happening on my birthday ever since childhood. Most other children got a Christmas-box and, later in the year, a proper birthday present. But not me. I was born only six days before Christmas at a time of the year when my father was already broke, because my brother's birthday was on 1 December and my mother's on 5 December.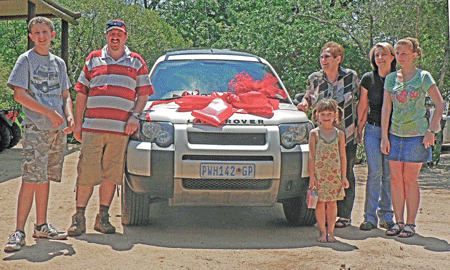 As a result, I always got only one present for both occasions, effectively missing out on Christmas – or my birthday, depending on how you looked at it. As if that wasn't bad enough, my children were now giving my wife a car as a Christmas present on my birthday! Is there no justice in the world anymore?
An old tradition
Celebrating birthdays is an old tradition. One of the earliest references can be found in Genesis 40:20. Here we read how the pharaoh prepared a great feast for all his servants on his birthday, during which he reinstated his chief butler and hanged his chief baker (just as Joseph had predicted). But birthdays really only took off with the Romans. Their hedonistic celebration of birthdays was so revolting to early Christians that the latter rejected the practice as inherently pagan.
It was for this reason they didn't even celebrate Christ's birth. The result was that its exact date became obscured. During medieval times in Europe it was believed that evil spirits would haunt anyone, including kings, on their birthdays. People would therefore gather and bring good wishes to protect a person on that day. These gatherings became our modern day birthday parties.
Over time people started to bring more than just good wishes to ward off the spirits – they brought presents. Although giving someone a gift and celebrating their birthday has its origin in the superstition and paganism of the past, it is today well entrenched in Western culture. As is the way, believers and non-believers celebrate Christmas. But while some people don't believe in Jesus Christ as the Saviour and see Christmas as the greatest money-making day of the year, society benefits financially more from the convention of giving each other presents on birthdays.
And although Christmas has never been a great time for gifts for me, this year it was very different. Not only did the family club together and buy me a nice night vision camera to photograph the creatures that come to drink at my bird pond at night, 24 days after Christmas I received one the biggest gifts of my life. For the umpteenth time I was again saved from certain death.
The flood
It happened on the morning of 18 January 2012 – during what I'll henceforth call the Hoedspruit Flood. The previous afternoon, my wife and I went for a sunset walk down Hardekool Street, along the dry course of the Umhlametsi River in the Hoedspruit Wildlife Estate. Of course she walks – I just enjoy the push.
There was a respite from the searing heat of the past couple of weeks and the wind came from the east – not usually a sign of rain here, although the weather forecast on the news predicted heavy rain. However, with rain predicted off-and-on for the past three months, without much more than a few drops ever falling, nobody took the forecasts seriously anymore.
That evening I put the finishing touches to my first book Water Under the Bridge. By midnight, when I sent it to our layout artist Inge Gieros, to be delivered the next day to the printer, it had started raining softly. Then I started this story. Another milestone – Field Sports #300. Little did I know it would become "Water over the bridge". By 3am, when I eventually retired to bed, it was really pouring.
Just after my wife woke me at 5.30am with a cup of coffee and a worried face, a deafening crack sounded above the roar of the river 7m below the house. A tree in the riverine bush had snapped like a matchstick. I leapt into the wheelchair and rushed to the window, to be met by a sight that scared me. Just below the bird pond, a raging torrent rushed foaming through the trees barely 15m from the window. And the rain was still coming down.
Rising waters
What really made my blood run cold, as I watched the situation while getting dressed, was that the river's level was rising by half a metre every minute. It was clear the wall of the dam 1km upstream had broken. We had to evacuate immediately – and fast! I grabbed my computer, two cameras, pipe and tobacco, while my wife stuffed a Bible, a few scraps of clothing, water and something to eat into a bag. We left everything else behind, knowing survival was more important than earthly possessions.
Soup-like mud
My wife dragged me in the wheelchair through the mud and water, which already started swirling around the house. A pillar of strength, she lifted me into the Land Cruiser and off we roared. With blinding rain and water flowing everywhere, I couldn't see well. Within 30m I had missed the track and the right-side wheels of the vehicle sank up to the axles in the soup-like mud. Again Aneta had to get out in the deluge, and, knee-deep in water and with logs floating past, pull out the winch cable and attach it to a tree. This enabled me to pull us free. On eventually reaching higher ground we could only say thanks for our narrow escape and pray for what we had to leave behind. At the same time we were just happy have each other and to be alive.
Contact Abré J Steyn on [email protected] Please state "Field sports" in the subject line of your email. •FW