After many decades of unstinting loyalty to familiar SAB-produced lagers, ordinary South African beer drinkers have in recent years been drawn to an increasing number of new beer varieties. From pale ales to pilsners, the craft beer industry has burgeoned around the country and contributed numerous recipes, as well as individual styles, to the beer-brewing process. Today, beer enthusiasts can visit more than 100 craft breweries across South Africa.
READ:Mooted sugar tax is bitter news for industry
The Emerald Vale Brewery in the Eastern Cape is one such example. Situated on a farm between the Chintsa and Cefani rivers, the brewery offers pale, gold, amber or black ales produced with rainwater. It also has a restaurant, provides a scenic view of Wild Coast farmland, and offers an optional tour of the facility conducted by the brewer, Chris Heaton.
Small beginnings
Having always had a passion for brewing his own beer, Chris, who worked in the construction industry, decided to combine an interest in tourism and a passion for brewing beer in 2011, and started the Emerald Vale Brewing Company.
A year later, he established a brewery on his father's farm near Chintsa with a tiny 30l vat brewing system that he had built himself.
He then went through the arduous process of applying for the appropriate licences and zoning for the farm. Despite the tediousness of this, he admits that the requirements have served to make the brewery better.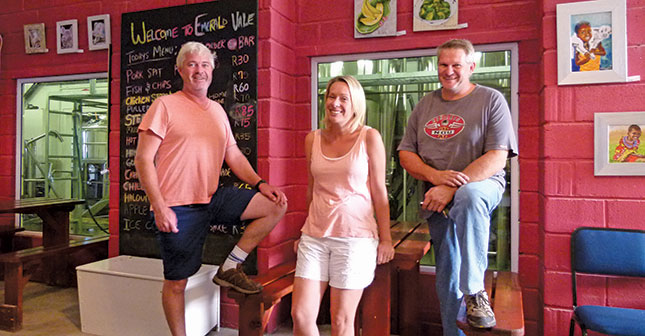 "The amount of bureaucracy involved is really tough but in the end it's worth it," he says.
The greatest challenge was procuring the expensive equipment required for larger quantities of beer.
Realising that the 30l vat would be insufficient for the volumes and flexibility he needed to experiment with taste, Chris built his own 500l multi-vat brewing system.The growing popularity of the brewery soon made Chris realise he would have upgrade on an entirely different scale.
He applied to the Department of Trade and Industry and managed to secure a grant to buy a professionally manufactured brewing system from China that today produces between 10 000l and 12 000l of pale, gold, amber, and black ale every month.
A natural evolution
Recognising the brewery's potential to contribute to the local tourism industry from the outset, Chris approached a number of businesses in Chintsa to stock and promote his beer, rather than relying on expensive advertising campaigns. The Barefoot Café in Chintsa was the first to offer this locally produced beer to patrons. The public response was highly favourable and the increasing demand soon highlighted an opportunity for the brewery to expand even further.
Business partner
After enjoying Emerald Vale's ale at a wedding near Chintsa, Petra Trunkenpolz was introduced to Chris and suggested taking advantage of the brewery's ideal farm location on the pristine Wild Coast.
"As an Austrian, I love beer and thought Chris was making one of the best I've tasted," says Petra. "I met with him and suggested he offers brewery tours and create a venue with a bar because the brewery has a very homely atmosphere, and Chris could also provide a personal touch to the tours."
The first tasting event was held soon after and was well supported by locals and tourists alike. Inspired by the success, Petra, now a partner in the business, suggested providing meals as well, including vegetables and herbs grown on the farm).
The introduction of meals – in August 2014 – saw the brewery becoming more popular with families. It now features a children's play area and plans are underway to add an animal petting farm. Mountain biking and motorbike trails will also be on offer through a local adventure company, Backyard Adventures.
More events, such as weddings and beer- tastings, are planned for the future.
For Chris, the brewery's rapid growth has been a surprising and spontaneous evolution of his passion for brewing beer.
He stresses, however, that those considering starting their own microbrewery should first concentrate on brewing a beer they enjoy, and then try to develop relationships with consumers. Once they have identified the beer most suited to their needs, they can create a connection with their consumers and, through the feedback received, allow their businesses to grow from there.
Phone Emerald Vale Brewery 073 078 96 88 or 043 738 5397, email [email protected] or [email protected], or visit www.emeraldvalebrewery.co.za.
This article was originally published in the 18 March 2016 issue of Farmer's Weekly.