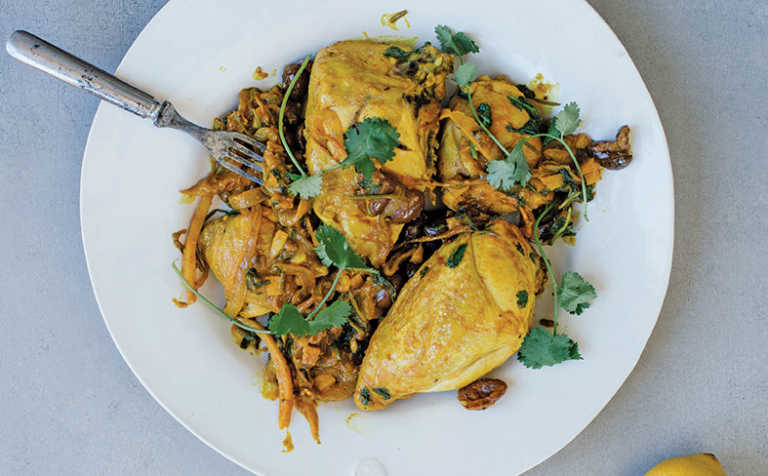 To make North African chicken and preserved lemons for four diners, you will need:
1 preserved lemon
Juice of a lemon
4 chicken breasts
4 chicken thighs
2 onions
4 cloves of garlic
½ teaspoon ground tumeric or saffron
25mm fresh ginger rhizome
12 olives
60ml to 90ml each of chopped, fresh coriander and parsley
Salt and freshly ground black pepper
45ml extra-virgin olive oil
To make the preserved lemons:
4 lemons
6 to 8 teaspoons of coarse salt
Preboiled water at room temperature
This recipe comes from an Israeli friend via her Egyptian grandparents.
1. The lemons take 21 days to reach completion, so let's begin there. Sterilise a pickling
jar and its lid. Scrub the lemons with a brush before topping and tailing. Cut them into quarters, but leave the last part of each quarter attached to the whole. Sprinkle a teaspoon of coarse salt over the inside of each lemon and add an additional teaspoon of salt to the pickle bottle. Squash the open side of a lemon into the jar. Add another teaspoon of salt, then the second lemon, another teaspoon of salt and then the third. Squash them down into the jar to make room. Pour in the juice of the fourth lemon, then top up the jar with the preboiled water. Refrigerate for three weeks, inverting the jar a few times during the first four days.
2. After this time has passed, begin making the chicken dish. Thinly slice the onions, depip the olives, grate the ginger, and peel and mince the garlic. Pour 45ml of extra-virgin olive
oil in a large, heavy-based frying pan, and slowly sweat the onions, ginger and garlic until the onions are soft and translucent. Add the saffron or tumeric.
Select one preserved lemon and scrape out and discard the flesh, retaining only the peel. Cut this into slices. Lightly salt and pepper the chicken pieces, then place them in one layer on the pan with a cup of water. Cook for 20 minutes, then remove the breasts for later in the proceedings. Let the thighs cook for another 20 minutes, then return the partially cooked breasts to the pan. This helps prevent the breasts from drying out.
3. Add the lemon juice, the preserved lemon peel slices, the coriander and parsley, and
the depipped olives. Let the sauce thicken while stirring for 10 minutes or so, then serve with couscous or plain white rice.
David Basckin is a freelance journalist and videographer.