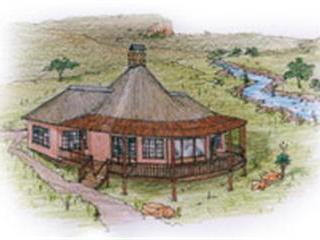 This unspoilt development is located on 1 400ha of pristine bushveld, with a river meandering through it. Sale of the sites so far has been quite brisk, considering the current housing market. The prescribed style of units is almost any rustic rendition, as long as it blends in with the natural environment.
The individual buyers were asking for typical getaway cottage units, where most of the getaway time could be spent outside, enjoying the natural beauty and wildlife. Well Herbert, here is one of those 'living it up outside' units. A third bedroom can be created in the roof area, over the bathroom. The two bedrooms can also be separated from each other, should two friends want to each have their own private compartments (see dotted indications). On the low pitched veranda roof, I've shown waste log offcuts as a roofing cover.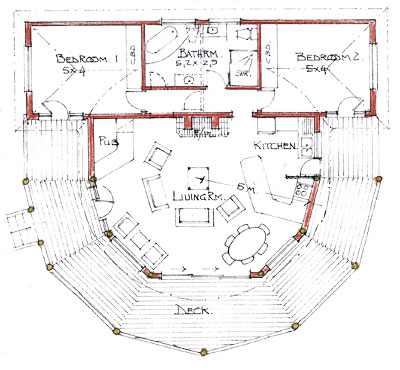 Best of all: the outside wraparound deck allows for choice of sun or shade the whole day long.
Jonno