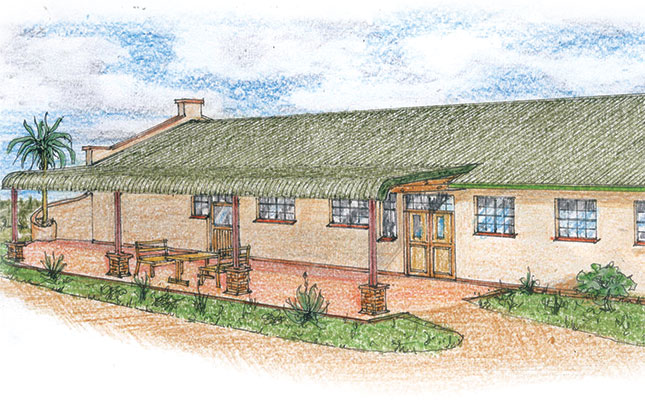 Dear Jonno,
I want to build a small complex on my 3ha farm near Polokwane. I have to fit all this in on a small hillside.
I need the area to have a general dealer store; shisa nyama/braai area; an entertainment hall/restaurant with big TV screen and snooker, table tennis, soccer table and mini bar; a car wash and filling station.
I would also like a backroom cottage with two or three bedrooms attached to the shop for me and my workers.
The envisaged building is to be laid out stretching from east to west, facing north.
On the southern side we have gum trees below the hill, near my homestead.
Can you roughly give me an idea sketch-wise what it will look like?
Kind regards,
John Mavuso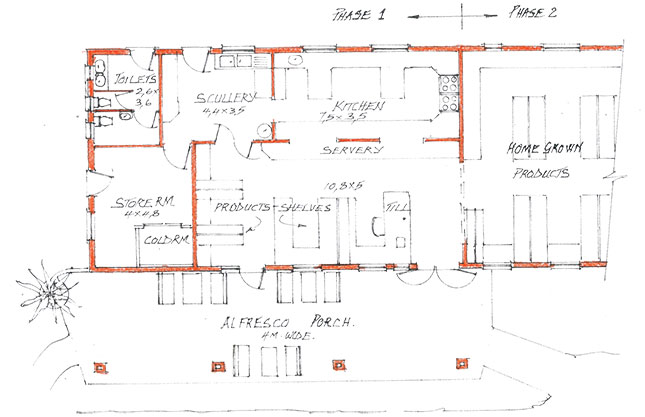 Dear John,
Further to your written request and our telephone chat, I've given you a layout of a shopping complex.
As mentioned, it should be a basic shop where customers can buy takeaway meals.
As circumstances change, the shop can be extended to cater for packaged groceries.
This extension can be added to the takeaway section when the need arises.
My suggestion would be to construct both sections initially and furnish them later.
The braai/entertainment facility is housed in a separate building away from the shop, and situated in an environmentally-friendly nook, but close enough to the main kitchen for cost-effectiveness.
The fuel tanks must be positioned so as not to obstruct any pleasant view from the entertainment side.
When spending this sort of money on a complex of this nature, it is absolutely essential to have a one-on-one site meeting with your prospective architect, as many considerations have to be taken into account.
The site topography will determine the layout and positioning of all the buildings.
There will also be safety considerations, the need to allow for future extensions, local authority approval for farmland to be used for commercial purposes, and other factors.
Best of all is that you want to involve the local community.
Jobless young people can become active in your project, where they can learn how to start their own ventures later.
Kind regards,
Jonno