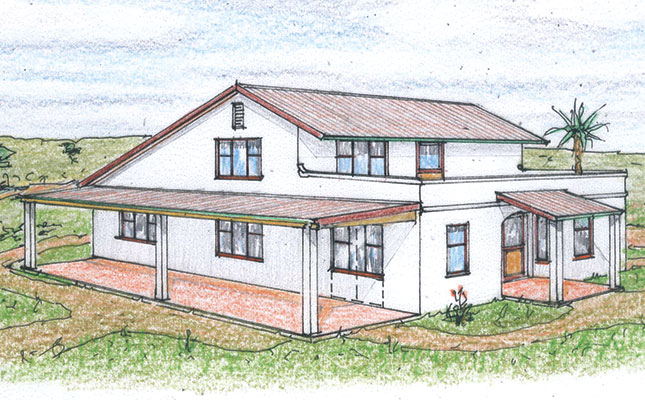 Dear Jonno,
I've been inspired by your practical architectural design ideas in Farmer's Weekly, and now need your help on a relatively straightforward structure.
I intend building a farm manager's home on our farm in the south-eastern Free State. I want to build the house in stages, as and when the finances become available.
Hopefully, the cost of the house will be tax-deductible as this is staff accommodation.
What I am looking for, in a nutshell, is an affordable, easy-to-build, three-bedroom
family home that is small but comfortable.
Looking forward to see what you come up with.
Kind regards,
Kobus
Dear Kobus,
Thanks for your interesting request for what almost everyone would want: building for cash and avoiding possible home loan interest and tax on excess savings.
Here is a sketch of a home that incorporates simplicity of styling and low structural costs.
The initial essentials of any starter home are facilities that cater to cooking, toilet/washing, sleeping and relaxing.
This is the central structure (double-storey phase 1) of the three-phase development. Going for a double storey will not involve great cost; there are extra outer and inner walls, windows and floorboards, but the house still has one roof over the two floors.
The added phase 2 bedroom wing is another cost-effective addition.
Phase 3 could have a similar extended roof, but is shown as a leisure sundeck. Additional rooms could be incorporated. 
There are many options for styling and accommodation. The veranda is perhaps a phase 4 addition.
Shown with dotted lines on the layout are some optional changes. Let me have your ideas and we'll put it together.
Kind regards,
Jonno
Jonno Smith is a registered architect. He can be contacted at Hillbilly Homes: tel 036 352 3178, fax 088 036 352 3178, cell 082 412 4459 or email [email protected]. Please provide details of the proposed development. Visit hillbillyhomes.co.za.