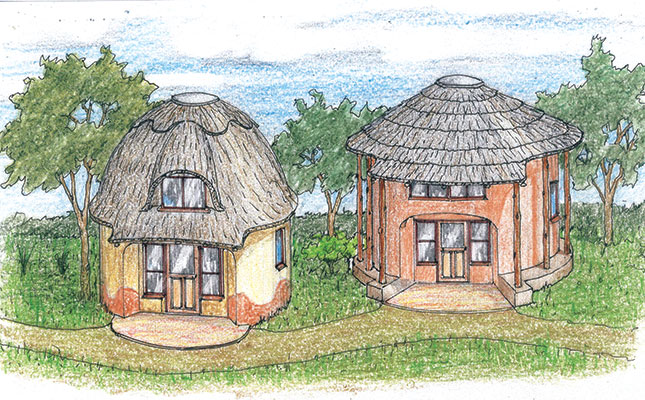 Dear Jonno,
My wife and I live in Moshupa village, some 60km west of Gaborone. I've been an avid reader of Farmer's Weekly since 2002, and have enjoyed looking at your house designs over the years.
I'd now appreciate your help.
My wife and I would like to build ourselves a small, thatched rondavel in a quiet corner of the property, away from noisy kids!
The stand measures 900m2 (25m x 36m), and approxmately 200m2 have already been built on.
Due to the large trees in the yard, we have very limited open area available, so the rondavel should have a diameter of only about 2,5m, if possible.
I have attached a sketch showing our idea of what the rondavel could look like.
Kind regards,
Bashi
Dear Bashi,
Thank you for the rondavel layout. One problem is that the furnishings shown on your sketch would only fit into a 6m-diameter rondavel.
So I've made the internal diameter 5m, and the external diameter 6m. Moreover, increasing the size of the rondavel will add only fractionally to the overall building cost, and you will benefit from the additional space.
I've used regular-sized furniture and have drawn them all to scale. I've also added a brick/block wall for greater privacy and comfort; this will not break the bank.
Shown are traditional Zulu and Tswana house styles, but with a contemporary touch: a single storey converted to a double storey.
It's nice to know that you want to preserve those trees.
Give me a call and I'll explain all the costs as well as the stagger stair shown.
Kind regards,
Jonno