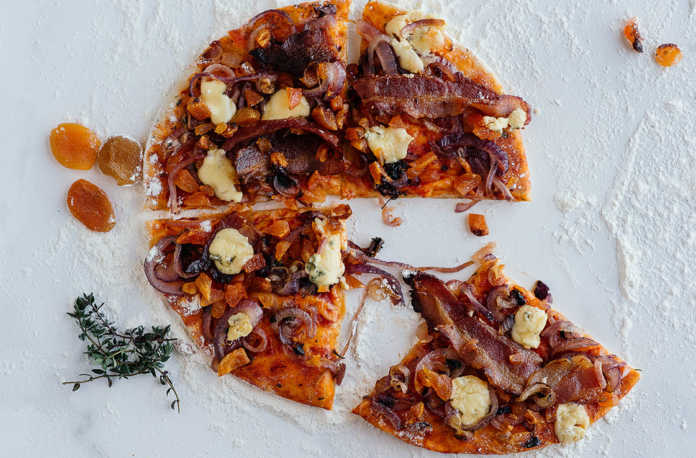 To provide a mighty pizza meal for two diners, you will need:
8 rashers of streaky bacon
2 bay leaves
1 large red onion
2 tablespoons of butter
12 slices of dried apricots or mangoes
1 cup of Gorgonzola cheese
Extra virgin olive oil on demand
Freshly ground black pepper
2 teaspoons of fresh thyme, or 1 teaspoon if dried
First, let me assuage your guilt. It's quite all right to use frozen pizza bases; it saves time that you can use much more profitably. A bit of history may help. Pizza began eons ago as just one of the many street foods in Naples, and street food is about the fastest fast food you can get. Preheat your oven to between 200°C and 220°C. Thaw the frozen pizza base bought from your local supermarket. If there are unique instructions on the packaging, give them a cursory glance.
Next, bay leaves. I have always considered these to have the taste of dust. Head-shaking traditionalists occasionally email me their opinions on bay leaf, refusing to believe my critique. So, obey tradition, use bay leaves, and conquer doubt.
Dice the dried fruit into small pieces. Peel and thinly slice the large red onion. Select a large, heavy-based frying pan and melt the butter.
Add the onion slices, the thyme, and the optional bay leaves. Cook this over high heat for five minutes or so, stirring with vigour and concentration to avoid adhesion and consequent burning. Reduce the temperature to medium low and continue to sauté the onions with the occasional stir. After about 20 minutes, the onions should become caramelised and golden. Add a little salt and pepper, discard the bay leaves and transfer the onions to a covered bowl.
Cut the rashers of bacon into strips and add them to the same pan, now revved up to high heat. Let them crisp and darken, stirring from time to time, then transfer the crunchy bits without their fat to a covered bowl.
Topping time. Your oven has reached maximum velocity, and your pizza base is nicely thawed and laid out on a floured baking sheet. Add a layer of caramelised onions, then the diced dried fruit and the crispy bacon, and finally the Gorgonzola, sliced as thick as you like. Place the pizza in the ultra-hot oven and keep an eye on it for about seven minutes.
When the visible rim of crust is brown and the cheese is a bubbling mass, remove from the oven, drip a little extra virgin olive oil over the top, sprinkle black pepper and serve.
Here's a pizza to give any pizzeria a run for its money!
David Basckin is a freelance journalist and videographer.