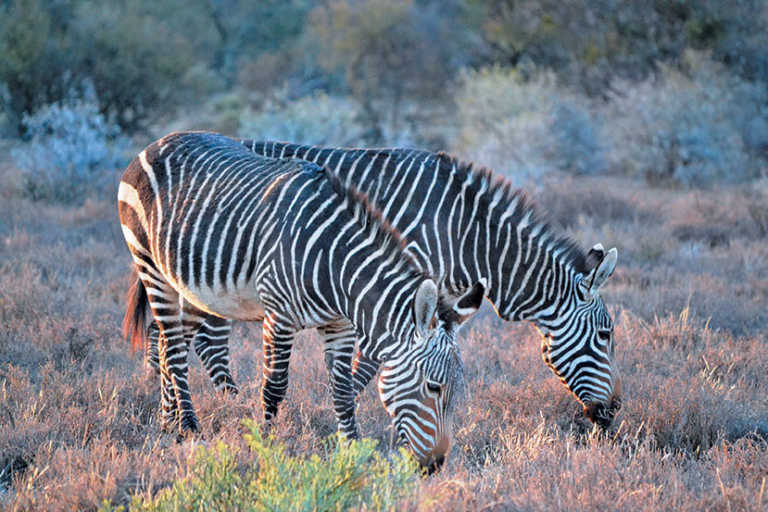 Mountain Zebra National Park, Eastern Cape
The Mountain Zebra National Park near Cradock in the Eastern Cape, has played an important role in saving the Cape mountain zebra from extinction.
Today, you are almost guaranteed to spot them in this park, along with a whole range of other wildlife such as buffalo, lion, cheetah and many antelope species.
The park is big enough for plenty of self-guided drives if you prefer these to guided tours, or for a completely different wildlife experience, track a cheetah with a qualified guide.
Pack a picnic basket and enjoy your lunch at one of the picnic sites, or enjoy a meal at the restaurant.
The perfect way to end the day is a hike on one of the hiking trails within the rest camp. The sunsets from the top of the little koppie can be quite spectacular, so pack some sundowners to celebrate the end of a beautiful day.
Rates: A cottage for two costs R1 312, while a family unit costs R1211 for the first two people, plus R263 per additional adult. Rates exclude daily conservation fees.
AUTUMN
Marakele National Park, Limpopo
The Marakele National Park, where bushveld meets fynbos, is located a few kilometres outside Thabazimbi, and offers a quick escape from city life in Johannesburg and Pretoria.
In autumn, the bushveld, made famous in the literature of Eugene Marais, is at its most lush and beautiful.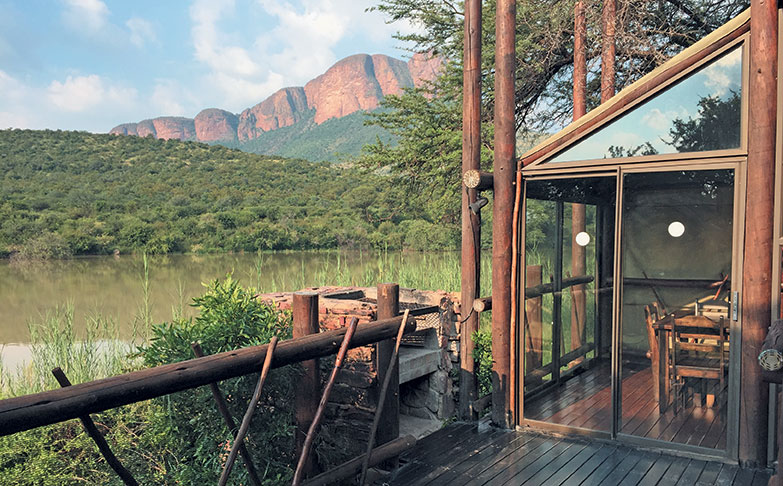 At this time of year, Marakele's dense thickets are populated with dozens of elephant. The many biomes in the park make it a haven for a large diversity of bird and vegetation species. Some lucky visitors have even been able to mark the Big Five off their lists here.
Head up to Lenong Viewing Point, high up in the mountains, where you can experience misty views of the rolling Waterberg below. Here, you may even spot some of the Cape vulture breeding colony. You could also view elephant at the various dams, or head out on one of the 4×4 routes.
Rates: Self-catering safari tents at the Tlopi tented camp is R1514 for two people, with R263 per adult or R132 per child for a third person. Camping facilities are also available.
Kgalagadi Transfrontier Park, Northern Cape
There is never a bad time to visit the Kgalagadi Transfrontier Park in the Kalahari Desert region of Botswana and South Africa, which also borders Namibia. However, in winter the weather is clear with exceptionally starry skies, and great sightings throughout the day.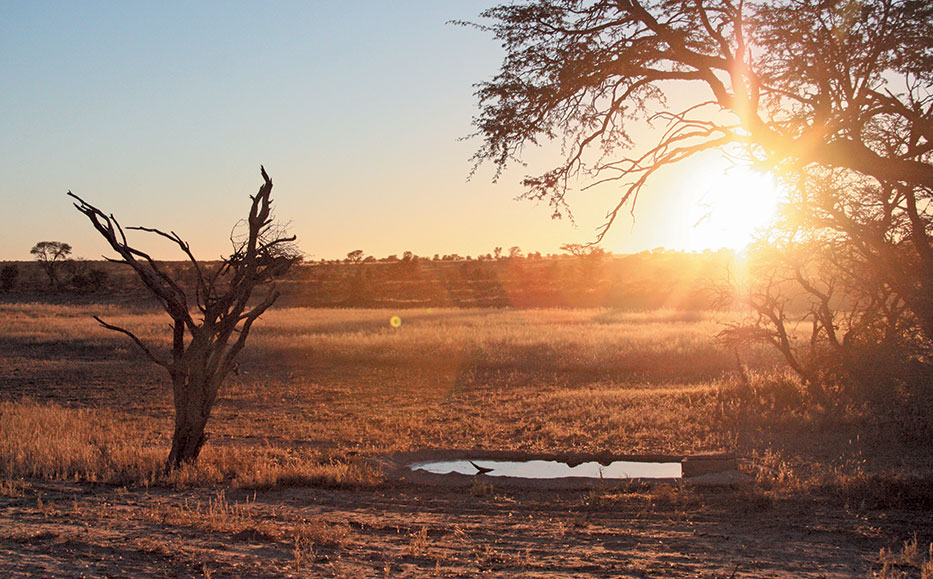 Spending time at the waterholes in this park will ensure that you experience wonderful sightings of a wide range of wildlife. Both Nossob and Mata-Mata rest camps have waterholes where there is plenty to see, from birds of prey, cheetah, leopard and bat-eared foxes, to smaller specimens such as snakes, meerkat, whistling rats and barking geckos.
Sightings of herds of springbok and blue wildebeest will also delight visitors.
It is advisable to use a 4×4 or high clearance vehicle to traverse the sandy roads between camps.
Camping is a good option, but wrap up warmly in winter as temperatures can plummet to below zero.
Rates: River-front chalets at the Mata-Mata rest camp on the banks of the Auob River range from R1968 for two people, to R2992 for four. 
WINTER 
Golden Gate Highlands National Park, Free State
The Golden Gate Highlands National Park near Clarens in the Free State derives its name from the golden hues visible as the light hits the sandstone cliffs of the Brandwag Rock at sunset.
In this part of the world cold weather and snow is not uncommon, but if the weather allows, explore the park on foot on one of the hiking trials. These range from short walks to longer overnight hikes.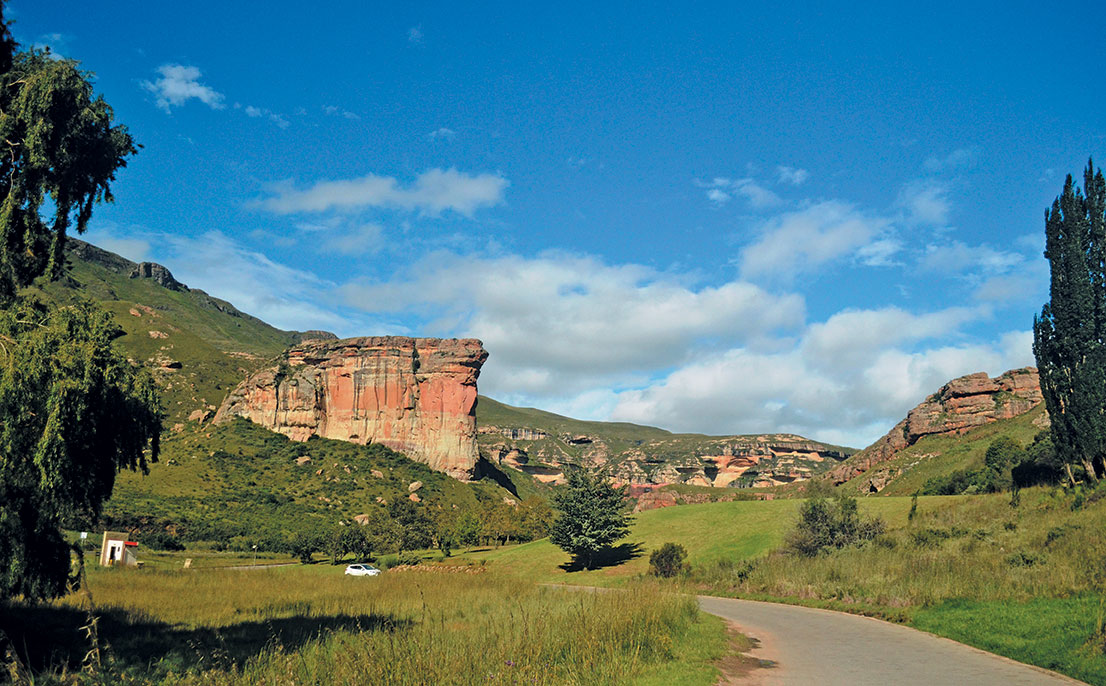 You can also head out on a drive along the Oribi or Blesbok Loops for some game viewing.
Learn more about the Basotho people at the Basotho Cultural Village, an open air museum where Basotho heritage from the 16th century to the present day is on display.
Visitors can also stop at the vulture hide to see whether their patience pays off and they can spot the rare bearded vultures.
Rates: An overnight stay in wooden chalets with views of the Maluti Mountains at the Highlands Mountain Retreat start at R1609 for two people, while a family log cabin for four is available from R2583. 
Namaqua National Park, Northern Cape
Spring arrives early in the Namaqua National Park near Kamieskroon in the Northern Cape. Therefore, in years with good rainfall, August is the best time to visit, as Namaqualand transforms into fields of colour.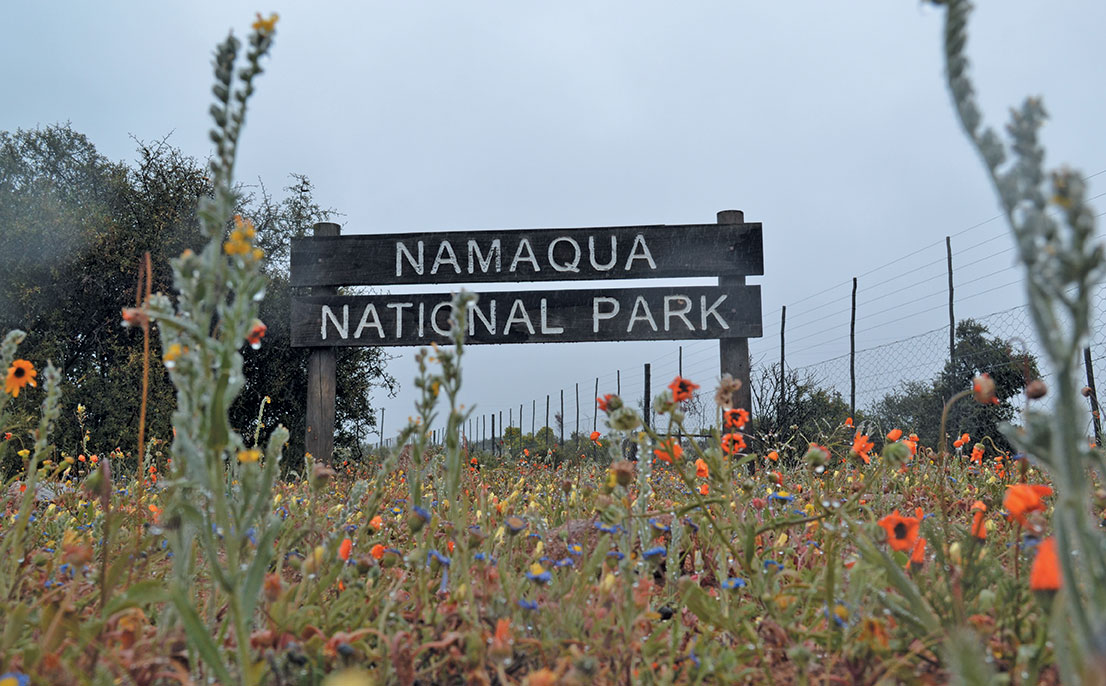 Visit the Skilpad Walking Trail for short nature hikes, cycling, picnics and some game viewing.
Moist sea air in the coastal section of the park between Groen River and Spoeg River almost guarantees that visitors will see flowers in bloom. Here they may be in full bloom a bit later than those in the Skilpad Walking Trail section. However, you will need a 4×4 vehicle to explore the coastal section.
On the Caracal Eco Route, visitors can explore the seal colony and the Spoeg River caves, among other sights.
There are four accommodation units at the start of the Skilpad Walking Trail, and rustic campsites scattered along the coast. The Flowers Beach Camp is set up every year from around mid-August to early September and consists of serviced dome tents with beds.
Rates: Rates for 2018 are R1 075 per child (between 12 and 16 years) and R2 250 per adult sharing per night.
Spring
West Coast National Park, Western Cape
Visit the West Coast National Park near Langebaan in the Western Cape to witness the azure waters of Langebaan Lagoon and breathtaking fields of flowers.
The flower season starts in early spring, and the Postberg section is open to the public in August and September.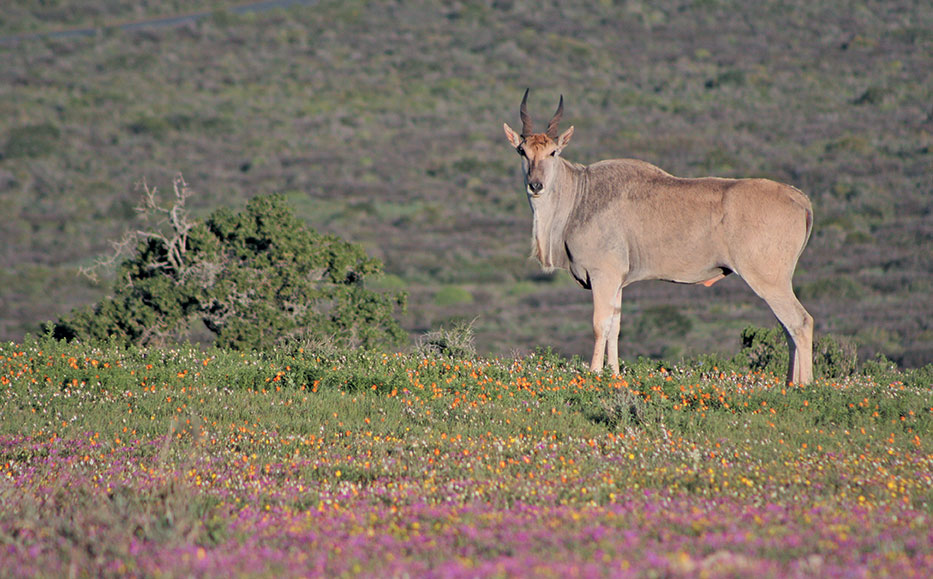 Here you will be able to see daisies and other species of flowers such as the candelabra flower (Brunsvigia orientalis), rooinaeltjie (Lachenalia bulbifera), chinkerinchee (Ornithogalum thyrsoides), bruinsalie/ strandsalie (Salvia Africana-lutea), rooimalva (Pelargonium fulgidum), and lion's tail or wild dagga (Leonotis leonurus). Herds of springbok, eland and zebra can also be viewed throughout the park.
In addition, there is no shortage of beaches in this park, such as the beach at Preekstoel on Langebaan Lagoon. Plenty of picnic sites are available along the coast, such as Tsaarbank and Plankiesbaai where visitors can view whales in spring.
At Geelbek, a boardwalk leads to a hide where water birds can be viewed, while Geelbek restaurant is popular for its views of the lagoon and traditional fare.
Rates: Self-catering accommodation is available at Joanne's B Cottage, which is walking distance from the lagoon. The rate for this gas- and solar-operated cottage is R1 850 for four people.
Table Mountain National Park, Western Cape
A variety of beaches, marine and terrestrial wildlife, hiking routes, iconic landmarks and more, make Table Mountain National Park, located in in the Cape Peninsula, ideal for a summer holiday.
The park contains two well-known landmarks: Table Mountain and the Cape of Good Hope, and forms part of Unesco's Cape Floral Region World Heritage Site. Easy access to the top of Table Mountain is provided by the aerial cableway, but there are also trails for all levels of walkers.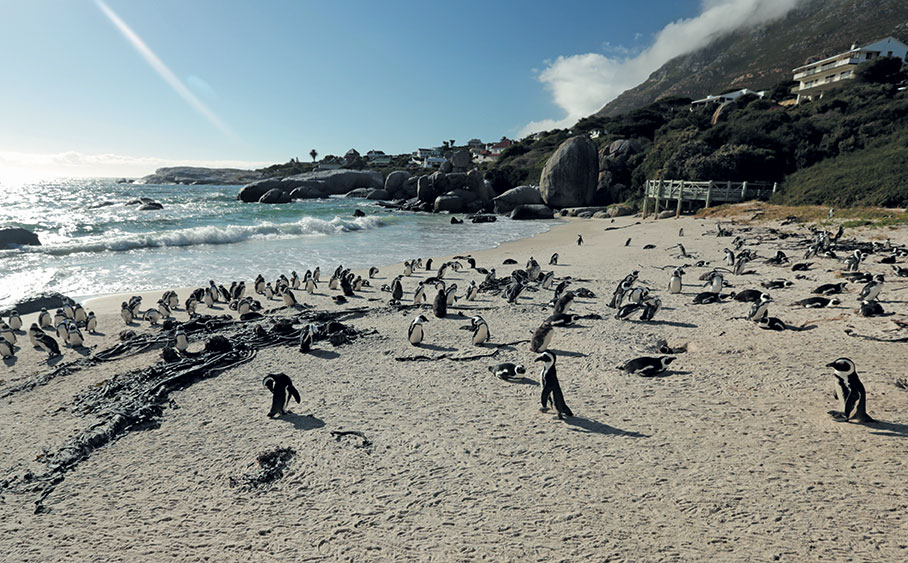 The Cape of Good Hope encompasses the rocky outcrops of Cape Point, the Flying Dutchman funicular railway, and surrounding beaches. The many hiking trails will take visitors close to wildlife, or they can take advantage of the opportunities for angling, surfing, picnicking and cycling.
In addition, a visit to the Boulders Penguin Colony in Simon's Town offers the opportunity to witness this endangered species up close. Nearby Kommetjie offers great sunset views and a tented camp.
Rates: Rates for the self-catering Eland and Duiker family cottages in the Cape of Good Hope section are R1 275 for four people, with R260 per additional adult and R130 per additional child.
Flying Dutchman Funicular return tickets are R30 for children and R70 for adults.
Table Mountain cableway return tickets are about R135 for children and R275 for adults.
Boulders Penguin Colony tickets are about R40 for children and R75 for adults. The Cape of Good Hope is about R75 for children and R145 for adults. Conservation fees apply.
Summer
Garden Route National Park, Eastern and Western Cape
Made up of the Tsitsikamma, Knysna and Wilderness sections in the Western and Eastern Cape, the Garden Route National Park offers many attractions and activities.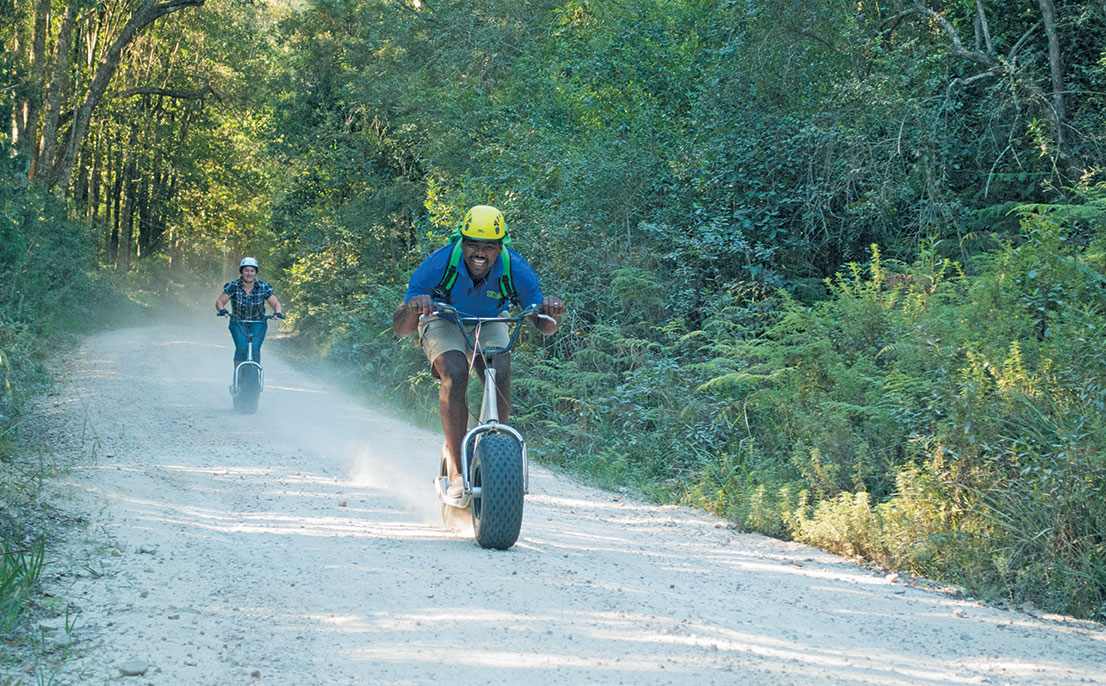 These range from lazing around on pristine beaches and exploring the rugged coastline, to stepping back in time in the lush, indigenous forest, or birdwatching.
The Tsitsikamma section is home to the oldest marine protected area in Africa, as well as the renowned Otter Hiking Trail. But there are also many day trails and short walks throughout the Garden Route.
Remember to visit one of the giant Outeniqua yellowwood trees towering over the forest floor. There are also many guided forest and water-bound activities, such as scooter tours and sunset boat cruises.
Rates: The rate for a two-bed chalet in Tsitsikamma is R1 485. The rate for two people at the 4-star Harkerville Forest Treetop Chalet in Knysna is R1 600, and up to four can be accommodated.