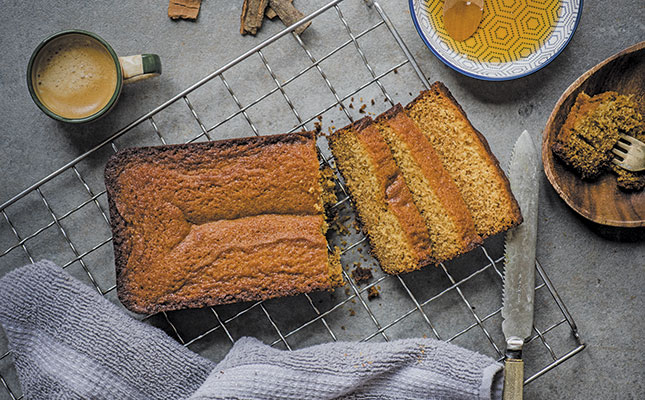 To bake this honey of a cake, you will need:
100g self-raising flour
50g rye flour
½ teaspoon of baking powder
pinch of salt
2 eggs
150g butter
120g clear honey
50g syrup
50g brown sugar
½ teaspoon ground allspice
100mm fresh root ginger
It started with biscotti. Now it's a cake. It's a drumbeat urging you on, impossible to ignore. Gentlemen, preheat your ovens to 170°C. It's sweet cake time at Farmer's Weekly.
There are two fundamental issues here: the ingredients and the method.
Baking is as close to alchemy as you are likely to get. But alchemy is about turning lead into gold, whereas you, noble baker, will turn a handful of agricultural products into a golden cake.
And what a cake it is.
1. The first big deal for the new baker is precision. Follow the measurements exactly. Only the ginger retains some acceptable ambiguity.
2. Next, extracting the ginger juice. Do this in one of two ways. Macerate the coarsely chopped, peeled ginger in a mortar with a pestle, and pour the resulting liquid through a strainer.
Alternatively, grate the ginger with a fine grater over a bowl and once again, strain and retain the juice.
3. Combine the butter, brown sugar, honey and syrup in a small, heavy-based, stainless steel saucepan over low heat. Provide just enough heat to melt – but not liquify – the butter.
Pour the mixture into the bowl of an electric mixer and run the machine at medium speed for three minutes.
4. Weigh the two flours. If no rye flour is available, this is not a train smash. Replace it with the identical weight of self-raising flour. Sift the flour, a pinch of salt, ground allspice and the baking powder.
Consider doing the sifting twice to ensure the removal of caked lumps and an even distribution of the dry ingredients.
Pour this into the mixing bowl, stir with a spatula, then give it 40 seconds of mixer at medium speed.
5. Line a standard 1kg breadloaf baking tin with baking paper. Pour in the raw mixture, which will be alarmingly wet. Fear not; this is how it should be. Put it into the preheated oven at 170°C and bake for one hour. Take the tin out carefully and allow it to cool a little.
6. Remove the cake from the tin and complete the cooling process on a rack at room temperature.
7. Serve with freshly made black espresso (use a Bialetti Moka pot and a medium roast, medium-ground Ethiopian cultivar), remembering that moderation is the golden rule for sweet cakes and, come to think of it, damn near everything else in the kitchen.
David Basckin is a freelance journalist and videographer.