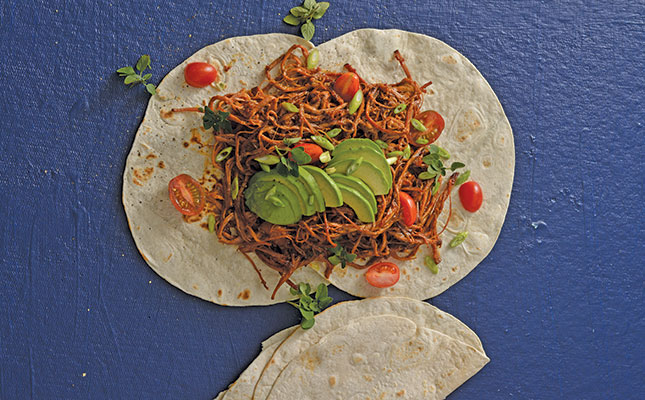 To make slow-cooked shredded beef for six diners, you will need:
For the beef:
1,5kg brisket or chuck
2 tablespoons of extra-virgin olive oil
6 cloves of garlic
1 large onion
1 can of tomatoes
500ml chicken or beef stock
200ml freshly squeezed orange juice
2 tablespoons of lime juice
For the spices:
1 tablespoon ground paprika
1 tablespoon dried origanum
1 teaspoon each of:
– Salt and pepper
– Onion powder
– Garlic powder
– Coriander powder
– Allspice powder
1 Cut the beef into four roughly equal pieces. Measure all the ingredients on the spice list and combine them in a mixing bowl. Arrange the sliced raw beef of your choice on a work surface and sprinkle four teaspoons of the mixed spices over the meat. Massage or rub the spices into the meat.
2 Select a large, heavy-bottomed pot, pour in the extra-virgin olive oil and bring this up to
medium-high heat. Working with two slices at a time, brown the beef slices all over, then remove them from the pot and reserve for later.
3 Crush, peel and mince the garlic; peel and thinly slice the onion. Lower the hob temperature to medium, add another tablespoon of olive oil, and stir-fry the onion and garlic until the onion is soft and translucent.
4 Pour the citrus mixture of orange and lime juice over the cooked onion and garlic. Add the stock of your choice, plus a little freshly ground black pepper and a pinch of salt. Decant the tomatoes, mash them to a coarse pulp and add them to the mix. Stir and then add the browned beef plus any beef juices that may have collected on the plate. Fit the lid, kill the heat to simmer and let the contents of the pot cook for two hours. Inspect from time to time and if the pot is bubbling too vigorously, lower the heat. At the two-hour
mark, remove the lid and simmer for an additional 30 minutes.
5 Remove the meat, place it in a large dish, and, using two forks, shred it.
6 Meanwhile, reduce the sauce in the pot to thicken, then return the shredded beef. Do the final seasoning touches if required. Serve with bread, roti or rice.
David Basckin is a freelance journalist and videographer.