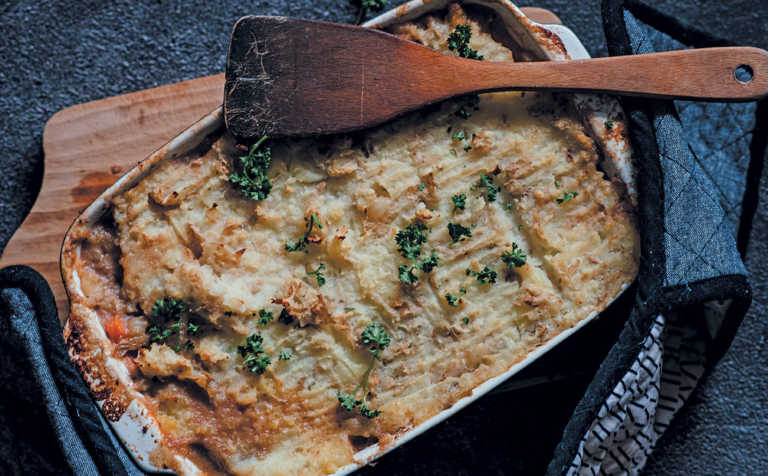 To make shepherd's pie or six fellow pastoralists, you will need:
1kg of potatoes
125ml of milk
200ml of beef stock
9 tablespoons of butter
Black pepper and salt on demand
1 onion
5 cloves of garlic
2 carrots
4 sticks of celery
200mm fresh rosemary sprigs
1 cup of chopped parsley
400g of minced lamb
400g of minced beef
1 sachet of tomato concentrate
1 tablespoon of flour
1 cup grated Cheddar
1 or 2 tablespoons of coarse
Dijon mustard
3 dashes of Worcester sauce
1. Peel the potatoes and cut them into quarters. Boil these in salted water for 15 minutes
or until soft, but not mushed.
2. Drain and return the cooked potatoes to the pot. Mash to a paste.
3. Melt six tablespoons of the butter with the milk in a saucepan and add this to the mashed potatoes. Add the cheese plus the coarse Dijon mustard, stir to mix, season with salt and pepper and reserve undercover for later in the proceedings.
4. Preheat the oven to 190°C. Select a large, oven-proof casserole dish, cast iron or
enamel, and place this on the hob at medium heat.
5. Thinly slice the onion, mince the garlic, dice the carrots, and chop the celery.
6. Melt the three remaining tablespoons of butter. Add the onion, garlic, carrots and celery, and let these cook for 12 minutes or so, stirring gently until the onions are soft and translucent.