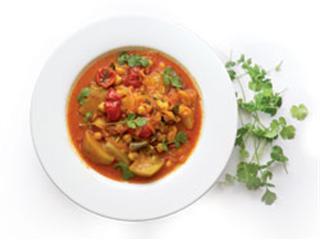 To make calabash and chickpea curry for four you will need:
400g chickpeas
500ml water
75ml sunflower or canola oil
10 curry leaves
1 calabash or large marrow
75ml tamarind liquid
3 tomatoes
1 large bunch of fresh coriander (dhania)
1 onion
3 cloves of garlic
2 or 3 large green chillies
5ml ground tumeric
5ml ground dried chillies
75mm fresh root ginger
Canned chickpeas are for sissies. Regular chickpeas need a 24-hour soak in water. The next day, drain the chickpeas and inspect carefully for any detritus such as tiny molar destroying stones. In a large saucepan, bring the chickpeas plus half a litre of lightly salted water to the boil. Lower to a simmer and let the contents cook until soft. Remove the pot from the heat and let it (and the water) stand until needed later.
Peel and grate the ginger, remove the curry leaves from their stems, crush, peel and mince the garlic, peel and thinly slice the onions, peel and coarsely chop the calabash, coarsely chop the tomatoes. Unpack the slab of compressed tamarind and soak two tablespoons of it in a cup of boiling water for 10 minutes. When cool, remove the pulp and seeds, retaining only the liquid.
In a large, heavy-based frying pan pour in the canola or sunflower oil. Add the onions and garlic and let them sweat until the onions are soft and translucent. Add the chopped chillies, the ginger, the curry leaves, the tumeric, the chilli powder and a little salt. Pour in the calabash and let the contents cook until the calabash has softened. Now tip in the chickpeas and the water in which they boiled. Add the tamarind liquid, the chopped tomatoes and a handful of dhania leaves.
Stir well to evenly distribute the ingredients, then bring to the boil. As soon as the chickpeas offer a slight resistance to the bite, remove the pot from the heat. Serve with rice (it's a good idea to get this going in advance of the final stage of the curry). Alternatively, serve with two or more roti per diner.
If you need a side dish, it's hard to beat a raita: thinly slice an English cucumber into a cup of plain yoghurt, sprinkle a pinch of tumeric over the surface and garnish it – and the curry – with fresh dhania leaves. A well-chilled Windhoek lager gives this splendid meal the send-off it deserves.
Contact David Basckin at [email protected]. Please state 'Real cooking' in the subject line of your email.