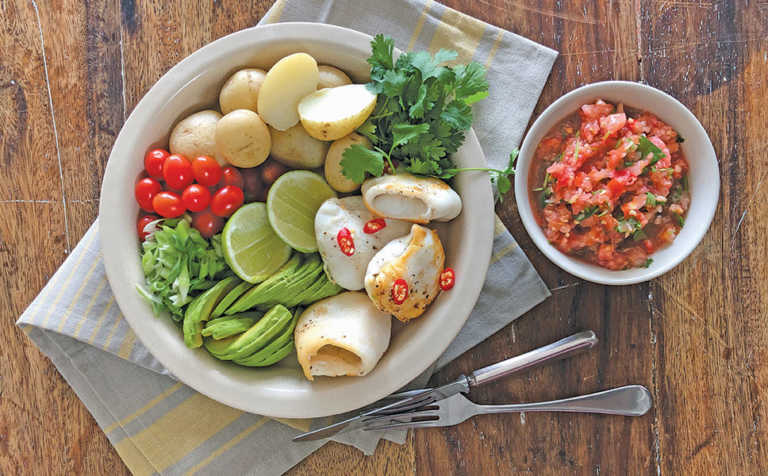 To make this side salad for eight diners (or as a main course for five), you will need:
For the salsa:
30mm red chilli
1 clove of garlic
300g of tomatoes
40ml freshly squeezed lime juice
2 cups of chopped coriander
¼ teaspoon salt
For the calamari:
800g frozen calamari tubes
600g baby potatoes
2 large avocados, sliced
1 red chilli, very finely chopped
200g cherry tomatoes
6 large spring onions, chopped
2 limes, cut in quarters
Salt
Coarsely ground black pepper
12 coriander leaves
1 Begin with the salsa. Depip the red chilli, and squeeze the limes for their juice. Strain to remove all the pips. Crush and peel the garlic, and then blanch the tomatoes in boiling water for 15 seconds. Slide off and discard their skins. Wash the fresh coriander, separate
the leaves from the stems and roots, and chop coarsely.
2 Place the blanched tomatoes, chilli, garlic, lime juice and coriander leaves into a food
processor. Pulse until the contents are reduced to a coarse puree.
3 Now drop the potatoes in a pot of lightly salted, boiling water. Reduce the
heat to a mild simmer, and let cook for about 12 minutes.
4 Thaw the calamari, and pat dry. Lightly season with salt and ground black pepper. Grill in batches in a heavy-based frying pan, using a drizzle of extra-virgin olive oil for each batch. Stir-fry the calamari tubes for six minutes or longer if you want to brown them slightly. You could also stir-fry these in a cast-iron skillet on the braai.
5 Arrange the whole cooked potatoes on a serving plate. Layer the calamari over the potatoes, and top with the avocado, spring onions and cherry tomatoes. Scatter the coriander leaves, lime quarters and red chilli over the calamari. Drizzle a little extra-virgin olive oil over the arrangement, then sprinkle with some coarsely ground black pepper and salt. Pour the salsa into a bowl and allow the diners to add it to their meal as they please.
David Basckin is a freelance journalist and videographer.