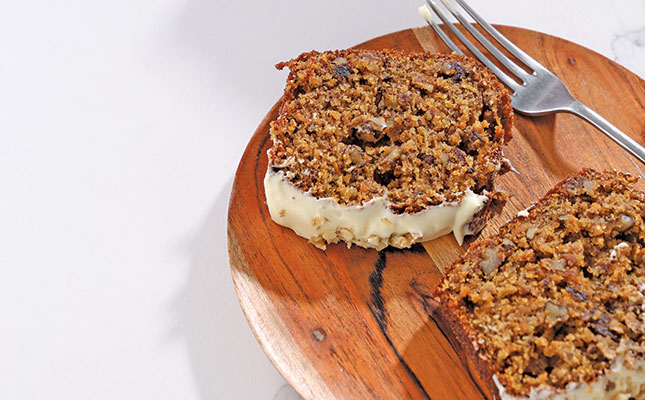 To make this carrot cake loaf, you will need:
For the loaf: 
3 extra-large eggs
1 cup brown sugar
1 tsp vanilla essence
250ml sunflower oil
260g cup cake flour, sifted
80ml desiccated coconut
2 tsp baking powder
1 tsp bicarbonate of soda
½ tsp salt
2 tsp ground cinnamon
1 tsp ground ginger
250ml carrot, finely grated
250ml banana, mashed
100g walnuts, chopped
100g dried dates, finely chopped and soaked in boiling water
For the lemon cream cheese icing:
150g soft butter
230g cream cheese at room temperature
500ml icing sugar
1 tsp vanilla essence
The zest of one lemon
1 tbsp lemon juice
1 Preheat the oven to 180°C. Grease and line two standard loaf tins with baking paper. Place the eggs and sugar in the bowl of a stand mixer and whisk for about one minute or until light and fluffy. You can also use an electric beater. Add the vanilla essence and oil.
2 In a medium-sized bowl, add the cake flour, desiccated coconut, baking powder, bicarbonate of soda, salt, cinnamon and ginger. Stir to mix together.
3 Add the grated carrots, mashed bananas, walnuts and dates (discard the water) and mix together. Pour the egg mixture into the flour mixture and stir.
4 Pour the mixture into the prepared tins, and bake for about 55 minutes or until a skewer comes out clean. Set aside to cool completely. Remove the cake from the tin and place on a wire rack.
5 To make the cream-cheese icing, place the butter, cream cheese and icing sugar in a food processor and blend for about 30 seconds or until smooth and pale. Add the vanilla essence and fold in the lemon zest and juice. Stir with a wooden spoon until the ingredients are mixed thoroughly. Spread the icing on the cake, then top with more chopped walnuts
and serve.
Nomvuselelo Mncube is the cooking assistant for Food & Home Entertaining.