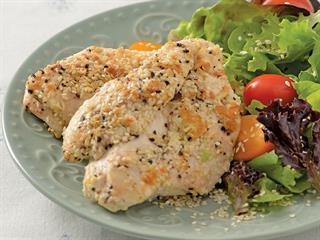 To make crusted chicken breasts with lemon butter sauce for four, you will need:
4 chicken breasts
120g sesame seeds
75g butter
1 lemon
Black pepper and salt on demand
1 clove of garlic


Skin and debone the chicken breasts, taking care to leave each of them in one piece. Lay the breast fillets flat on a work surface and cover them with clingfilm. With a mallet or even a well-swung rolling pin, lightly hammer them until they are a uniform thickness of 10mm or so. This allows them to cook evenly right through. Season them with coarsely ground black pepper and a little salt. (Grind your black peppercorn fresh every time you cook; grinding enhances flavour in the short term but degrades it as time rolls on.)
Now for the sesame seeds. Buy these fresh; a rancid sesame seed can ruin your whole day. Pour the seeds into a new large ziplock bag and add a seasoned chicken breast. Turn the bag through 360 degrees a couple of times to coat the surfaces of the raw chicken with the sesame seeds. Repeat the procedure for the other three breasts.
Lightly crush and peel the clove of garlic and cut it into three slices. Squeeze the lemon and remove the pips from the juice.
Select a large frying pan and melt half the butter. Add the garlic slices and let them sputter in the butter for a minute or two. Remove and discard the used garlic. You now have lightly garlic-flavoured hot butter waiting for the next gastronomic event.
Bring the heat up to medium and fry the sesame encrusted chicken breasts for five minutes a side, turning them once. If there is insufficient room for all four flattened breasts at once, fry them in batches, keeping the first batch warm and under cover.
When all the chicken has been fried, lower the heat and add the rest of the butter plus the lemon juice to the pan. Stir this with the remnants of the fried chicken to produce a pleasing brown butter sauce.
Serve these splendid seed-encrusted chicken fillets with something suitable to soak up the lemon butter sauce. White rice is probably the easiest, but a flavoured mash will provide a more enticing dish, and it's hardly complicated. Mash boiled potatoes, sweet potatoes or madumbe with a teaspoon or two of coarse Dijon mustard.
A green salad – baby tomatoes, cos lettuce leaves, a couple of chopped spring onions plus some depipped olives – adds a crisp whole-food layer to the meal. A light dressing of 40ml olive oil, 10ml balsamic vinegar, one tablespoon brown sugar or honey, a hand-torn fresh basil leaf or two, plus a whole peeled clove of garlic launches this extraordinary collection of tastes and textures into the stratosphere.