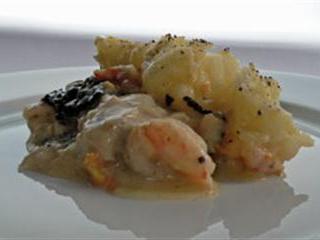 To make a hearty fisherman's pie for four, you will need:
500g red potatoes
110g butter
450ml milk
35g flour
30ml thick cream
400g smoked haddock
400g hake or kingklip fillets
15 prawns
1 bunch fresh spinach
Red Tabasco
1 lemon
1 onion
1 bunch fresh parsley
Salt to taste
Freshly ground black pepper
Extra virgin olive oil
Prepare the prawns by removing them from their shells. With a thin bladed knife cut them down the backs and remove the clearly visible and highly undesirable colon. Peel and quarter the potatoes. Bring a large pot of lightly salted water to a rolling boil then immerse the potato pieces. Let them cook for 15 minutes or until soft when prodded with a fork. Remove and drain. Mash with the mashing tool of your choice, then mix in 80ml milk and 40g butter.
Season the mash with salt and freshly ground pepper to taste. Now to poach the fish. Place the haddock and hake or kingklip fillets in a large frying pan. Pour in the remainder of the milk (370ml) and bring this up to a gentle simmer. Continue for 10-15 minutes at which point the fish should flake easily. Remove the fish and store under cover for later in the proceedings. Strain the milk used to poach the fish and reserve it under cover.
Sweat the peeled chopped onion in a frying pan with a little extra virgin olive oil. When soft and translucent, add the chopped leaves of the deveined spinach. Let these cook for a few minutes, then remove and reserve under cover. Preheat the oven to 220°C. Next, the sauce. Add 55g of butter to a saucepan over medium heat. As soon as it has melted, pour in the flour and whisk it for 60 seconds.
Add the strained milk used to poach the fish, and stir vigorously until the sauce begins to boil and thicken. Lower the heat. Add the thick cream, 5ml freshly squeezed lemon juice and a generous handful of chopped parsley. Season to taste with salt and pepper plus a dash or two of Red Tabasco. Break up the poached fish into flakes and add this to the pan along with the cooked prawns. Stir in the cooked spinach and onion.
Finally, pour the fish and sauce mixture into an ovenproof baking dish. Evenly spread the mashed potato over the top and a couple of drops of molten butter to finish it off. Stick the dish into the hot oven and let it bake for 25 minutes or until the top is golden brown. Serve this astonishing combination of great ocean flavours with steamed green vegetables of choice and a glass or two of crisp, chilled Sauvignon Blanc.
Contact David Basckin at [email protected]. Please state 'Real cooking' in the subject line of your email.