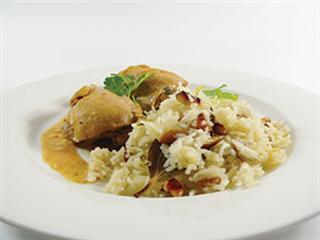 Ingredients:
To make enough for four, you will need for the curry:
6-8 chicken thighs, bone in, skin off
25mm fresh root ginger
3-5 cloves of garlic
2 teaspoons freshly ground coriander seeds (dhania)
1 teaspoon cayenne pepper
1 bay leaf
3 cardamom pods (elachi)
2 dried or fresh red chillies
Fresh coriander sprigs (dhania) on demand
Canola or sunflower oil
1 tablespoon desiccated coconut
1 tablespoon ground almonds
1 can coconut milk
For the pilau rice
300g basmati rice
700ml chicken stock
1 chopped onion
2 chopped cloves garlic
1 stick cinnamon
1 bay leaf
6 cardamom pods (elachi)
½ cup sultanas
½ cup cashew nuts
To many, a curry is a good old Anglo-Saxon stew destroyed by some stale yellow powder out of a cardboard box. This opinion could not be more misinformed: Indian-influenced cuisine is an irresistible combination of subtle tastes and aromas.
What we have here are two delicious recipes, with the pilau giving a loud, hearty wake up call to the rice.
First, the chicken. Begin by discarding the skin. Then select a heavy-based frying pan, and add the almonds and desiccated coconut. Rev up the heat and shake the pan until the ingredients darken in colour.
Pour these into a mixing bowl, and add the coconut milk, finely chopped ginger, chopped garlic, cayenne powder, dhania powder and a little salt. Mix, cover and reserve. Pour a little canola or sunflower oil into the heavy-based frying pan.
Increase the heat and add the chicken thighs, elachi pods and bay leaf. Stir-fry for a couple of minutes to darken the chicken. Add the contents of the mixing bowl, stir like crazy, lower the heat to a simmer and add the chopped dried or fresh red chillies plus a handful of well-washed, fresh dhania leaves.
Finally, fit the lid and cook over a medium to low heat, stirring from time to time until the chicken is done.
The pilau rice
Ideally, you should cook this at the same time as the chicken so that they can be served together. Begin by sweating the chopped onion and garlic in butter until the onion is soft and translucent.
Then add the stick of cinnamon, the bay leaf and the elachi, and let them cook for three minutes or so. Pour in the washed, drained basmati rice and add the chicken stock and sultanas. Bring to the boil, then reduce to a simmer.
Keep an eye on it and do a taste check at 10 minutes. Give a minute or two extra if the rice is not sufficiently done. While this last phase is moving towards a conclusion, heat a little oil in a frying pan and brown the cashew nuts over high heat.
When done – and this happens surprisingly quickly – remove the nuts from the oil with a slotted spoon and sprinkle them whole over the pilau. Serve the chicken and coconut curry and the pilau together, using a sprig or two of fresh dhania for colour, freshness and aroma.
A couple of ultra-cold Cobra or Windhoek lagers add their own special magic to this mouthwatering dish.