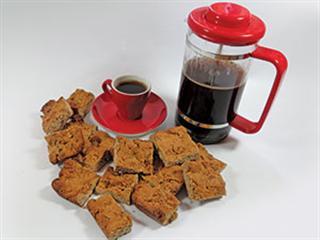 To make tough cookies, you will need:
125ml water
70g rye flour
125g brown sugar
250g white flour
Zest of one orange
125g honey
1 tablespoon ground cinnamon
½ teaspoon ground ginger
1 teaspoon ground aniseed
Pinch of salt
2 teaspoons baking powder
1 handful cubed glacé ginger preserve
1 handful dried whole pumpkin seeds


Begin by preheating the oven to 180°C. Combine water and brown sugar in a small saucepan. Bring this to the boil briefly, then reduce the heat to a low simmer. Let this continue for five to six minutes, then remove from the hob. Pour in the honey, stirring while you do so. Sift the two types of flour and baking powder into a large mixing bowl. Sifting can be as simple or complex as you wish. My preference is to pour the dry powder into a fine sieve, hold this over the bowl and tap the side until all the powder has dropped through.
And why do we sift? Who knows? Perhaps it's one of those ancient magical processes left over from the dark ages. Now for the orange zest – the thin outer layer of the orange. In this, we find the oils that give oranges their unique aroma that contributes to the flavour. Highly concentrated, the zest is a big deal not to be dismissed. You can collect it slowly with a fine paring knife or quickly with a patented tool.
Add the orange zest, ground spices, glacé ginger cubes, pumpkin seeds and a pinch of salt to the sifted contents of the mixing bowl and mix with a spatula or wooden spoon. With your fist, make a well in the middle of the dry mixture in the bowl and then into it, pour the saucepan of syrup you made with the water, brown sugar and honey. Stir this sticky combination for four or five minutes to ensure that all the ingredients are evenly distributed and that no dry patches of flour remain.
Choose a 24cm2 cake pan and lightly smear the interior with butter. Spoon in the thick batter and spread it, if necessary, to form an even layer. Bake this for 20 minutes or until a thin stainless steel skewer stuck into the middle comes out clean. Given the non-standard nature of ovens and their thermostats, use the time indicator as a rough guide and the skewer test as the ultimate indicator of doneness.
When done, remove the pan from the oven and then with a lifter, turn the baked product out and onto a rack.
Let it cool and firm up for 15 minutes, then cut it into squares or slices before consuming these magnificent tough cookies with freshly brewed black coffee. Somehow, the ginger in the mix gives the coffee yet another lift into the stratosphere of flavour.

Contact David Basckin at [email protected]. Please state 'Real cooking' in the subject line of your email.