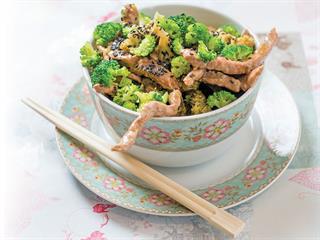 To make stir-fried beef and broccoli for four, you will need:
For the marinade
10g Maizena
20ml soya sauce
20ml Old Brown sherry
600g beef steak
For the sauce
120ml chicken stock
50ml oyster sauce
40ml soya sauce
30ml Old Brown sherry
10g Maizena

For the stir-fry procedure
400g broccoli pieces
4 cloves of garlic
50mm whole root ginger
5g freshly ground black pepper
50ml canola, sunflower or peanut oil
The big deal here is the cooking vessel. A wok is best, a skottel is a nice try and a heavy-based frying pan is the absolute bare minimum. If you plan on becoming an ace stirfryer, buy a wok. Heat is the second issue. Ideally you need a controllable gas flame with a really high setting.
The second big deal is the soya sauce and its fishy cousin, oyster sauce. To maintain standards and predictable results in
your cooking, choose a specific brand in each case and stick to it for future recipes. In Asian cooking, preparing takes up the most of the time and requires focus and diligence. Start with the meat, which ideally should be porterhouse. Cut the meat into 5mm-thick slices. The thickness matters since standardisation allows for even cooking.
Break up the broccoli into individual florets. Peel and finely grate the fresh ginger root. Crush, peel and mince the garlic. Coarsely grind the black peppercorns. Now for the marinade. In a mixing bowl combine the Old Brown sherry, the soya sauce and the Maizena. Mix well to avoid lumps of Maizena. Add the slices of beef to the marinade and let it stand for 15 minutes under cover on the counter.
While this is going on, prepare the sauce in a second mixing bowl. Combine the Maizena, the oyster sauce, soya sauce, Old Brown sherry and the chicken stock. Pause for a moment and consider your choices. You could make your own chicken stock and freeze the surplus for another time, or you could use a best quality stock cube. Just remember that the oyster and soya sauces are already high in sodium, as are some industrial stock cubes. You decide.
Blanch the broccoli in boiling water for 90 seconds, then rinse in cold running water. Drain and reserve under cover. Pour the oil into the wok or cooking vessel of your choice and bring this up to smoking heat. Drop in the prepared garlic and ginger and let this sizzle away for 30 seconds. Add half the sliced, marinaded beef and stir-fry this for 90 seconds.
Remove and immediately repeat with the second batch of meat, also for 90 seconds. Return the first batch to the wok then pour in the sauce and the blanched broccoli. Stir- fry for 60 seconds, sprinkle some freshly ground black pepper over the meal and serve immediately, either on its own or with the carbohydrate (noodles? rice?) of your choice.
Your guests will exhibit uncontrolled delight.