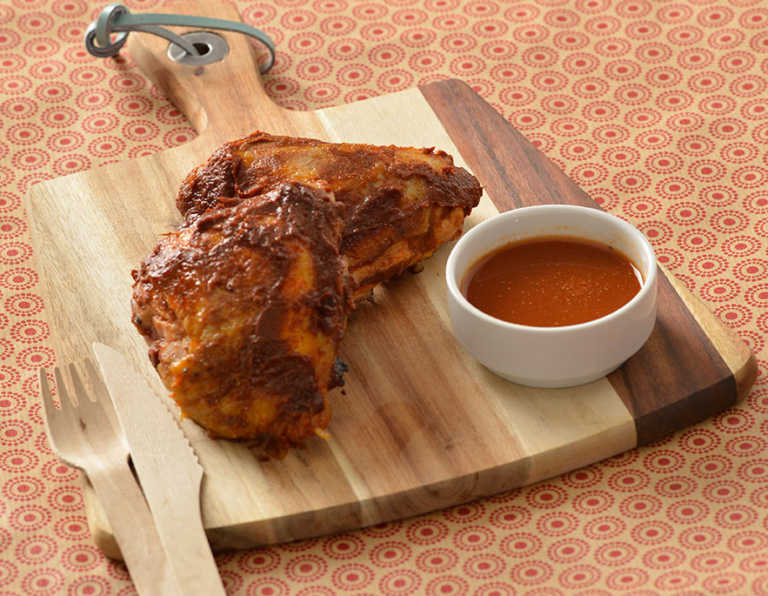 To braai chicken for four diners, you will need:
8 chicken thighs
Coarse salt
Freshly ground black pepper
For the baste:
5g coarse salt
5g freshly ground black pepper
5g ground cumin (jeera)
10g ground paprika
150ml tomato sauce
130ml red grape vinegar
70g brown sugar
In my distant and misspent youth on the beaches of KwaZulu-Natal, I enjoyed many a chicken braai over driftwood fires on a balmy night.
Fat flares from the poultry lit up the star-speckled darkness, to be swiftly dowsed by beer. And yet all too often, the scorched chicken was raw on the inside. Back in the present – here's the route to braaied chicken happiness. The secret lies in the baste and the fire.
Build your braai the way you usually do. But when the first flames have died down and the coals are alive, rake the hot coals or embers to one side, so creating a hot zone and a slightly cooler zone within the braai.
While the braai is settling down, get to work on the chicken. In my view, bone-in, skin-on produces the better flavour. The subcutaneous fat is a major contributor to the taste while the texture of the skin gives a good surface for the baste to bind on.
Make the baste by combining all the ingredients in a saucepan. Bring this up to medium heat, stir from time to time, then remove after five to seven minutes on the hob. Mix with sufficient water to double the volume.
Apply a little salt and pepper to the chicken thighs, and place them on the braai over the hot section, drizzling them with a little baste.
Turn the thighs every three or four minutes, taking care to baste the chicken every time you do this. As the skin starts to darken – after about 15 minutes – shift the thighs over to the slightly cooler section of the braai.
Give them another quarter hour, then visually check the degree of doneness right close to the bone. The colour should be uniform throughout and free of the dreaded pinkness. Time for the last close encounter with the heat, as you return the thighs to the hot side of the braai.
Then baste again, braai for another 60 seconds, turn the thighs, another baste and after a final minute or two remove them from the grill and prepare to serve them to your fellow diners.
In the wink of an eye (that's all it takes) whip up a second batch of the baste, only this time don't dilute it with water. Instead, place a couple of teaspoons on each plate next to the braaied chicken as additional flavouring for those who want it.
And to drink? No big surprises here. Ultra-chilled pilseners add their own magic to these smoky, spicy, fire-crisped, succulent chicken thighs.