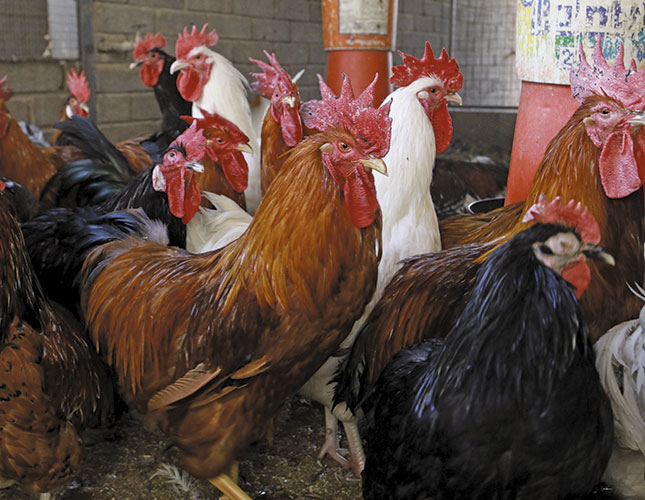 Hennie Lamprecht from Henmar Chickens near Henley-on-Klip in the Midvaal, was a broker for Absa for 32 years. While still employed, he bought a 4,5ha plot in the Vaal Triangle and kept a handful of free-range chickens as a hobby. When they became too numerous, he would sell them for R10 each.
Hennie started out with a small R200 incubator and made each hen sit two rounds on 10 to 15 eggs to increase stock.
"In 2000, my son's father-in-law said I should accompany him to an auction," recalls Hennie. "He brought me crates and I caught all the chickens that I didn't want – hybrids of all sorts. We then went to a Saturday auction in De Deur, and I sold chickens that would usually go for R5 each for R50. I couldn't believe it!"
"When I arrived home from the auction I immediately started drawing plans for cages and a large free-range camp," says Hennie.
He now has 22 chicken houses, two hatcheries, two incubators and a chick house, and sells to clients countrywide.
"I decided after the auction to specialise in pure breeds," says Hennie. "But when I wanted to acquire stock I saw that there weren't any available commercially. I travelled throughout the country to find Australorp, Road Island Reds, Potchefstroom Koekoek and Sussex chickens to build stock and make sure that I had new genetics."
Hennie says international guidelines for free-range chickens suggest that there be 10 chickens/metre squared if they are kept under cover and five chickens/metre squared if kept outside. He allows even more space than this for his birds.
Hennie also placed any 'good-looking' hybrid cock with hens with Red or Buff Orpington blood.
"They sold well. My vet told me to name them, so I called the chickens Valers, because I live in Gardenvale. I didn't register a name but I now see Valers being advertised everywhere," laughs Hennie.
He tested the market by placing advertisements even before he had stock. He was overwhelmed by the number of calls he received. I was selling left and right without having anything to offer," he recalls.
He realised that he was on the right track as no one else was doing what he was in those days.
Hennie's stock grew and his initial R200 incubator could not keep up. He upgraded and currently owns one incubator that can take 6 000 eggs and another that takes up to 1 500. He now hatches 2 000 chicks every six days. Hennie keeps 12 breeds and has between 30 and 150 head per breed.
"As demand for a certain breed increases I keep back more stock to increase my parent stock," he says.
Retirement plan
"I always told colleagues I would know when I wanted to retire," says Hennie. "In 2009, I woke up one morning and put on my suit, cufflinks and formal shoes. I was on my way to my car and just wanted to check on my chickens before I left for work.
"I started thinking of traffic and the meetings I had to attend. I immediately phoned human resources and asked them what I had to do to retire. They informed me of the basic procedures and I retired on the spot. I didn't go into work again."
Hennie says he still works office hours, though, and Saturdays till 12.
Hennie keeps free-range chickens because he is committed to the idea and also because so few producers operate like this.
International guidelines for free-range suggest 10 chickens/squared metres if kept in a hide (under roof) and five chickens/squared metres if kept outside.
Hennie says that he exceeds these standards and allows ample space for his birds. Critical to his operation is disease control and hygiene. For example, the birds tend to suffer from eye infection in winter and whenever it is dry and dusty. If this occurs, he treats them with Oxyveto or Vaseline.
Marketing free-range chickens
It is well known that chickens require 24 hour care. At holiday times, Hennie offers specials on birds and eggs and sells his stock before the holiday. He does, however, keep his parent stock back. Keeping this stock purebred is a challenge, however, and Hennie has to bring in new cocks for new genetics. Keeping the correct amount of parent stock to be able to supply market demands is also far from easy.
Hennie's market is diverse. Large-scale farmers want chickens for feedlots as they eat fly larvae. Other clients include everyone from homemakers who want chickens, the informal market, plot owners and free-range egg producers. Clients come from as far as Kimberley, Port Elizabeth, Durban and Pietermaritzburg. He suggests to his buyers that they collect the chickens and eggs from him as delivery costs have gone up considerably.
Courier companies do not take live birds anymore due to the potential danger of diseases being spread. Fertilised eggs can still be couriered, but at a cost.
"A client who buys R200 worth of eggs will now have to pay at least R206 extra due to e-toll costs. My price then becomes too high to courier."
Hennie stresses the importance of marketing, and advertises on sites such as Gumtree, OLX, Facebook and well as traditional print media. Gumtree, he notes, seems to deliver the best results and he pays a fee to keep his advertisement at the top of the page.
Bottom line
Hennie says that except for the minimum required by law that he has to take from his retirement policy, he has not touched it and lives solely from the income generated by his chickens.
"I don't like admin," Hennie admits. "I know I'm on the right path if my income is bigger than my expenditure. That's my bottom line. If I take a loss once, I'll keep going for another month. If I take another loss after that then I'll close the whole operation down."
Phone Hennie Lamprecht on 082 552 7133, or visit henmarchickens.com for more information.
This article was originally published in the 13 March 2015 issue of Farmer's Weekly.