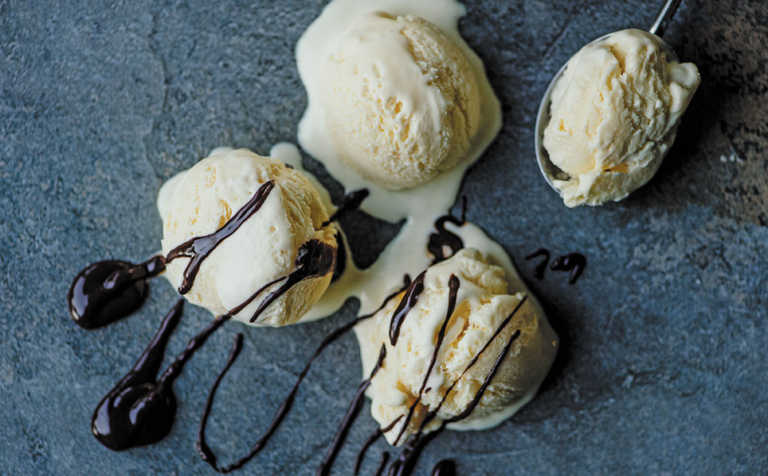 To make Laeveld Ice Cream with an optional chocolate and cardamom hot sauce for four diners, you will need:
1 tin condensed milk
625ml pouring cream
4 eggs
2 pinches of salt
2 teaspoons of vanilla essence
And for the sauce …
250ml pouring cream
200g of Lindt Intense Orange chocolate
The seeds from 10 white cardamom pods
This recipe requires manual effort, which means you will need several bowls, a whisk and forearms like Popeye the Sailor Man.
Begin by separating the eggs, reserving the yolks and whites in separate bowls. Whisk the yolk vigorously then add the entire contents of a standard tin of condensed milk. Whisk again to mix the ingredients together.
In the second bowl, using a clean whisk, beat the whites until they are stiff and form slight peaks. Pour in the 625ml of cream and mix them well together.
Pour in the condensed milk and egg yolk mixture and whisk them to combine. Add the two teaspoons of vanilla essence, whisk yet again to evenly distribute the flavouring agent, then freeze under a clingfilm cover.
While the ice cream is freezing, make the extraordinary hot sauce.
Begin with the cardamom. Open each pod by hand and remove the little seeds. Pound the cardamom seeds to powder with a mortar and pestle.
Now for finesse. Gently heat the 250ml cream in a double boiler, stirring all the time. Roughly chop the Lindt chocolate and add it to the hot cream. Stir until the chocolate has melted and combined with the cream. Add the cardamom to the hot chocolate and cream mixture, and stir.
A few dessert spoonfuls of this should be poured over each serving of the ice cream just before it reaches the diners. Alternatively, replace the Lindt chocolate with a couple of Bar Ones.
My great aunt had a somewhat different approach to a hot sauce for ice cream, restricted to grown-ups. Heat a cup of honey in a frying pan over low heat. Pour in a couple of shots of Irish whiskey, stir well until the alcohol has boiled off, then pour over the ice cream, where it sets in a thin crust. It is quite marvellous.
Finally, consume this magnificent dessert on the day you make it.
David Basckin is a freelance journalist and videographer.