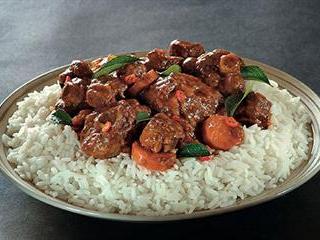 What you will need to make a divine Lamb curry:
2 kgs Lamb on a bone
2 Onions chopped
1.2 tsp Garlic – chopped.
2 tsp Curry powder
1 tsp Ground coriander
1 tsp Cumin
1 tsp Fresh rosemary chopped
1 tsp Dry thyme
1 Tin tomatoe paste (90ml)
2 Carrots
2 Cups of lamb or chicken stock
1 Cup boiling water
Salt and pepper to taste.
2 tbsp Sunfoil Pure Sunflower oil
Rice
250 ml Allsome Rice
2.5 ml Salt
1 L Water
Directions
Preheat the oven to 180° C.
Place the 2 tablespoons Sunfoil Pure Sunflower oil into a frying pan on the stove. Brown the meat in batches, removing when brown. Place the meat into an ovenproof dish with a lid.
Add the chopped onions and cook until soft.
Add garlic, herbs and spices and tomato paste and cook until the tomato turns brown taking care not to burn. Remove and add to the meat in the ovenproof dish.
Place one cup of boiling water into the frying pan and scrape up all the remaining juice and onions. Pour into the casserole dish along with the stock, cover and place in oven to cook for 2 hours.
After an hour stir to loosen the casserole and if necessary add a little more boiling water.
Clean carrots and cut into slices and add to the meat in the oven checking there is sufficient liquid. Cook for a further 45 minutes until the meat is falling off the bone.
Cook the rice according to the instructions on the packet.
Serve on a bed of steaming hot Allsome Rice.
Serve with condiments such as chutney and yoghurt.