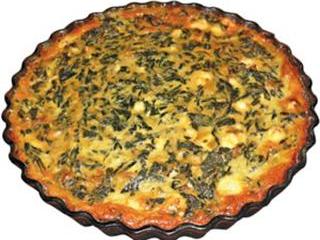 To make this quiche for four to six diners, depending on whether its a main or a side dish, you will need:
4 fat leeks
Extra virgin olive oil on demand
200g fresh spinach
1 wheel of feta cheese
125ml cream
125ml milk
3 eggs
1/4 teaspoon ground nutmeg
1/2 teaspoon baking powder
Salt and pepper to taste
A dash of cayenne pepper or red Tabasco
This culinary invention owes everything to the imagination of my sister-in-law Colleen.Prepare the fresh spinach leaves by cutting out and discarding the stems and veins. Coarsely chop the green remainder, rinse and squeeze dry. Top and tail the leeks and finely chop the stems. Select a heavy-based frying pan, pour in sufficient extra virgin olive oil to thinly coat the bottom and bring this up to medium heat on the hob.
Add the chopped leeks and let them sweat for 20-30 minutes. Keep an eye on them and stir from time to time to avoid burning. Remove before they turn brown. Add the chopped spinach leaves to the leeks in the frying pan and stir-fry for 10 minutes or so until they are much reduced in volume. In a mixing bowl, beat together the eggs, cream and milk. Crumble the wheel of feta cheese by hand and stir it in with all the other ingredients.
When well mixed, sprinkle in the ground nutmeg, the cayenne pepper or dash of red Tabasco, baking powder plus a little salt and freshly ground black pepper. There's something to be said for personal preference at this point in the proceedings. Cayenne pepper is not everybody's idea of a good time when it comes to adding a little extra heat to a recipe. In my experience, and with my Durban palate doing the talking, Tabasco is the best way to rev up a meal. Being a carefully controlled fermented product, the taste combination is quite marvellous and totally predictable from bottle to bottle.
Powdered spices, on the other hand, degrade over time and thus do not always live up to their promise. Preheat the oven to 180°C. Select an ovenproof pie dish from your collection and lightly grease the interior surfaces with butter. Pour in the mixture and stick in the oven for 45 minutes. Remove and serve either as a main or side dish. This splendid invention keeps its shape during serving, thus removing entirely the need and fuss of a crust. What's more, it can be served either hot or cold, depending on your requirements.
Contact David Basckin at [email protected]. Please state 'Real cooking' in the subject line of your email.