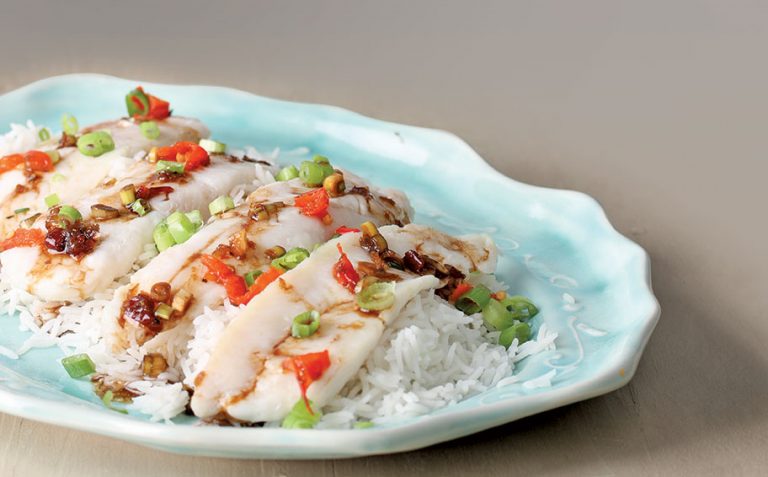 To make hake with a red-hot finish to feed four hungry fish enthusiasts, you will need:

2 boxes of frozen hake steak fillets (1kg in total)
4 cloves of garlic
75mm fresh root ginger
1 tablespoon dark soy sauce
1 tablespoon Thai or Vietnamese fish sauce
½ teaspoon of sesame oil
2 tablespoons of red chilli oil
6 spring onions
2 teaspoons of brown sugar
1 teaspoon of freshly ground sichuan pepper
Sunflower or canola oil on demand
First, we make homemade red chilli sauce – one of the ingredients of the final meal. You can get the ingredients from an Asian supermarket or the Thai shelf of your local grocery store.
The sauce is easy to make.
Heat half-a-litre of sunflower or canola oil to 180°C, using a thermometer to get the temperature right. Pour the hot oil over 150g of chopped or crushed dried red chillies.
The oil will spatter if it encounters drops of water – watch out for this. Let it cool and bottle the product.
A few days after infusion, strain and discard the solids. The red oil is as hot as the colour and an utterly brilliant addition to your collection of condiments.
Next is the more complex sauce for the fish. Crush, peel and mince the garlic. Chop the stem sections of the spring onions, retaining the green bits for a final garnish. Peel and grate the fresh ginger.
Add these to a mixing bowl with the fish sauce, homemade red chilli sauce, sesame oil, brown sugar, soy sauce and freshly ground sichuan peppers. Use black pepper if you have no choice. Mix into a paste and reserve undercover.
Now for the frozen hake. Pour a couple of tablespoons of canola or sunflower oil into a large frying pan with a lid.
Bring this up to medium heat, then add the frozen hake fillets. Yes, frozen solid – this isn't a misprint! Fit the lid and start your stopwatch. Fry the fillets for five minutes, then marginally lower the heat, turn the fillets and fry them for an additional three minutes.
Remove the pan from the heat, but leave the fish under the lid for two minutes. Take these times seriously if you want predictable results.
Serve the hake fillets on a bed of white rice or thin pasta. Carefully pour a couple of tablespoons of the sauce over the fish and garnish the plate with finely chopped spring onion greens.
For chilli addicts, serve the remainder of the sauce in a bowl. A ice-cold pilsener or two gives this delicious meal the final touch of total genius.