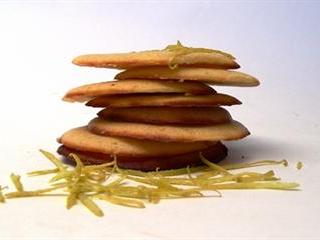 To make a batch you will need:
2 lemons
3 eggs
120g plain flour
120g butter
120g castor sugar
Generous pinch of salt
½ teaspoon vanilla essence
Additional flour for the baking paper


Using the tool of your choice remove the zest from both lemons. The zest is the thin outer layer of the skin and not the entire skin itself. Historically, I have zested citrus with the small blade of my Swiss Army knife, graduating to a stainless steel zesting tool and finally using a grater. The grater is the best; just take care not to grate your knuckles as well. Reserve the zest, then squeeze the juice from one of the lemons for use later in the show.
Separate the three eggs, reserving the whites. Sift the flour. A bit of a pain for the beginner cook, but a necessary process to ensure the best result. Weigh the butter then cut it into cubes. Commission the food processor. Pour in the castor sugar and the zest of the two lemons, then briefly rev the machine to the red line for the 20 to 30 seconds required to combine the zest and sugar. With a suitably soft spatula, wipe down the sides and rev to the red line one more time.
Apply the spatula again then add the diced butter. Rev to the red line until the contents are combined. With the machine running, pour in the egg whites. Following this, add the flour a tablespoon or two at a time until all the ingredients within the vessel of the processor are combined. At this point, add the generous pinch of salt, the half teaspoon of vanilla essence and 15ml of fresh lemon juice. Rev the machine briefly to allow a thick but liquid batter to emerge.
Decant the batter from the food processor into a large mixing bowl. Give it a good stir with a spoon, then cover the bowl with plastic film and let it stand for 30 minutes. Preheat the oven to 180ºC. Line two baking trays with baking paper or alternatively grease them well with butter. Sprinkle flour over the paper or buttered surfaces. Then, with full consciousness of the dire consequences, gently drop tablespoons of the batter onto the baking sheet, taking care to leave sufficient room between each tablespoon for expansion.
I don't know how much space is required due to different ovens. If they all stick together, take courage from the fact that it won't happen next time. Stick the first tray into the preheated oven and let it bake for eight to 10 minutes. Remove and arrange on a rack to cool. Sprinkle additional shreds of zest over the biscuits and serve.
Contact David Basckin at [email protected]. Please state 'Real cooking' in the subject line of your email.