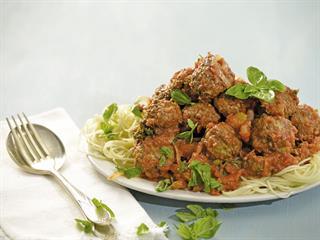 To make mafia-style spaghetti and meatballs, you will need:
400g minced beef
200g minced port
2 cans of whole tomatoes
50g capers
10 cloves garlic (not an error)
1 egg
2 slices bread
2 medium onions
30ml olive oil
1 cup parsley
50g freshly ground parmesan
½ teaspoon freshly ground black pepper
2 teaspoons salt
60ml chicken stock
500g spaghetti or spaghettini
Peel and finely chop the garlic and the two onions. Drain, then coarsely chop, the capers. Finely chop the parsley, which will be shared between the meatball mixture and the final garnish.
Drop the bread into a bowl, then add the chicken stock. Leave the bread to soak for five minutes, then squeeze it with a potato masher and chuck out the used liquid. Mash the wet bread with a fork, and add the minced beef and pork. Break in the egg, slightly more than half the parsley, half the finely chopped onion and half the chopped garlic.
Season with black pepper and a little salt. Add 30g of the Parmesan, reserving the remainder for the final plating. With washed bare hands, roll the mixture into 40mm- to 50mm-diameter balls. You should get between 20 and 24 or so.
Select a heavy-based frying pan, add 15ml extra virgin olive oil and bring this up to medium heat. Fry, sweat or sauté (you choose) the meatballs until they are browned all over, a process that will take about 10 minutes. Reserve under cover.
Now for the great traditional mafia-style tomato sauce. Choose a large saucepan and pour in 15ml of olive oil. Add the second half of the chopped onion and the second half of the chopped garlic. Fit the lid and let this simmer away with the occasional stir until the onions are soft and translucent.
Open the cans of whole tomatoes and pour the complete contents of both into the saucepan. Stir well and bring the contents of the unlidded saucepan up to mild simmer. Stir from time to time, lightly mashing the tomatoes with a fork.
We're nearly there. Bring a large pot of lightly salted water up to a rolling boil and cook the pasta for the time indicated on the package. Test the texture – you know what you like.
At more or less the same time, pour the meatballs into the sauce, reduce the heat to the least simmering possible and let the whole fragrant mixture complete its journey to culinary nirvana. Drain the pasta and plate it in equal portions. Spoon in the meatballs and tomato sauce, sprinkle chopped parsley and the remainder of the Parmesan cheese. A seriously heavy red wine – Tinta Barroca or Shiraz or both – is vital to complete the experience.
David Basckin is a freelance journalist and videographer.