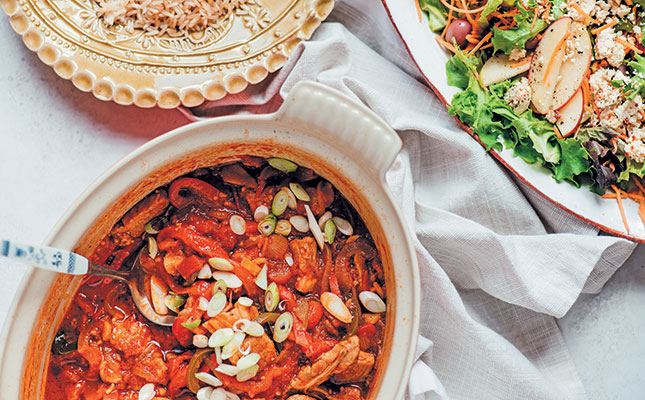 To make this excessively marvellous pork casserole for six, you will need:2kg pork (see the note below before visiting your favourite butcher)
1 red sweet pepper
1 green sweet pepper
5 cloves of garlic
1 large onion
2 cans of chopped tomatoes
5 spring onions
40mm fresh ginger rhizome
¼ cup of fresh basil
10 whole black peppercorns
5g salt
250ml chicken stock
30ml extra virgin olive oil 30ml balsamic vinegar
30ml light soya sauce
Vegetables: plain long-grain rice, or ultra-thin pasta with baby potatoes and butter accompanied by a crisp green salad
There are few dishes as emotionally and socially satisfying as a generous casserole served at the table. As you lift the lid the aromas fill the room, diners salivate politely, pupils occasionally dilate. What else? Oh yes, everybody is smiling.
All this starts with relaxed preparation followed by the application of slow heat.
First the meat: buy about 2kg of pork fillet, plus one large pork chop. I grant you that this sounds a little bit odd, but thanks to the recent decriminalisation of fat, I suggest adding the pork chop plus its fat to the general mix. A little fat adds to the flavour and compensates for the virtuous lean nature of the fillet. Cut all the pork into 30mm cubes or chunks.
Crush, peel and mince the garlic, peel and finely chop the ginger, peel and thinly slice the onion, top/tail and chop the spring onions, chop the basil, and deseed, then slice, the sweet peppers.
Check the freezer for your carefully prepared home-made chicken stock and, if to your amazement, the freezer is bare, use the industrial stock cube or powder of your choice. Coarsely grind the black peppercorns.
Select a heavy-bottomed casserole dish with a fitted lid. Pour in the olive oil and over medium to high heat, brown the pork. Remove the meat and reserve under cover.
Stir-fry the garlic and ginger for 90 seconds. Add the sliced onion, and let it sweat until soft and translucent. Add the sweet pepper slices and let them cook in the same pot for a couple of minutes.
Inspect from time to time to avoid burning. Return the pork to the casserole dish, add the two cans of chopped tomatoes, balsamic vinegar, chopped basil, soya sauce and the chicken stock. The liquid should just cover the solids. Bring this to a boil and immediately reduce the heat to a simmer.
Let the casserole bubble quietly for 30 minutes or so with the lid on. Check at half time and add a little extra stock if its looking dry. Adjust the flavour with salt and pepper, garnish with the spring onions, then serve to your cheerful dinner party.
A Chenin Blanc or ultra-chilled Windhoek lager completes this powerful emotional experience.
David Basckin is a freelance journalist and videographer.