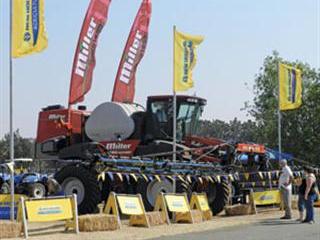 New Holland (NH) used the Spring Show in Pretoria to showcase its wide offering of fuel-efficient agricultural equipment. It's a product range able to meet the different needs of South Africa's diverse farming conditions – from emerging farmers with small plots of land who want to mechanise their operations, and who mostly require basic, robust smaller horsepower tractors, to the higher horsepower segment, where farmers embrace cutting edge technologies like 'precision farming'  to increase yields and returns.
SA farmers deal with very tough challenges, and are constantly under pressure to increase output in order to counter rises in input costs. For this reason, they have a no-nonsense approach when it comes to agricultural machinery, says Karl Engelbrecht, NH tractor product marketing manager. "We at New Holland understand this," he adds.
"We share a rich history with SA farmers dating back many years, and we're constantly updating our offering to answer the changing demands and new challenges." NH focused on its new TD5 series at the show. "This is a tractor that combines fuel efficiency, high performance and exceptional comfort while offering a wide range of options, capable of different tasks around the farm – a true all-rounder," NHSA product manager Ockert Scheepers told more than 120 invited guests, including farmers and local dealers, during a special presentation held at the show.
Here to stay
Held at the Tshwane Events Centre, the newly re-christened Spring Show was met with enthusiasm by the agricultural fraternity. Director Robert Walker says the show was successful in achieving its objective of establishing a baseline for its new agricultural focus. "The agricultural industry in the northern areas of the country has obviously been waiting for a major
agricultural show, and we are very grateful for the support of our official partner, Afgri, which believed in the merits of an agricultural show in Pretoria from the outset."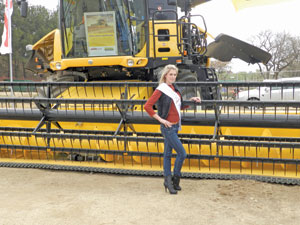 Marni Groenewald, Miss Spring Show, poses in front of the New Holland CR9080 combine harvester.
Other sponsors included the Gauteng department of agriculture, Obaro, Land Bank, Absa AgriBusiness, Vleissentraal and Taltec. There were 170 exhibitors, a jam-packed agricultural programme, which included three national championships, lots of regional shows, carcass competitions, auctions and a number of product launches and workshops. Spring Show 2013 will be held during the first week of September next year.
The TD5 series
There are three models in New Holland's new TD5 tractor series – the 90 (66kW), 100 (73,5kW) and the 110 (83kW). "The TD5 attracted a lot of interest, and deservedly so," says Ockert Scheepers, tractor product manager at New Holland South Africa. "Tractors in this power segment are used not only in the land for draught applications, but also in feedlots and livestock applications.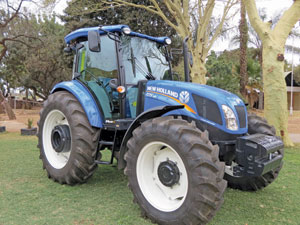 The New Holland TD5.110. Photo Courtesy of New Holland
"This is the largest sector of the SA tractor market, averaging more than 30% of total tractor sales over the past three years.
"Attachments like a front loader are critical and a special new feature offered on the TD5 range is the Powershuttle, which is perfect for precision loader work."
The TD5 also offers superior performance with the latest Tier 3 engine technology, delivering up to 16% increase in torque, while boasting up to 10% fuel savings compared to the TDD model. The TD5 is available in Cab and ROPS configurations, both with a flat deck and suspended brake, clutch and throttle pedals. The new VisionView cab is comfortable and increases visibility and reduces noise levels by up to 50% compared to the previous model.