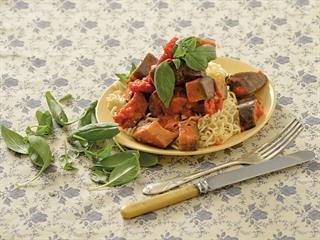 To make spaghetti with brinjals and tomatoes for four, you will need:
500g spaghetti or the pasta of your choice

1kg fresh ripe tomatoes

700g brinjals

Red Tabasco sauce

3 cloves of garlic

30g freshly-grated parmesan cheese

15ml soft butter

10 leaves fresh basil

120ml extra virgin olive oil

Salt and coarsely ground black pepper on demand


We begin with the brinjals. These require a little bit of concentrated thinking since their use is not entirely intuitive. Start by cutting them into chunks of about 20x20mm in size. Place the chunks of brinjal into a colander or a sieve and let them drain for 90 minutes or so, then dab them with a paper towel.
Blanch the tomatoes in rapidly boiling water for 60 to 90 seconds. Slide off and reject the skins then cut them into quarters. With your thumbs or a teaspoon, depending on your relative standard of finesse, remove and discard the tomato pips. Chop the de-pipped tomatoes into tiny chunks and reserve them in a bowl.
Rinse the basil leaves and then tear them manually into pieces. Reserve. Crush, peel and mince the garlic. Now for the heat and high drama. Select a large, heavy-based frying pan and heat up the olive oil over medium heat. Add the brinjal pieces and sweat them until they turn light brown. You may have to do this in batches. Remove and drain on a thickish layer of paper towel since there will be quite a bit of oil to get rid of.
Drain off and reserve the used oil. Return 15ml to 30ml of the oil to the pan and over medium heat stir-fry the garlic for 45 seconds then add the tomato. Stir under a watchful eye until the sauce is thick. At this point stir in the basil leaves. Cook the pasta, following the instructions on the packet. User discretion is required to determine the degree of doneness. Aesthetes prefer pasta al dente which requires some resistance to the bite. Others, like your plebian scribe, prefer the pasta cooked right through. You decide. Drain the cooked pasta reserving a cup or so of the pasta water.
Meanwhile, back to the pan, reduce the heat to low and add the brinjal plus 100ml of pasta water. Stir to combine with the cooked tomato and basil sauce. Add the butter and let it simmer until all components are nicely combined.
Season to taste with salt and pepper, plus a completely optional dash or two of Red Tabasco sauce. Add the cooked pasta to the sauce, stir well and serve with a generous sprinkling of freshly ground parmesan cheese as a final flourish. Try this with a lightly chilled Pinot Noir.