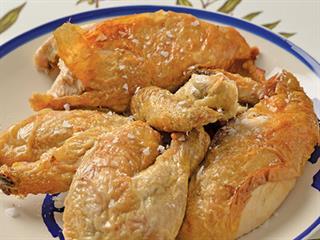 To make twice-roasted chicken in lemon sauce, you will need:
2kg standard supermarket broiler

250ml dry white wine

250ml chicken stock

185ml extra virgin olive oil

2 complete heads of garlic

Generous dash of Red Tabasco (optional)

125ml freshly squeezed lemon juice

Sprig of fresh rosemary (200mm length)

Salt and coarsely ground black pepper on demand


Preheat the oven to 220°C, and begin with the garlic. Yes, this recipe thrives on two heads – not cloves – of living garlic. If some sort of dark magical belief makes it impossible to imagine the consumption of so much garlic, feel free to reduce the amount. But trust me, fellow cooks, two heads of garlic are so much better than one. The garlic revs up the intensity of the taste but does not overpower the senses.
Break up the heads into cloves, then peel and coarsely chop them. Stuff all of these into the cavity of the fowl. Rip the rosemary leaves off the sprig and chop them finely. With your hands, rub 50ml of the olive oil over the chicken with
a little coarse salt. Place a slightly elevated rack within a roasting pan and arrange the oiled fowl on it, breast side up.
Pour the dry white wine and the chicken stock into the pan, stick it into the preheated oven and let the contents roast for 20 minutes. Lower the temperature to 190°C and let the roasting continue for an additional 45 minutes. Check the level of the liquid in the pan and top it up with a 50:50 mixture of wine and stock, if necessary.
Remove the fowl and let it settle on a carving surface for 10 minutes. Use this time to whisk together a teaspoon of freshly chopped garlic, the lemon juice, half a teaspoon of the freshly chopped rosemary, a quarter teaspoon of ground black pepper, the rest of the olive oil and the optional dash or two of Red Tabasco, and then whisk. Activate the grill within your oven.
Carve the chicken into sections – drumsticks, thighs, wings and breasts. Discard the back and try to retain the integrity of the skin. Place these pieces and any carving juices you saved in the roasting pan, with its juices from the roasting process. Stick this under the grill with all skin surfaces up and all surfaces nicely basted with the pan juices.
Grill for six to eight minutes or as long as it takes for the skin to crisp up. Dish this astonishing reinvention of roasted chicken with white rice and the splendid lemon sauce spooned over each serving.
Wow!