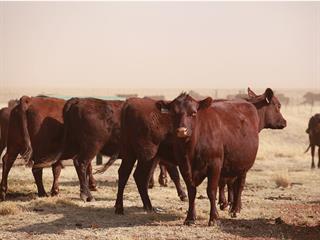 Soon after their marriage in 1982, Anzabeth Nieuwoudt's late husband, Renier, gave her a choice – either become a housewife or be actively involved in farming. Anzabeth opted for the latter and eventually took over the Woodrose Red Poll Stud. Anzabeth credits her success as a stud breeder to her late mother-in-law, Annatjie Nieuwoudt, from whom she took over the reins of the stud. This herd was established by Renier's maternal grandparents Renier and Hester Janse van Rensburg in 1945. Their daughter Annatjie continued with it until Anzabeth eventually took over.
Anica, Grethe-Marie, Anzabeth and Pieter-Renier Nieuwoudt. (Photo Annelie Coleman)
"I will forever be indebted to her for introducing me to Red Polls," Anzabeth says. "I have developed a great deal of respect for the breed and its calm, even temperament. Its naturally polledness makes it a lovely breed to work with. I love it."
The stud
Anzabeth and her three children farm on Biesieslaagte, some 20km from Schweizer-Reneke. Biesieslaagte has been in the Nieuwoudt family for 134 years. Her son, Pieter-Renier, is in charge of maize, sunflower and soya bean production while Anzabeth and her daughters Anica and Grethe-Marie run the stud. The cattle and crops are run as two separate entities but the grain stover is important as animal feed.
The stud's 100 cows and 50 heifers are run in 14 veld camps from 20ha to 150ha in size, each with its own watering point in summer, while grain stover forms the basis of the fodder flow in winter. Lactating cows are kept on 40ha dryland pastures that include Sudan grass, silk sorghum and lucerne. The herd is rotated according to the respective condition of the veld, stover and pastures, supplemented with a summer phosphate lick and a winter protein lick.
Calves are supplied with a production lick and creep feed during drought. The official stocking rate for Schweizer-Reneke is 8ha/MLU but Anzabeth maintains one of 10ha/MLU to prevent overgrazing. The Nieuwoudt land comprises a variety of soil types including Wesley, Avalon and Oakley.
The mixed sour and sweet veld includes grass species such as red grass (Themeda triandra), wool grass (Anthephora pubescens) and Lehmann's lovegrass (Eragrostis lehmanniana). Woody species include sweet thorn (Acacia karroo), karee (Rhus lancea) and camel thorn (Acacia erioloba). Temperatures reach highs of 30°C in summer with frequent severe frost in winter, while the average annual rainfall is 500mm.
Strong poll gene
Anzabeth says the breed possesses the strongest poll gene of all cattle breeds. The polledness, coupled with the breed's calm temperament, makes it the ideal breed for her family to work with. It also reduces stress and carcass bruising to ensure tender high-quality beef. Red Poll bulls will sire 95% to 100% polled calves in a crossbreeding programme.
"Naturally polled animals are increasingly sought after," she explains. "It saves time and labour as calves do not need to be de-horned. The economy of cattle farming in South Africa is such that producers must save on all possible input costs to ensure long-term sustainability and profitability. That is why naturally polled cattle are gaining popularity."
The medium-framed Red Poll is an economical and efficient dual-purpose breed, according to Grethe-Marie. Their non-selective grazing habits, feed efficiency and adaptability mean cattle can be successfully run in virtually all parts of South Africa. The Red Poll cow is an excellent mother and exceptional milker. Calves can be marketed directly after weaning without additional feeding.
"Red Poll cows rank as some of the best mothers of all cattle breeds," she says. "They are dedicated mothers. I have come across cows successfully rearing their calves during drought, despite their own poor condition. They will literally lay down their lives for their offspring," she adds.
Top milkers
Anzabeth selects strictly according to Red Poll breed standards and characteristics as set out by its breeders' society. The ideal Woodrose female is wedge-shaped, feminine and fertile, with a deep red colour and a smooth coat, and is an easy calver. Highly functional udders and teats are essential, according to Anzabeth. Buyers prefer red-coloured animals and the smooth coat prevents tick infestation.
A solid dark red coat with good eye and udder pigmentation reduces sunburn and eye problems. The breed is also known for longevity and Woodrose cows as old as 15 years have successfully reared good calves. "We run a suckling herd. Our cows are milked every morning for our workers and their families," Anica says. The family employs 20 full-time and 10 temporary workers.
"The calves are removed from the cows in the late afternoon. The cows are then milked in the morning and the calves returned thereafter. The fact that our cows are milked has no effect on weaning weights. This underscores the effectiveness of the Red Poll as a dual-purpose breed," she says.
The demand for Red Poll females has increased over the past few years. The team increasingly gets requests from breeders and commercial cattlemen for females to boost milk production in their herds, says Anica. This demand can also be ascribed to the breed's exceptional maternal characteristics. The average birth weight is between 36kg and 38kg, and calving problems are unheard of on Biesieslaagte. Calves are weaned at seven months at 230kg for heifers and 260kg for bull calves. The breed is known for high slaughtering percentages of more than 50%. Anzabeth has slaughtered entire bulls that were culled from the herd with a slaughtering percentage exceeding 60%.
The stud herd's average inter-calving period is 390 days and heifers are mated at 18 months. Young cows and heifers weigh about 450kg while older cows can weigh 650kg. The family also select for adaptability and hardiness, and Anica stresses that these qualities are important for the semi-arid conditions in Schweizer-Reneke. "Our clients represent a variety of conditions from all over SA, Botswana and Namibia. Adaptability and hardiness are thus important. Females two years and older must wean a calf yearly."
Well-balanced
Bulls are compact, medium-framed and well-balanced with a strong walking ability. They are fit and muscular with sufficient depth, length and width. Scrotum shape and health are important selection criteria. The average bull weighs about 800kg at two years.
Before being sold out of hand on the farm, they are tested and certified as free from diseases such as vibriosis, trichomoniasis and brucellosis. Those put up for sale are also tested for fertility. "Commercial cattlemen are the mainstay of my stud cattle breeding concern," says Anzabeth. "It is my responsibility as a breeder to supply animals that are functionally correct and healthy. I urge all cattlemen to regularly test their herds – I test my herd annually."
The stud was originally based on genetics from the Saulspoort and Kriekbult studs. This was followed by animals from breeders such as Pieter van Wyk from Riversdale, Boy Human from Bredasdorp and Uysie Willemse from Witsand.
Anzabeth also imports genetics from the UK and Australia. Around 10% of her females are artificially inseminated every year to broaden the genetic base, first synchronised then inseminated by a vet in September. Two breeding seasons are maintained – October and January/February. One bull is used for every 25 females in multi-sire breeding herds.
The cattle are vaccinated against various diseases such as lumpy skin disease, Rift Valley fever, three-day stiff sickness, quarter-evil, botulism and anthrax. The animals are treated against ticks as needed. The herd is inspected daily as a counter-measure for stock theft. Predation is not a serious problem, but the black-backed jackal does occur on Biesieslaagte.
The future
Anzabeth and her daughters are aiming for Woodrose to become the benchmark Red Poll stud in Southern Africa. They also want to increase Red Poll awareness in the region. "Red Poll numbers have over the years declined markedly due to a lack of effective marketing despite it being a highly marketable breed. We have set the task to create awareness in the cattle world about this dual-purpose breed's exceptional qualities and the value it can add to cattle breeding," Anzabeth says.
Phone Anzabeth Nieuwoudt on 083 447 2813 or email [email protected].