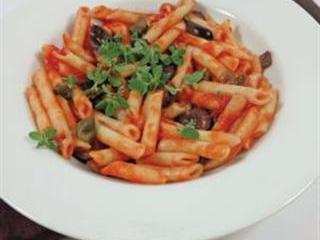 To make pasta puttanesca for four, you will need:
500g pasta of your choice
6 anchovy fillets
2 tablespoons capers
2 cans tomatoes
4 tablespoons tomato concentrate
1 fresh chilli, de-seeded
Half a cup of whole black olives
A generous dash of Red Tabasco (optional)
Coarsely ground black pepper on demand
Freshly grated Parmesan cheese as garnish
5 sprigs fresh origanum
4 cloves garlic
Extra virgin olive oil as required
We begin with the pasta. For some cooks the shape is irrelevant. However in this case, where the sauce is fluid and highly flavoured, some sort of pasta tube fits best. Bring a large saucepan of lightly salted water to a rolling boil and add the pasta of your choice. Let this cook for as long as the instructions on the packet suggest. Alternatively, check the relative density of a sample a couple of minutes into the procedure.
Ideally, the pasta should not be sloppy but slightly resistant to the bite. When this state is reached, drain the pasta and reserve it under cover. Now for the sauce. Remove the anchovy fillets from their bottle of olive oil and with a very sharp knife cut them into 5mm sections. The number of anchovy fillets you use is open for negotiation. The taste is strong, the salt very present. Remember that ingredients are meant to enhance each other rather than make a takeover bid.
Measure the capers and decant a teaspoon or two of the pickling liquid. De-seed the optional chilli which you may prefer to replace with a dash or two of Red Tabasco. Crush, peel and mince the garlic. Open the cans. Pick the origanum. De-pip and coarsely chop the olives. Select a large heavy-based frying pan and pour in sufficient extra virgin olive oil to cover the bottom. Bring this up to medium heat and stir-fry the minced garlic until it is gold.
Don't let it burn as this will destroy the whole meal. If it burns, chuck it out, wash the frying pan, and start again. Pour in the tomatoes and their juice. Mash them with a fork to reduce to a pulp. Add the capers, the chopped fresh origanum, olives, a generous sprinkle of black pepper, the chopped de-seeded chilli if you are using one and the tomato concentrate. Stir very well to evenly distribute the ingredients, then bring this up to medium heat. Let it bubble, stirring from time to time for 10 minutes.
Plating time. Serve the hot pasta on warmed plates. Return to the frying pan and add three tablespoons of extra virgin olive oil to the mix plus the fragrant sections of anchovy fillets. Stir, add some black pepper if needed and hold the salt. The anchovies and capers are full of the stuff. Garnish with fresh origanum and grated parmesan cheese.
Enjoy!

Contact David Basckin at [email protected]. Please state 'Real cooking' in the subject line of your email.