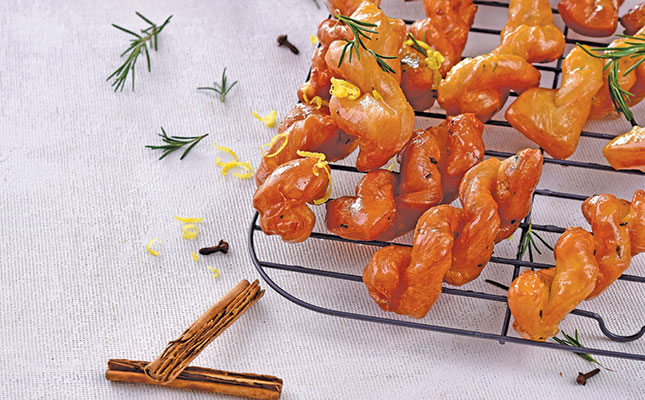 To make 30 koeksisters, you will need:
For the syrup:
5 sprigs of fresh rosemary
1,2kg white sugar
6 cups of water
The zest of one lemon
2 cinnamon sticks
2 cloves
Dough:
500g self-raising flour, plus extra for dusting
10ml baking powder
¼ teaspoon salt
30ml chopped rosemary
40g butter
1 large egg
100ml full-cream milk
125ml water
Canola oil for frying
1 Begin with the syrup. Place the leaves of three rosemary sprigs and all the remaining ingredients in a saucepan over medium heat, and stir until the sugar has dissolved. Increase the heat to bring to the boil. Once the mixture is boiling, stop stirring and reduce the heat. Simmer until the mixture reduces by a third. This should take about 15 to 20 minutes. Set aside.
2 For the dough, sift the flour, baking powder, salt and finely chopped rosemary together. Using the tips of your fingers, rub the butter into the flour mixture until well incorporated.
3 In a separate bowl, beat the egg, milk and water together until combined. Now pour the egg mixture into the flour mixture and knead until soft. Cover with a damp cloth and set aside to prove for about an hour.
4 On a floured surface, roll the dough to a thickness of about 0,5cm. Cut 30 strips, each 11cm x 3cm, out of the dough. Cut each piece into two or three smaller strips, leaving 1cm of each piece uncut. Plait each koeksister, starting from the uncut side. To finish, pinch the cut end of each securely to ensure that the koeksister doesn't unwind while deep-frying.
5 In a deep-fryer or large, deep pot, heat the oil to 170˚C. Add the koeksisters in batches and fry until golden, about four minutes a side. Using a slotted spoon, remove from the oil and immediately place the koeksisters in the syrup, ensuring that each is completely covered. Transfer to a wire rack to allow for excess syrup to drip off until ready to serve.
Nomvuselelo Mncube is the cooking assistant for Food & Home Entertaining.